Butternut Squash Mac and Cheese is a creamy and satisfying combination of squash, cheese and pasta. The butternut squash cheese sauce is silky and creamy and includes seasonings that are light and just a bit nutty. It's an impressive meatless main dish or a rich side dish with natural sweetness and the velvety texture of butternut squash. Serve it with crisp salad greens and Blue Cheese Vinaigrette along with Four Ingredient Basic Biscuits for a cheesy, delicious meal!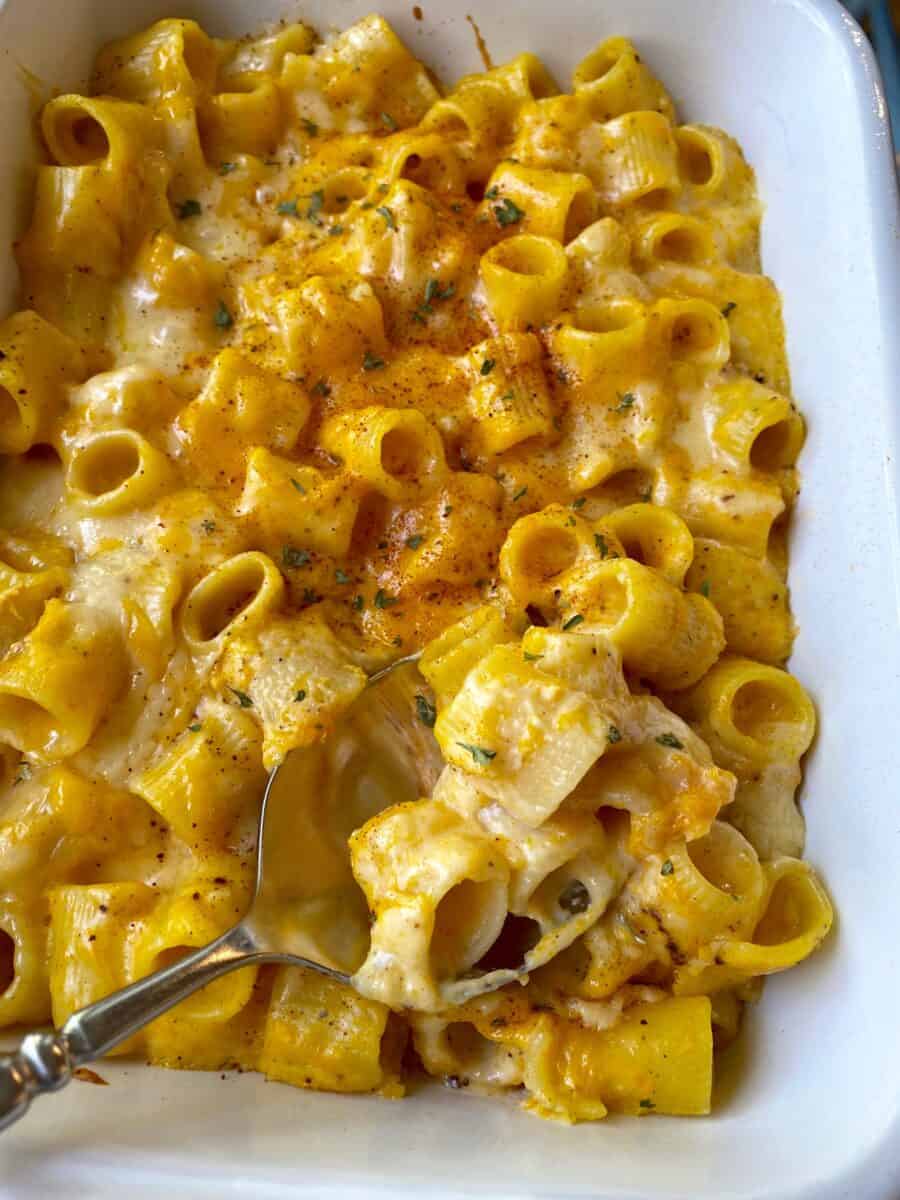 Jump to:
👩🏻‍🍳Why You'll Love Butternut Squash Mac and Cheese
Like every recipe from the Crinkled Cookbook, Butternut Squash Mac and Cheese is tried and true, and wow is it delicious.
It's a copycat recipe inspired by Trader Joe's delicious Butternut Squash Mac and Cheese. But rather than being limited to a single serving, make an entire batch and enjoy!
Much like No Ketchup Meatloaf or Chicken Spaghetti with Rotel and Velveeta, it's classic comfort food. I've served this recipe countless times and it's always a winner.
From a weeknight main dish to a holiday side, Butternut Squash Mac and Cheese contributes to a delicious meal!
🥘 Ingredients to Have on Hand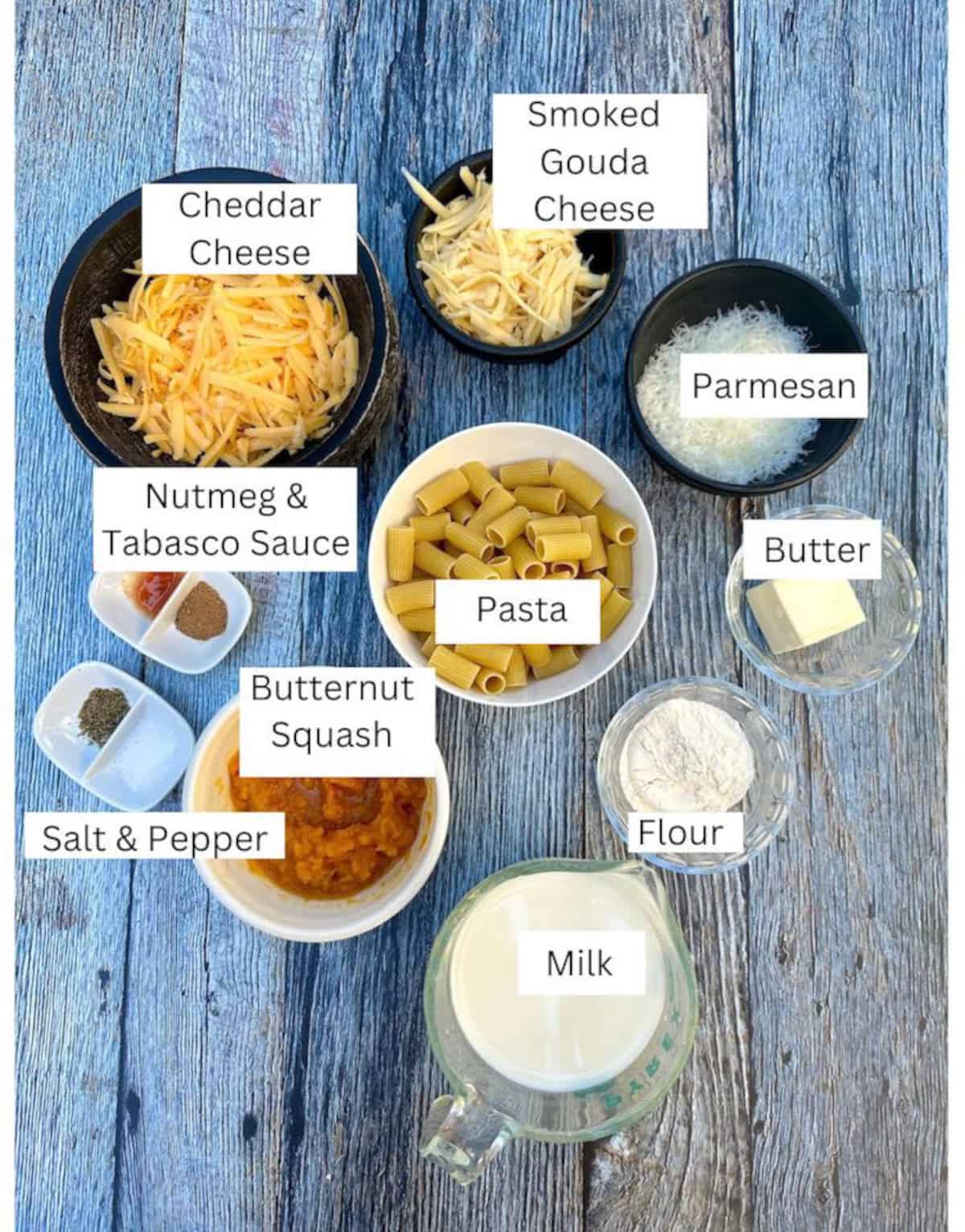 Butternut Squash: There are several options for creating creamy, baked butternut squash so be assured, you won't necessarily need to roast an entire squash. This is an easy recipe to make and there are shortcuts!
Cheddar, Smoked Gouda and Parmesan Cheese: Together three cheeses add amazing cheesy flavor to the silky butternut squash.
Nutmeg: The ultimate spice to add to creamy, cheesy recipes. Nutmeg adds a distinctive and very subtle nutty flavor.
Pasta: Use a small, bite-sized pasta. You'll want a pasta shape that will hold the creamy sauce. Any pasta you would use for traditional mac and cheese will work well with butternut squash mac and cheese.
Scroll down for step-by-step instructions and specifics on the quantities for each ingredient.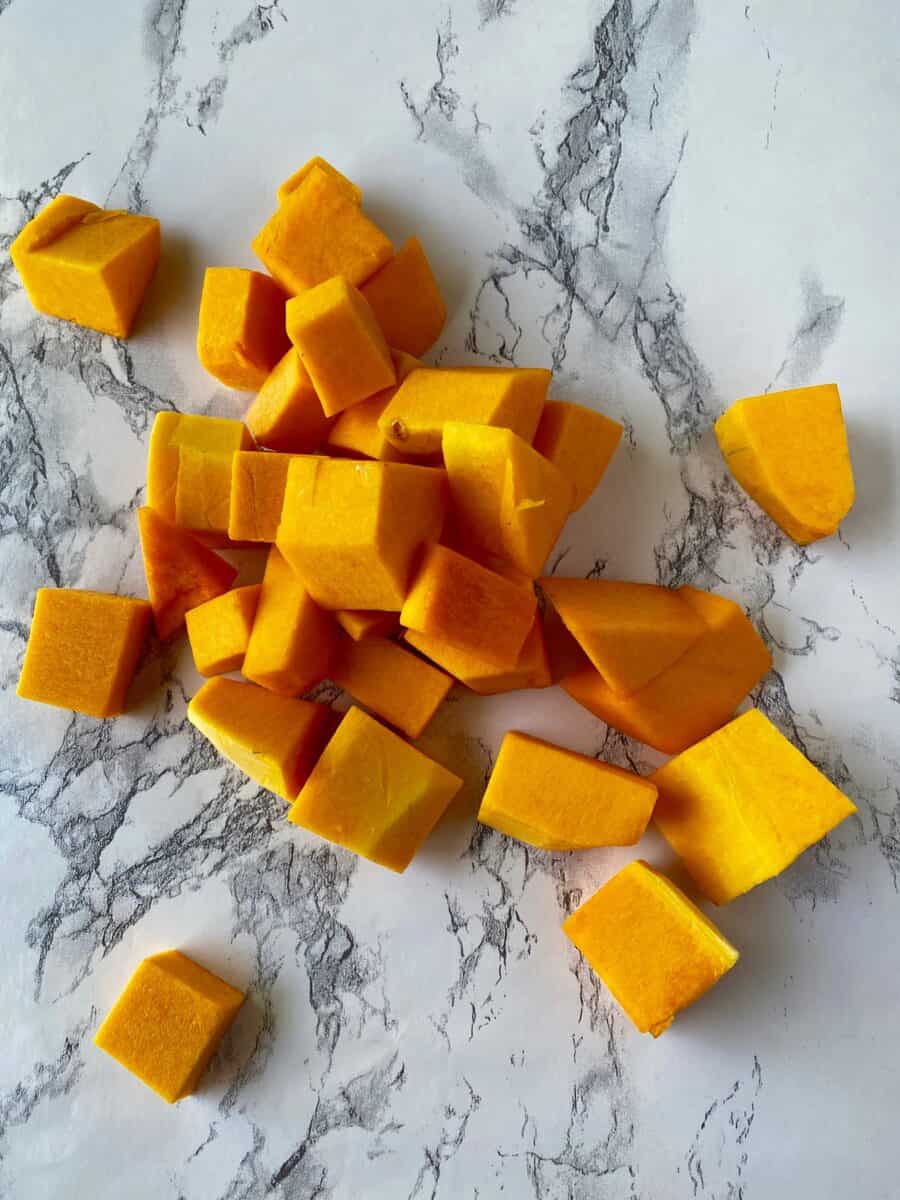 📖 Substitutions
Butternut squash has a very distinctive flavor, but if you're looking for substitutions you'll want to use vegetables that have a very similar texture and flavor. Here are a few I recommend:
Acorn Squash: This is a close cousin to butternut squash and it also has a slightly nutty flavor.
Sweet Potatoes: Baked and peeled sweet potatoes have a sweet and slightly nutty flavor and their texture is similar to butternut squash when roasted or mashed.
Pumpkin: Pureed pumpkin, especially sugar pumpkin or pie pumpkin can be used in place of butternut squash. It has a slightly milder flavor but is still quite delicious.
📋 How to Prepare the Butternut Squash for Mac and Cheese
There are four great options to prepare butternut squash for mac and cheese. None are hard, but several will take a few more minutes than the others.
Choose your option depending on how much time you have.
Scroll down for the four options.
Option 1: Oven Roast Butternut Squash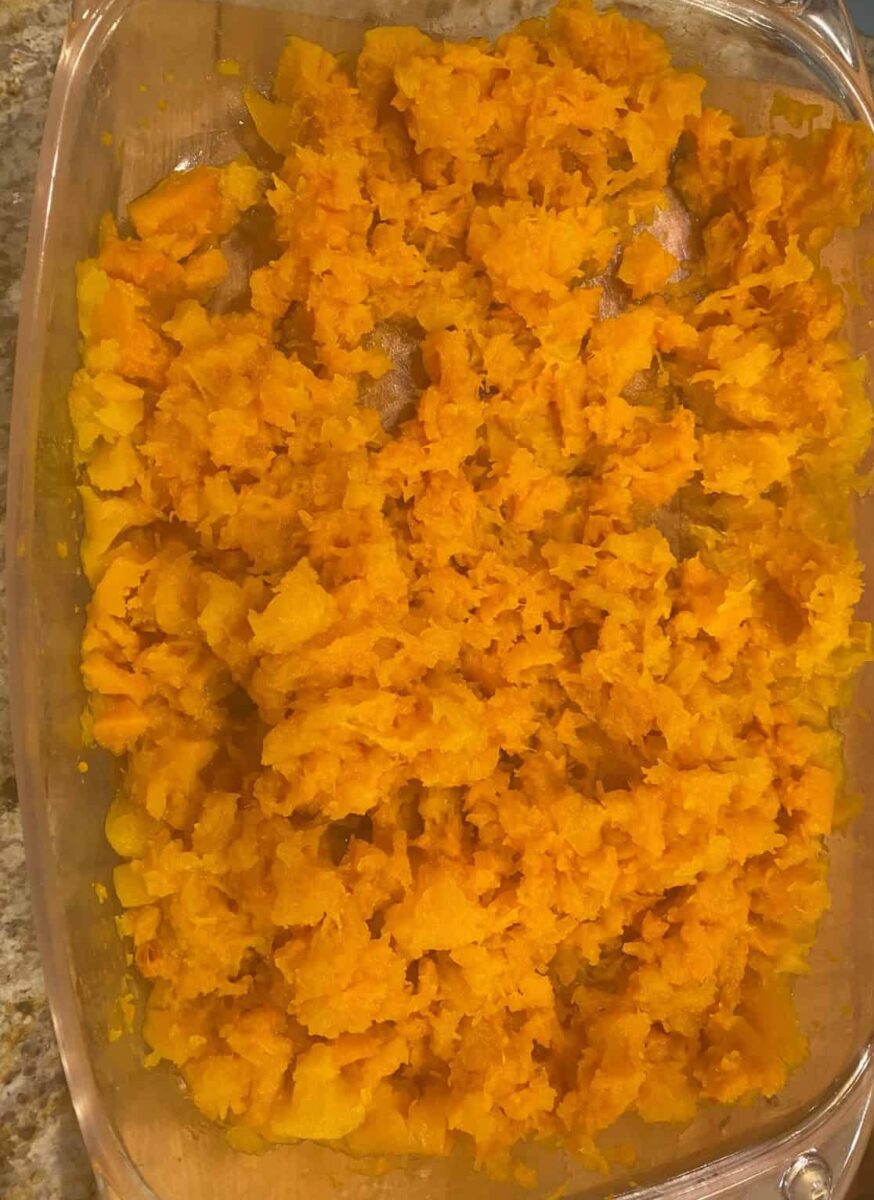 Time Tip: The cooking time to oven-roast a whole butternut squash is about 90 minutes, depending on the size of the squash.
Cut the Squash in Half: If you're using a whole squash, carefully cut it in half lengthwise and scoop out the seeds. Leave the peel on and place the squash peel side down in a glass baking dish.
Bake: Pour about ½ cup of water into the dish to help keep the squash moist while it cooks. Bake uncovered at 350° F for about 90 minutes.
Cool and Mash: Once the squash is soft and tender, remove it from the oven, cover with foil and let it cool slightly so it will be easier to handle. Once cooled, use a sturdy spoon to scoop out the cooked squash. Use a potato masher or a fork to create a semi-smooth consistency. A few lumps are fine.
Option 2: Microwave Butternut Squash
Time Tip: The cooking time to microwave a butternut squash is about 30 minutes, depending on the size of the squash and the wattage of your microwave.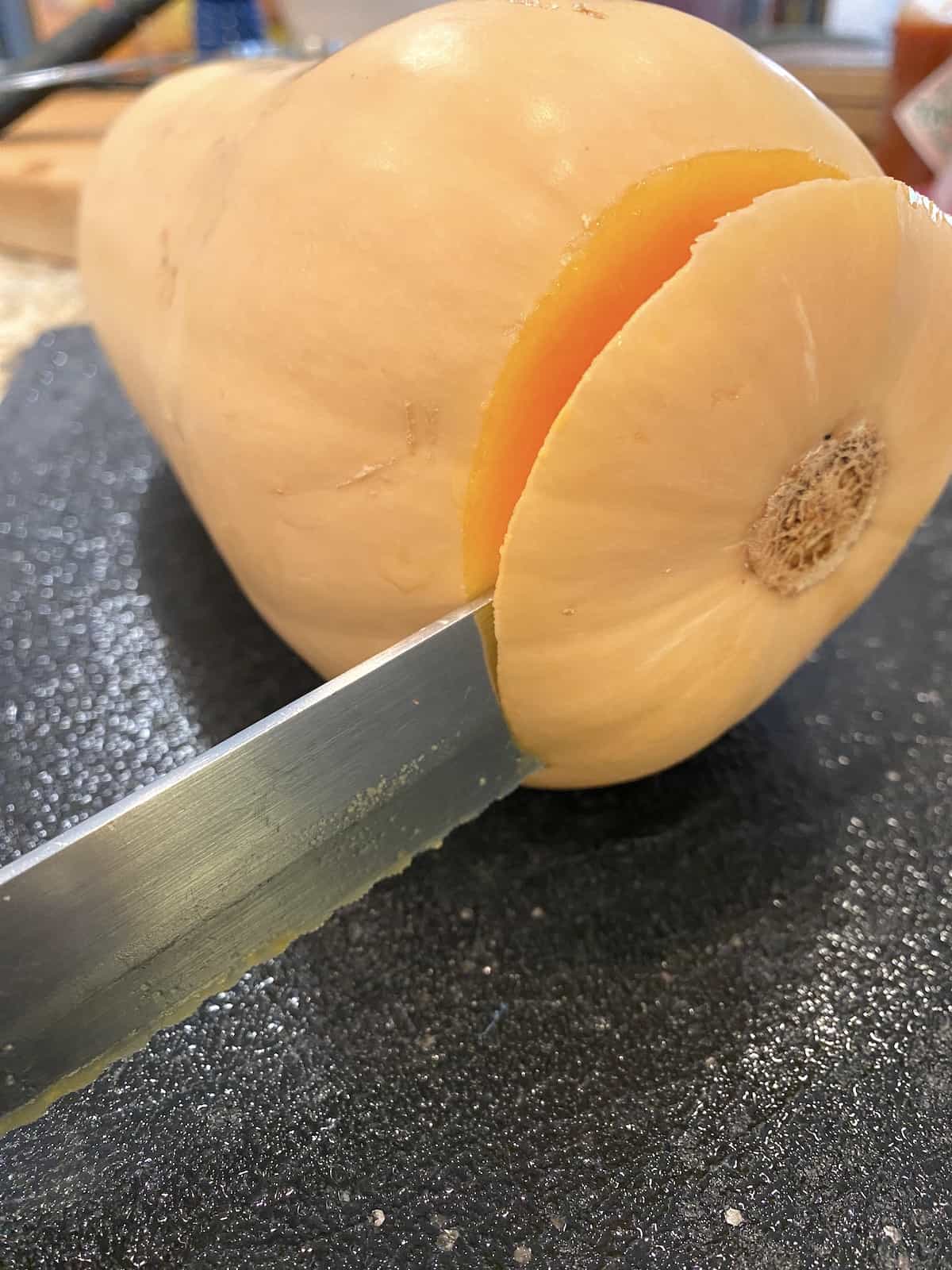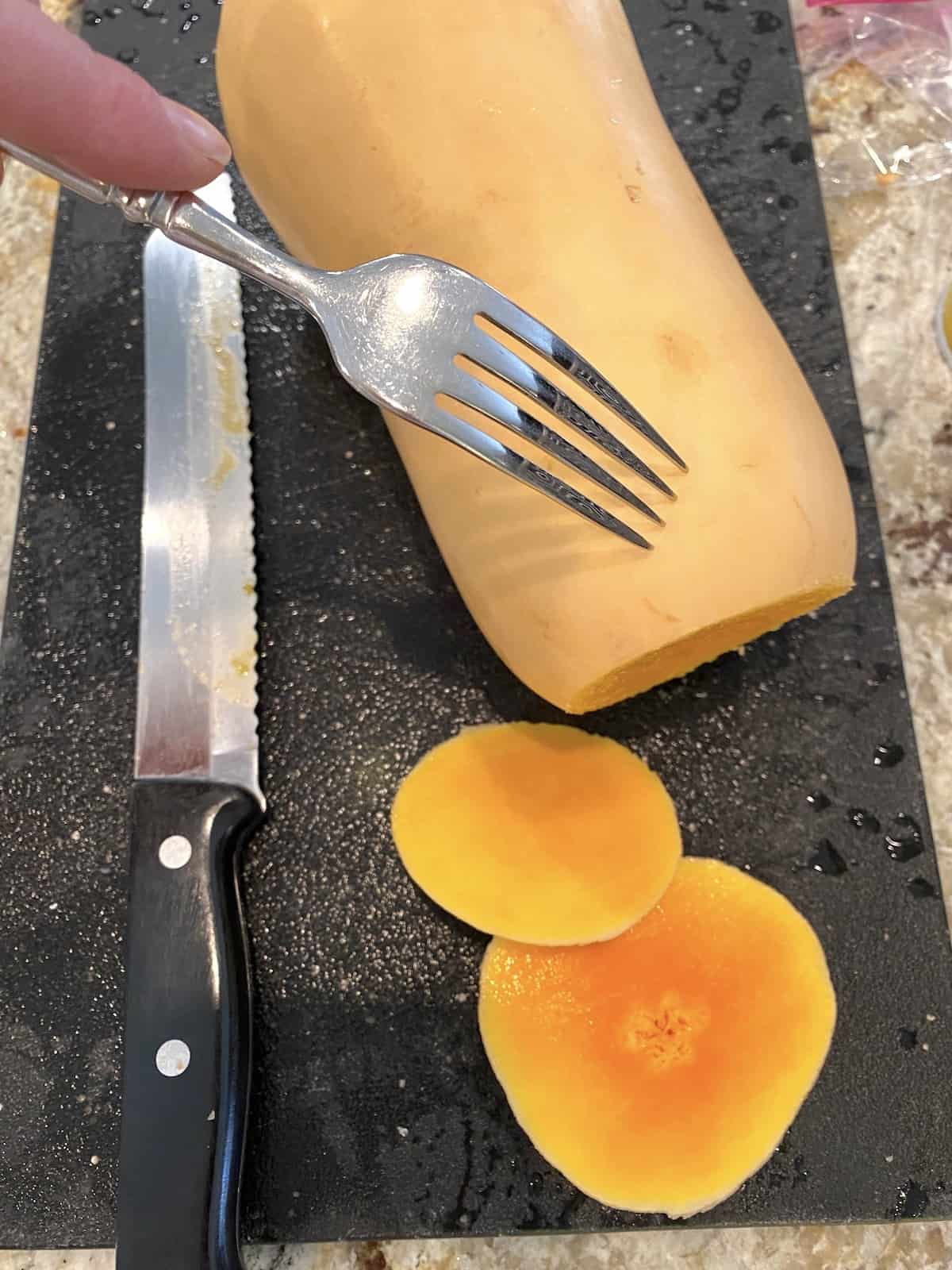 Slice the ends off of the butternut squash and pierce the peel about a dozen times with a fork.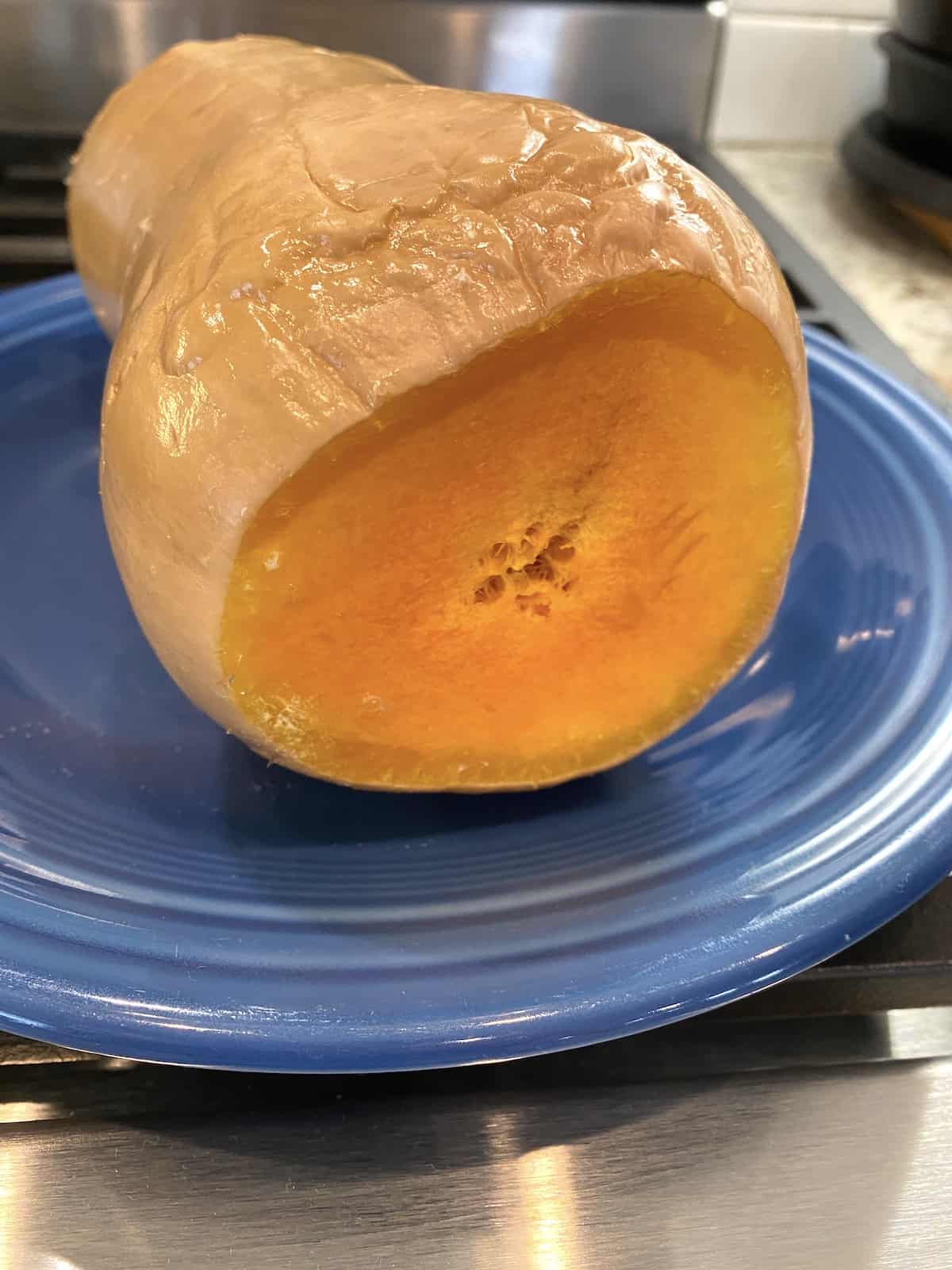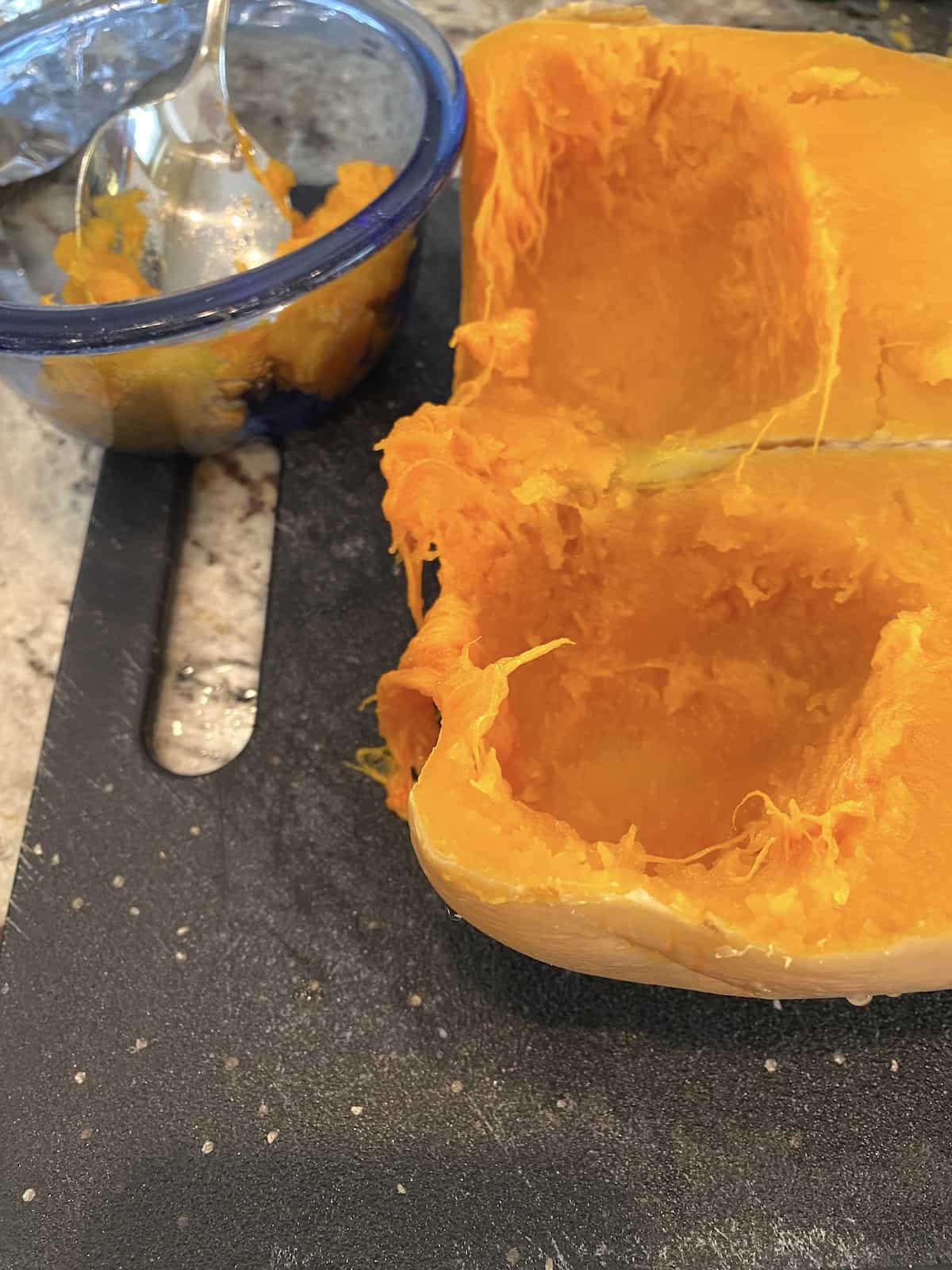 Cook the whole squash in the microwave oven on high for 20 minutes.
Check to see if the squash is tender.
If not, continue cooking and checking it at 10-minute intervals.
Once the squash is soft, remove it from the microwave, cover it with foil and let it rest for 15 minutes.
Slice the cooked squash in half lengthwise. Scoop out the seeds and discard.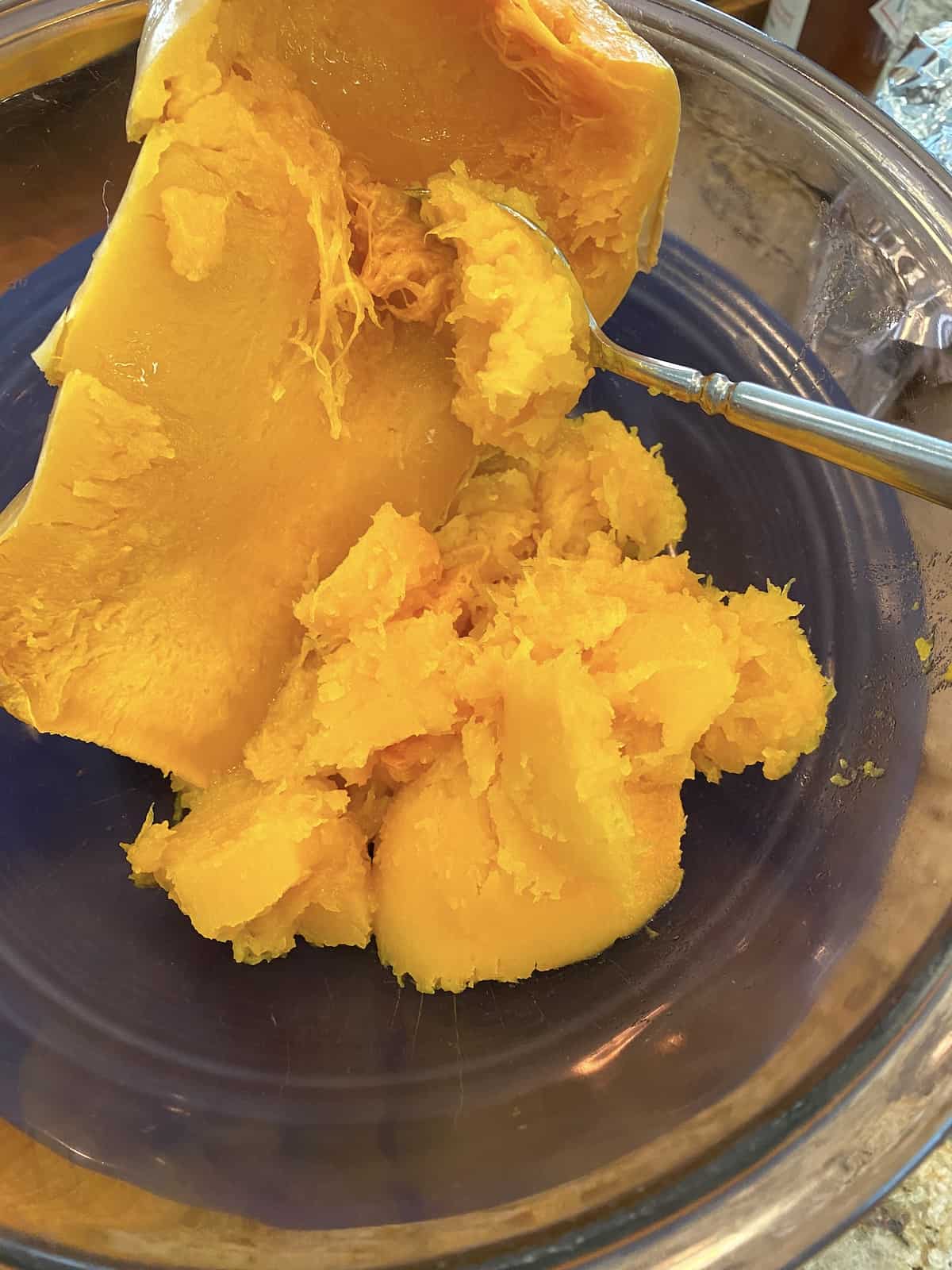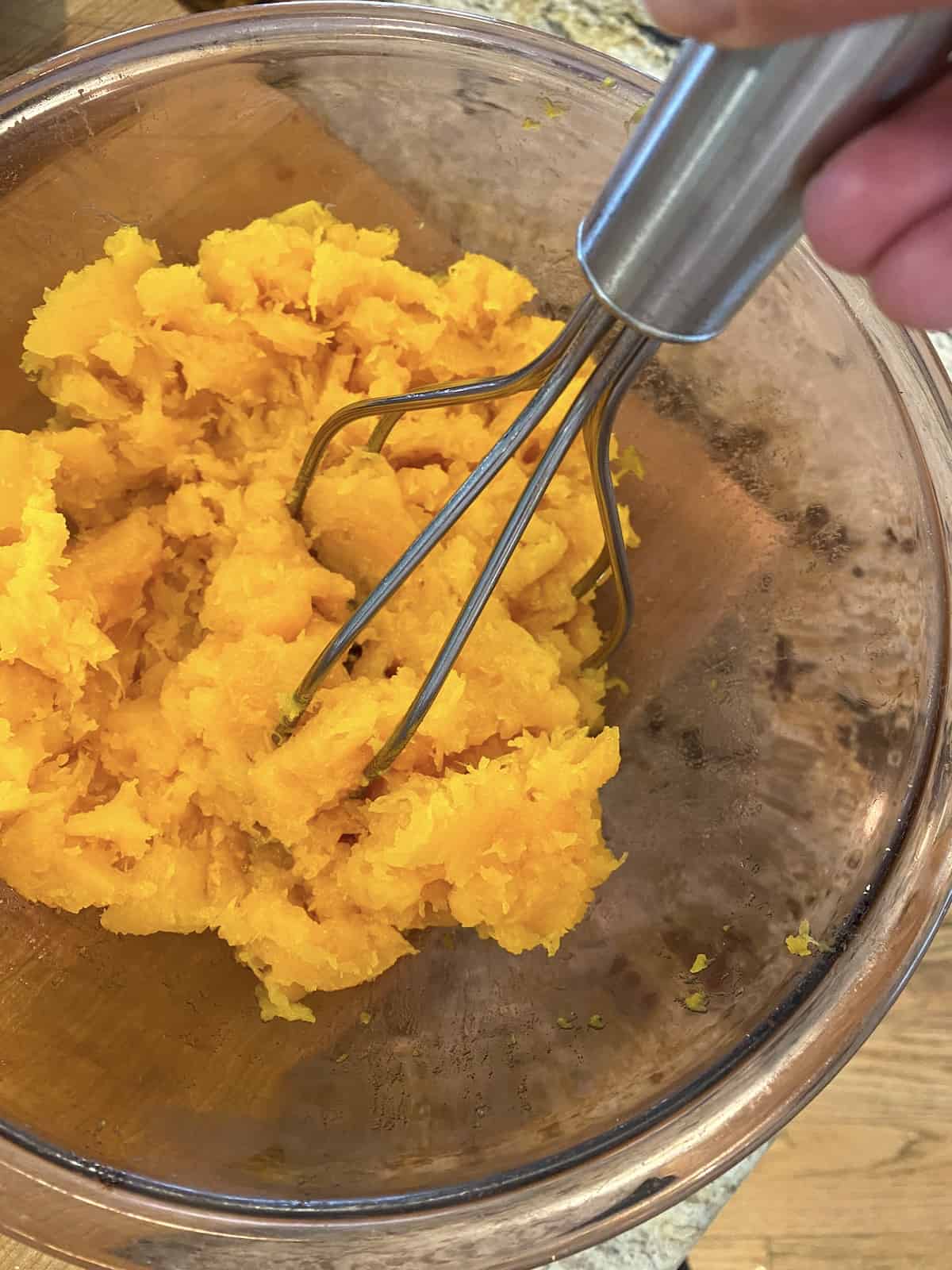 Use a spoon to scoop out the cooked butternut squash. Place it in a medium-sized bowl and use a potato masher to create a smooth consistency.
Option 3: Buy Pre-Cubed Butternut Squash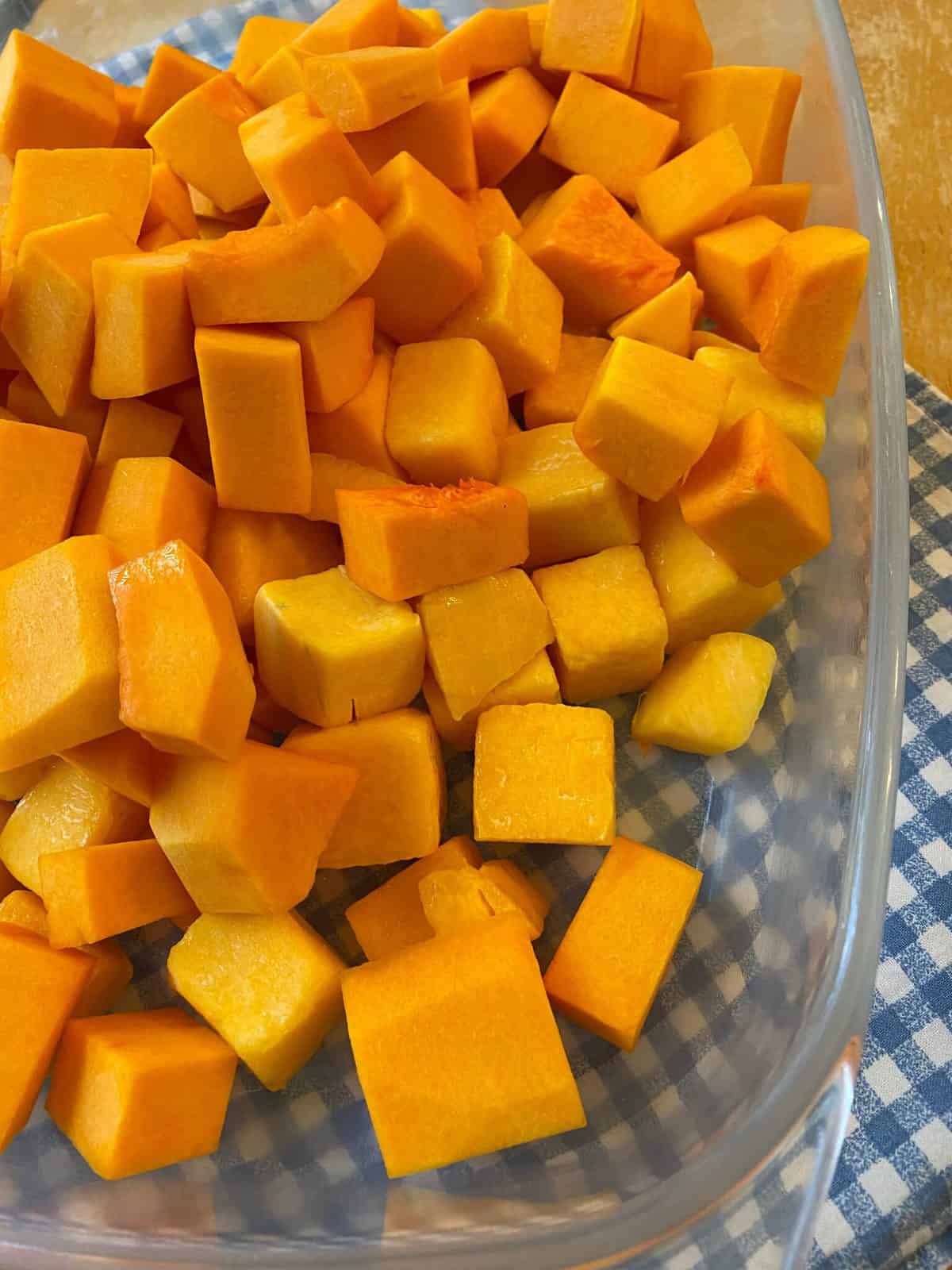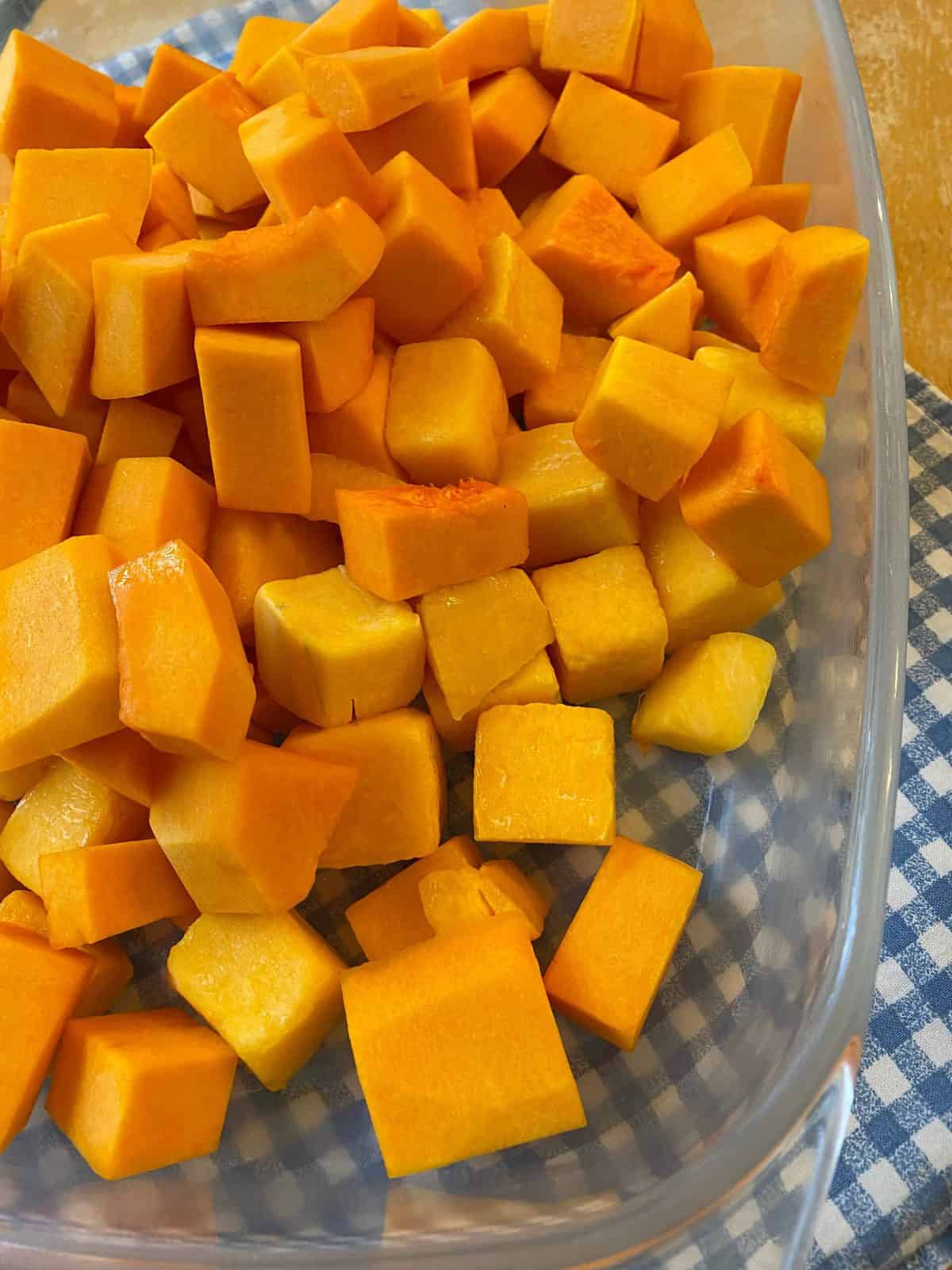 Time Tip: The cooking time to microwave pre-sliced and cubed butternut squash is about 15 minutes, depending on the wattage of your microwave.
If you've purchased the butternut squash pre-sliced and cubed from the grocery store, place the squash cubes in a shallow pan, cover with parchment paper or waxed paper and add a tablespoon of water.
Depending on your microwave, it should take about 15 minutes on high power. Check the squash at 15 minutes, it should be very tender and mash easily with a fork.
This is my favorite shortcut to buy butternut squash from the grocery store peeled, sliced and diced.
Option 4: Buy Frozen or Canned Butternut Squash
Time Tip: Canned butternut squash is perhaps the easiest option. Open the can and the squash is pureed and ready to use in mere seconds!
If frozen, cook the butternut squash according to the package directions or until it's fork-tender and will mash easily.
🥘 Make Butternut Squash Mac and Cheese Step-By-Step
Cook ½ pound of pasta in about 2 quarts of water in a medium-sized pot on the stove.
I recommend using bite-sized pasta for this recipe.
My favorite size and shape is mezzi rigatoni, which is a rigatoni that's slightly smaller than standard rigatoni pasta.
Other good options include elbow macaroni, penne pasta or shells.
Cook the pasta for 9 minutes and drain in a colander or strainer. Set aside.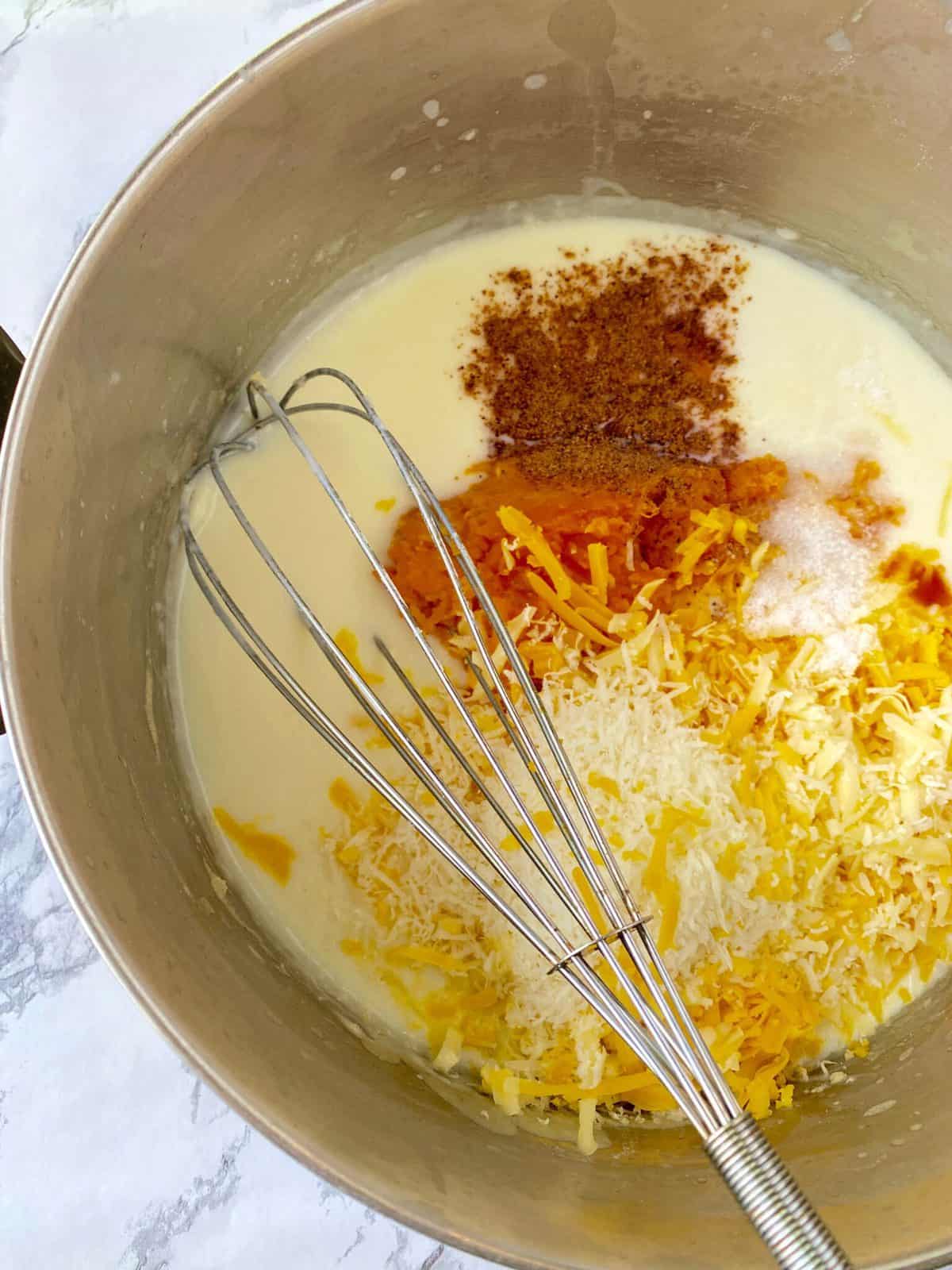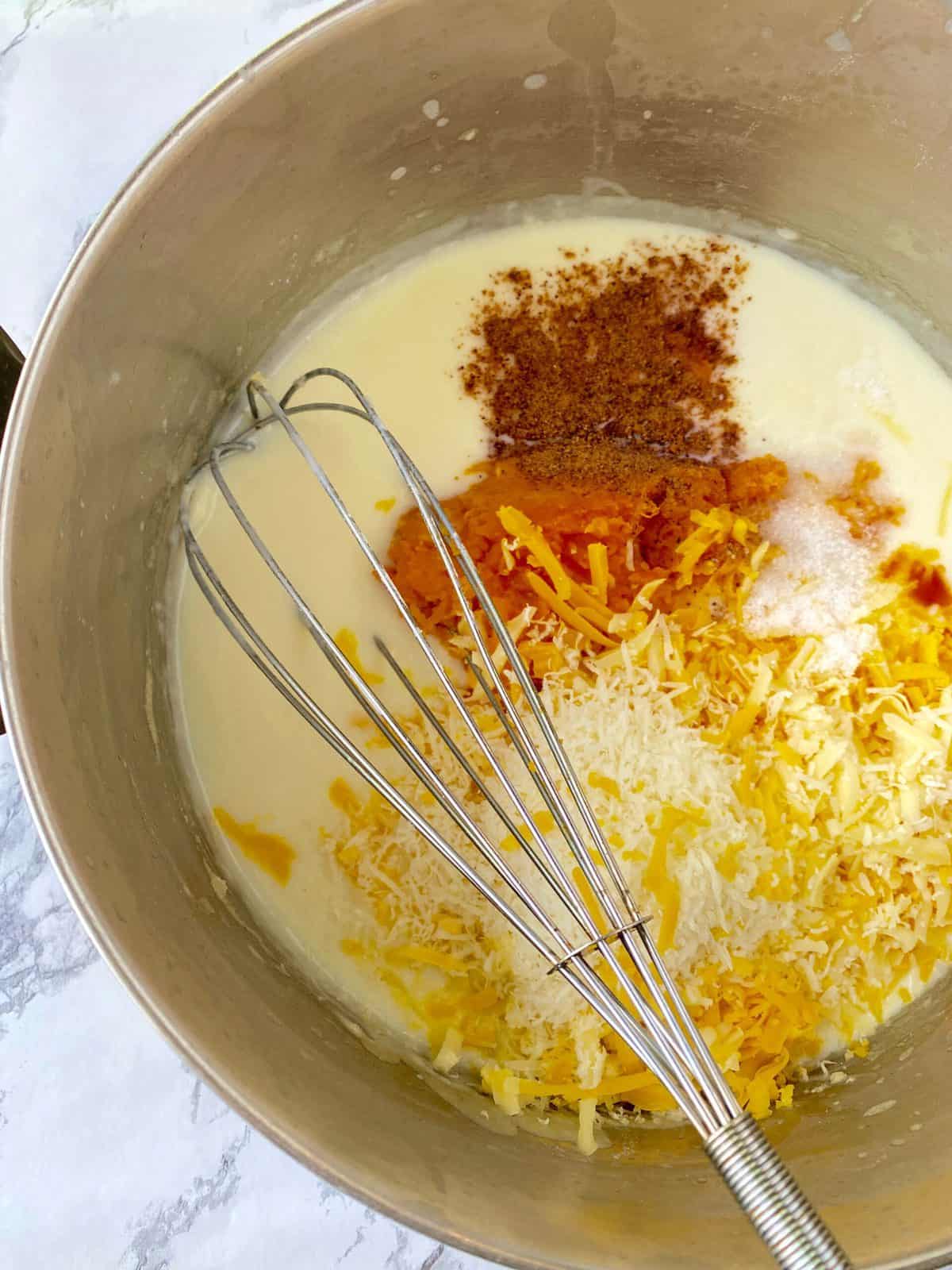 Use the same pot you cooked the pasta in, to create the creamy, cheesy butternut squash sauce.
The butternut squash cheese sauce begins with what my Mom would call a good old-fashioned white sauce.
But since the sauce is seasoned with nutmeg, it becomes what very fancy folks in the kitchen might call a classic béchamel sauce. I like how Bon Appetite magazine explains what that pretty name actually means.
Melt ¼ cup of butter in the pan over medium-high heat and whisk in ¼ cup of flour.
Stir over medium heat until the butter is foamy, and then whisk for about 20 seconds.
Add two cups of milk and continue stirring until the milk becomes a thick cream sauce.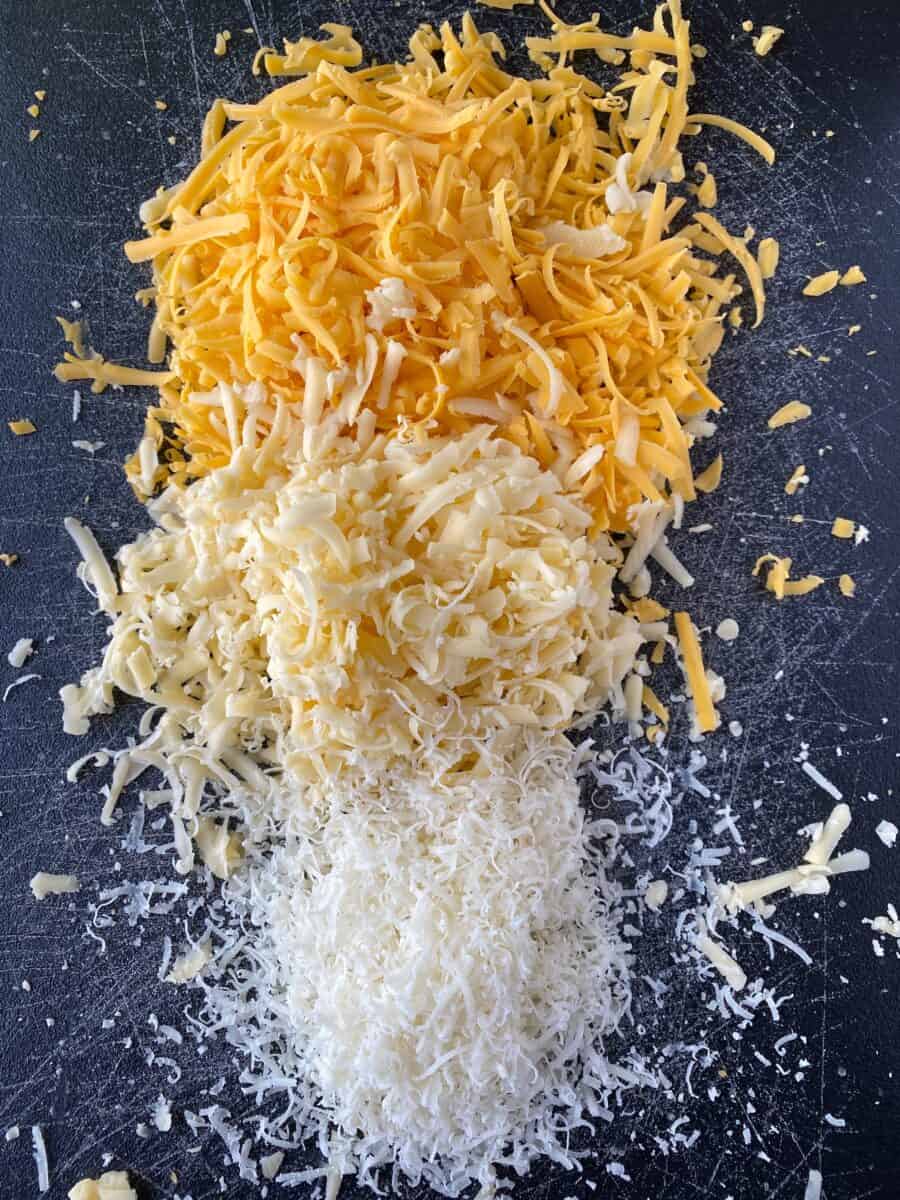 Reserve ¼ cup each of smoked gouda and cheddar cheeses.
Remove the pan from the stove and stir in the grated cheddar, smoked gouda and parmesan cheeses along with the cooked butternut squash.
Add nutmeg, Tabasco sauce, salt and pepper and stir.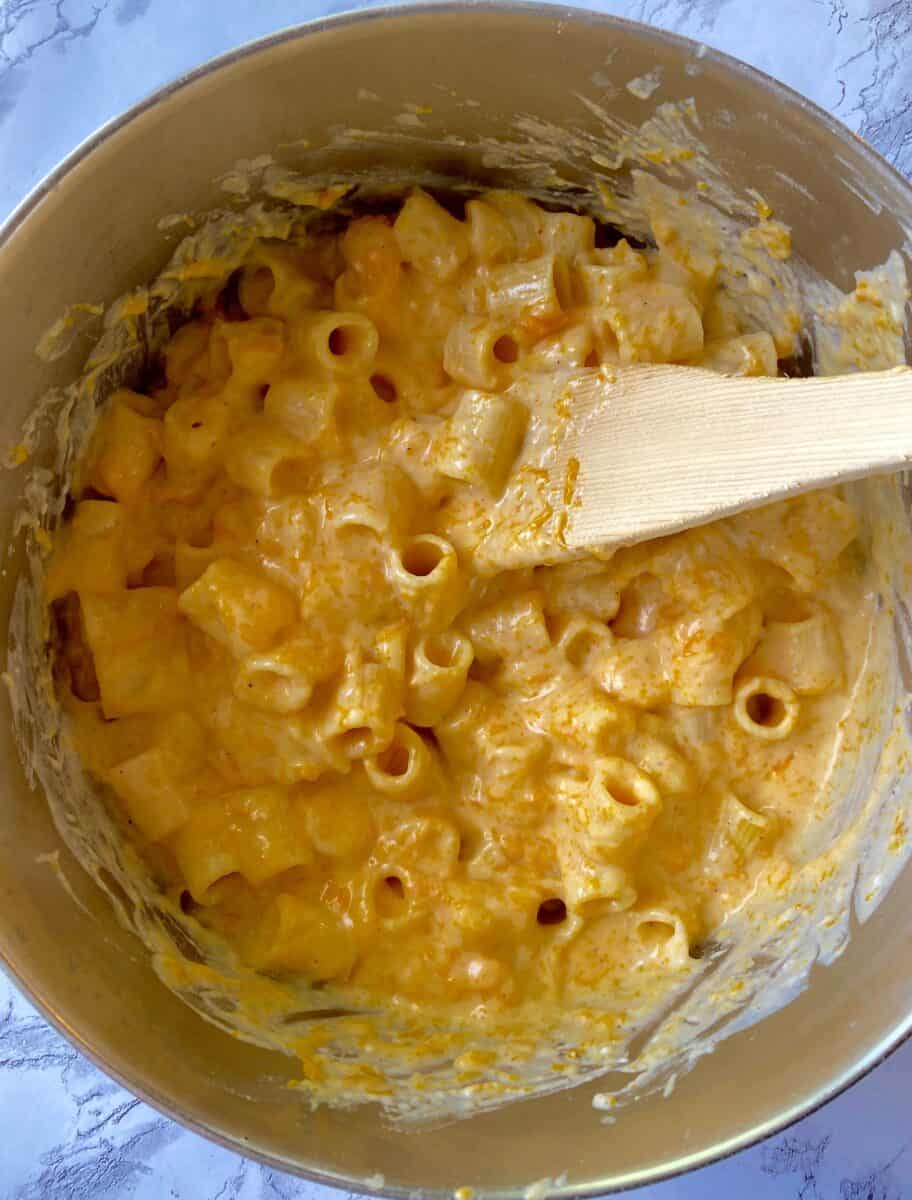 Add the cooked pasta to the cheesy sauce in the pan and stir to combine.
Spray a 2-quart glass baking dish with Pam, or grease with shortening.
Preheat oven to 350° F.
Place the pasta combined with butternut squash cheese sauce into the pan and cover with foil. Bake for 20 minutes. Remove the dish from the oven.
Top the pasta with the reserved gouda and cheddar cheese and return to the oven. Continue baking uncovered for an additional 10-20 minutes or until hot and bubbling.
Pro-Tip: If you use a dish larger than two quarts, reduce the cooking time by about 10 minutes.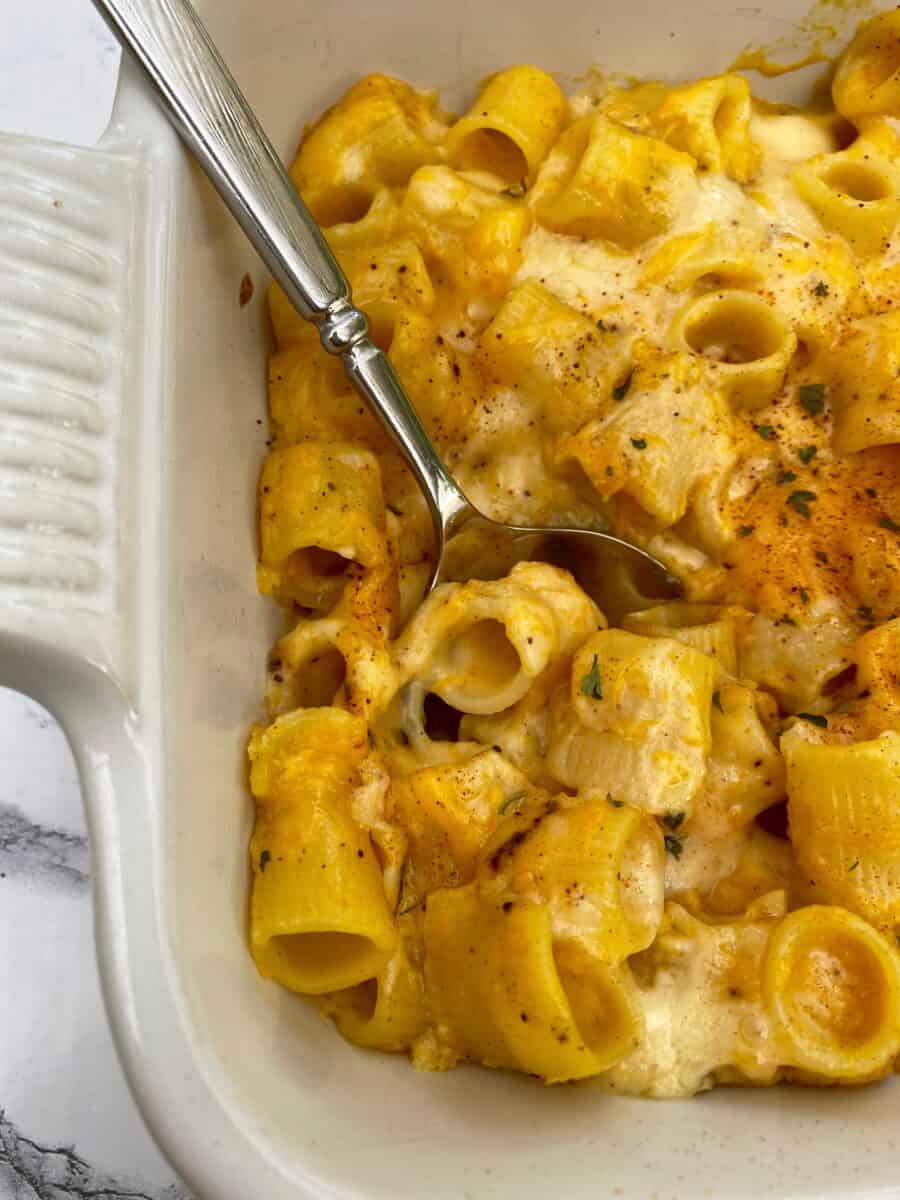 🍽 Inspired by Trader Joe's Butternut Squash Mac and Cheese
I was inspired to come up with this recipe after tasting Trader Joe's Butternut Squash Mac and Cheese, and especially after seeing how much my daughter enjoyed that version of the classic fall dish.
Trader Joe's Butternut Squash Mac and Cheese has a bit more of a sage flavor than my recipe, but I think you'll agree, there is a strong similarity.
The best part about making Butternut Squash Mac and Cheese at home is you have much more to enjoy than what we get from just one frozen package.
Note: The Crinkled Cookbook is not in any way affiliated with Trader Joe's. This recipe was simply inspired by their delicious Butternut Squash Mac and Cheese, which is sold in their frozen foods section.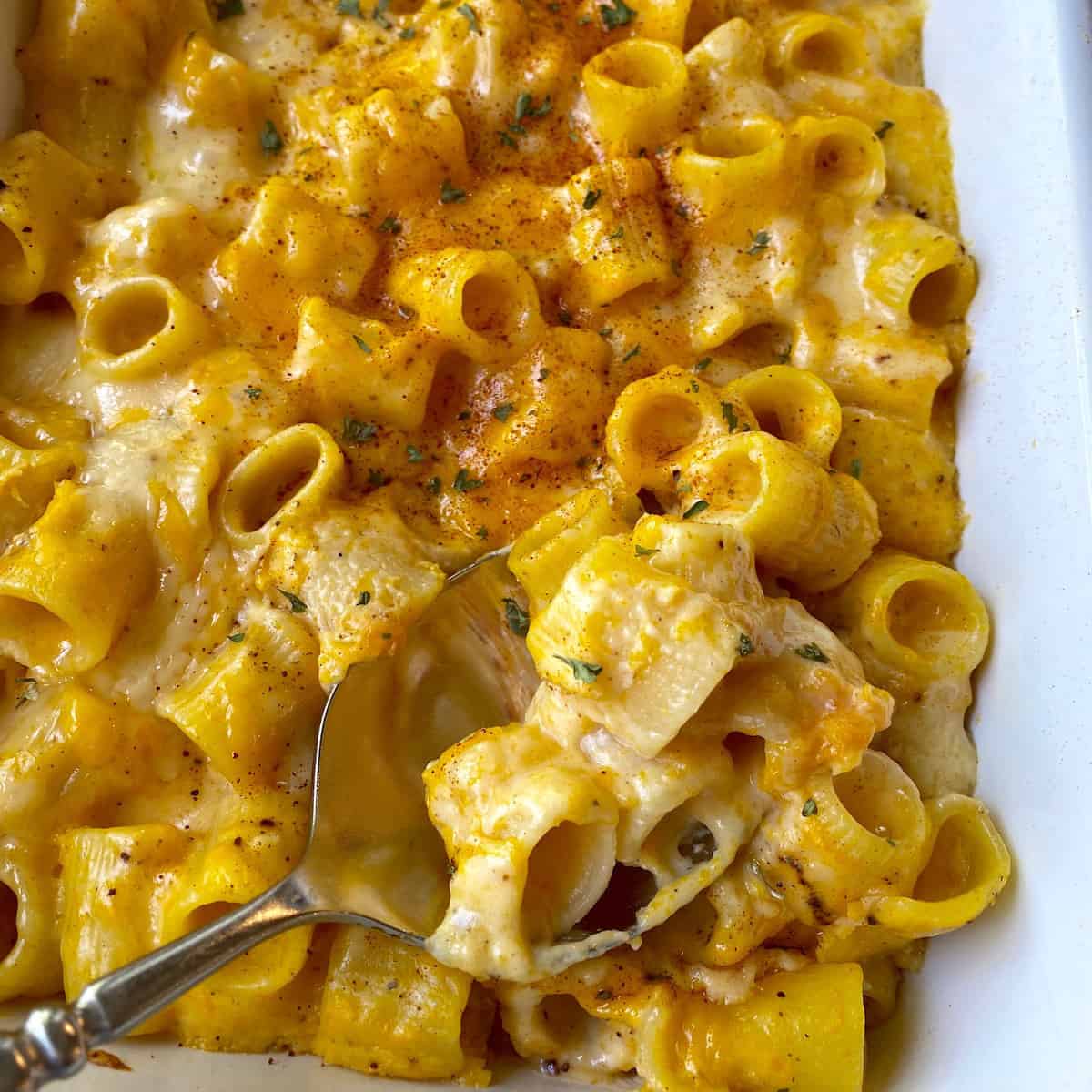 💭 Recipe FAQs
Can I use canned or frozen butternut squash?
Yes! Either frozen or canned butternut squash will work great. But I think the texture and flavor are far better in the butternut cheese sauce when we use fresh, oven-roasted squash in this recipe.
Do I need to peel butternut squash before roasting it?
Leave the peel on. Regardless of which baking technique you use - oven roasting or microwaving - the cooked squash is easy to scoop out of the peel after the squash bakes.
Can I use a different type of squash?
I believe butternut squash is best to use in this recipe. But acorn squash, sweet potatoes or even pumpkin are good alternatives. Those offer a similar creaminess and sweetness to mac and cheese but keep in mind the flavors will be distinctively different.
🍲 Storing Leftovers and Freezer Tips
Store Butternut Squash Mac and Cheese leftovers in a covered container in the refrigerator and plan to enjoy them within 3-4 days.
The cheese sauce tends to tighten up a bit when it's chilled, so you may want to sprinkle a few drops of water on the top before reheating. This will help soften the sauce as it warms up.
Butternut Squash Mac and Cheese is best served the day you make it, but it does freeze well. After baking and cooling, cover the dish tightly with aluminum foil and freeze for up to 3 months.
To reheat, remove the dish from the freezer and place it in the refrigerator to defrost for 24 hours.
After defrosting, place the covered baking dish in a 350° F oven and reheat the mac and cheese for 30 - 45 minutes or until bubbly and hot.
Note: The pasta may be less al dente than when it was fresh from the oven. Also, the cheese sauce may need a few drops of water added to the top as you reheat it to help it return to its original silky texture.
🍴More Recipe Ideas
Butternut Squash Mac and Cheese is a classic comfort food and a delicious main dish. Here are a few more of my favorite recipes, including dessert, that also fit that comfy description.
If you tried Butternut Squash Mac and Cheese or any other recipe on my website, please leave a 🌟 star rating and let me know how it goes in the 📝 comments below.
Recipe