Chocolate Strawberry Pie is the perfect dessert for a special occasion. These mini-pies have so much wow factor. The fresh strawberries and creamy filling hide a sweet, surprise layer of strawberry preserves and everything is topped off with melted milk chocolate and a sprinkling of pink himalayan salt. Delicious! But here's the best part, these are easy to make and are ready in about 30 minutes.
Note: Links in the recipe are paid links, Amazon Associates. This means I make a small commission when you click and shop. Your cost is the same and I only link to and recommend things or ingredients that I use or love.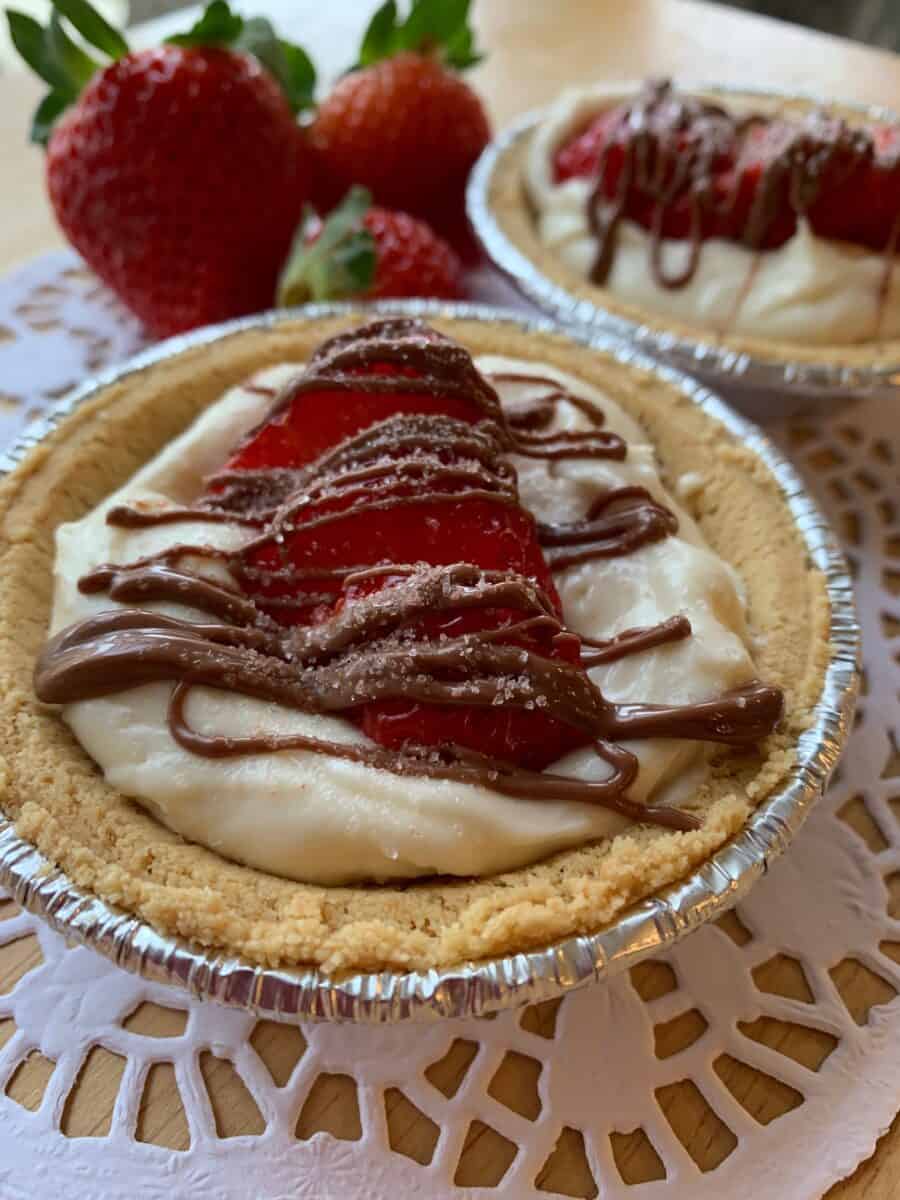 Simple Ingredients
As pies goes, these are so easy to make. No rolling out a crust, no peeling fruit. All you need are the following ingredients and less than 30 minutes: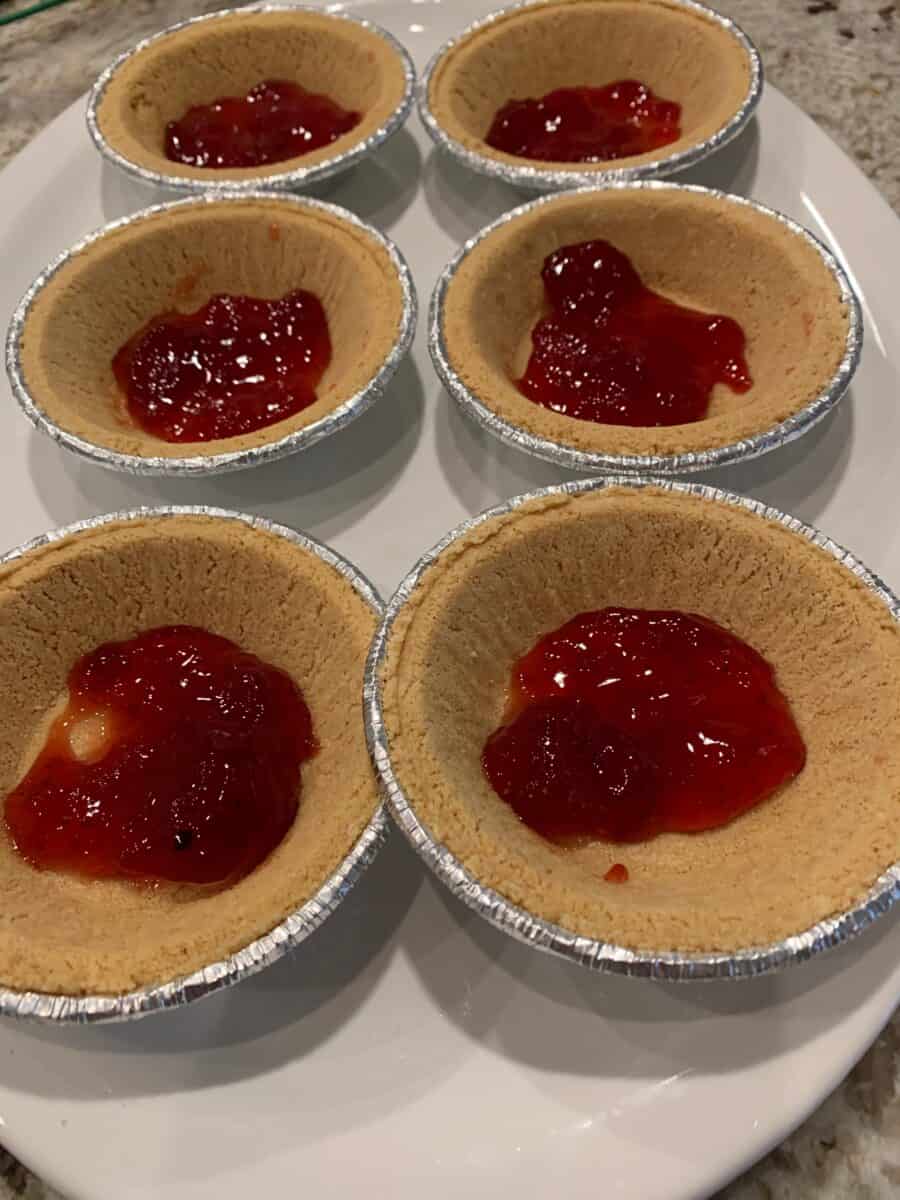 I've experimented with this recipe a lot and have tried it with a layer of melted chocolate in the bottom of the mini-pies, instead of strawberry preserves. But once chilled, the chocolate sets up and gets a little crunchy, which makes the pies a little awkward to eat - though still quite delicious.
I don't often use pre-made pie crusts, but with this recipe I make an exception because these little graham cracker crusts are so light and perfect. The layers and flavors are sweet bliss.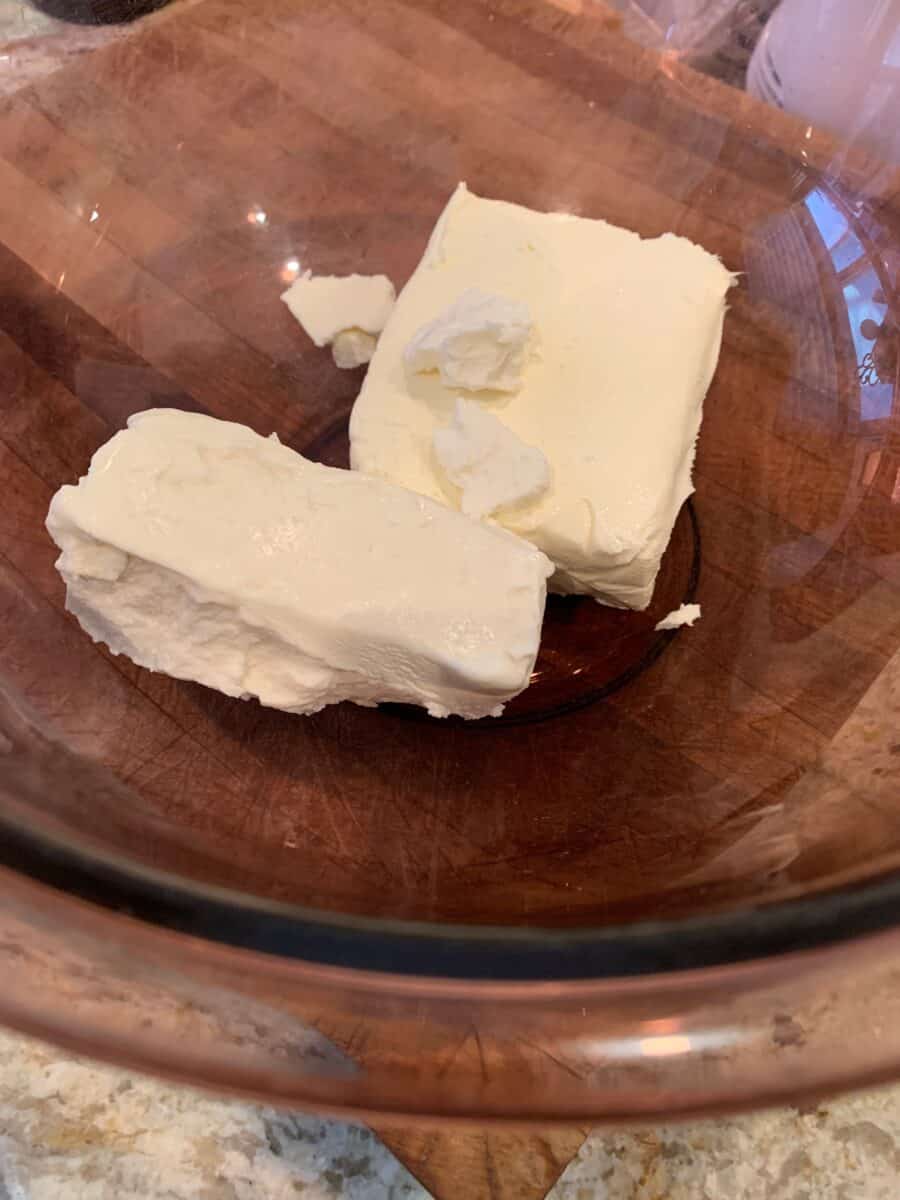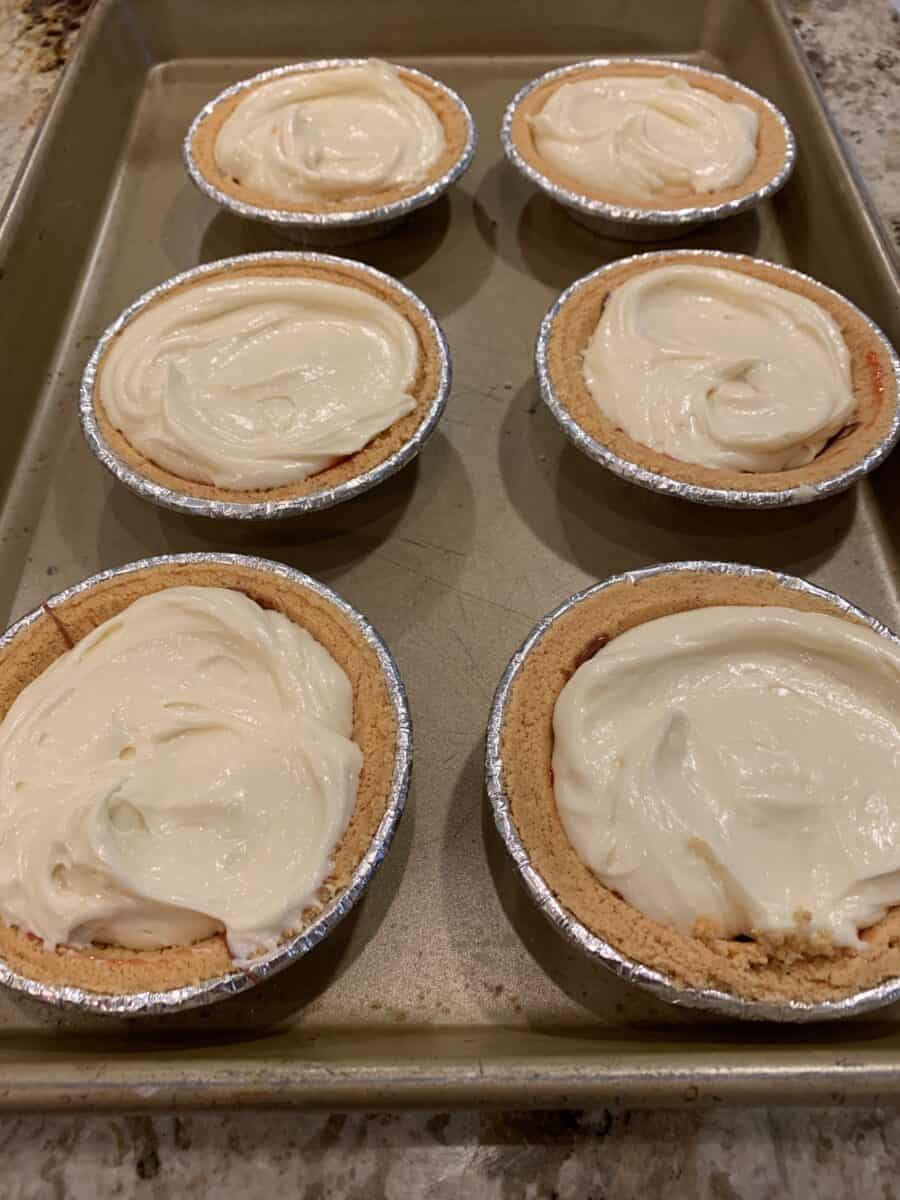 Filling Substitutions
Not everyone is a fan of goat cheese, though the cream cheese does a good job pairing with it in this filling. But not to worry, options abound! As a substitute, I recommend swapping goat cheese for the same amount of Mascarpone cheese. Or as another alternative, just double up on the cream cheese instead.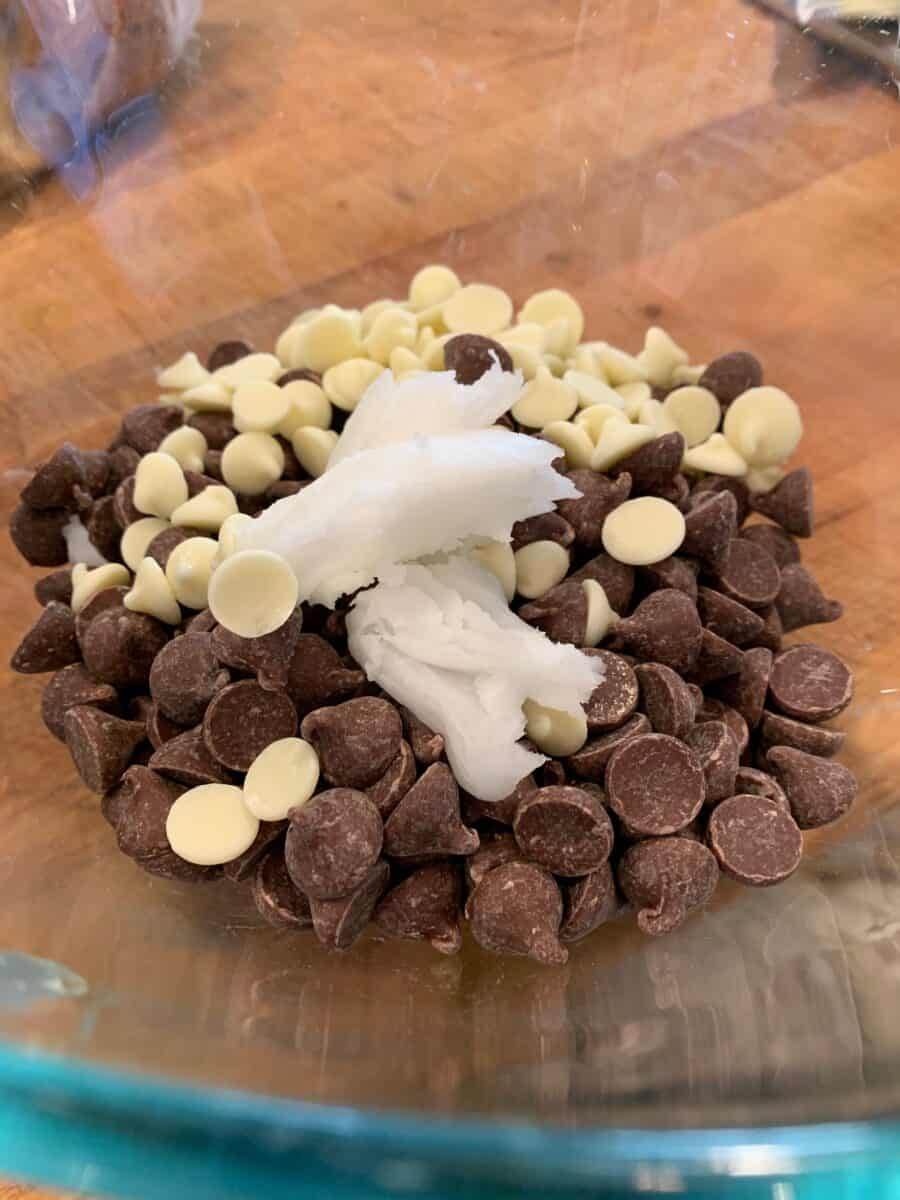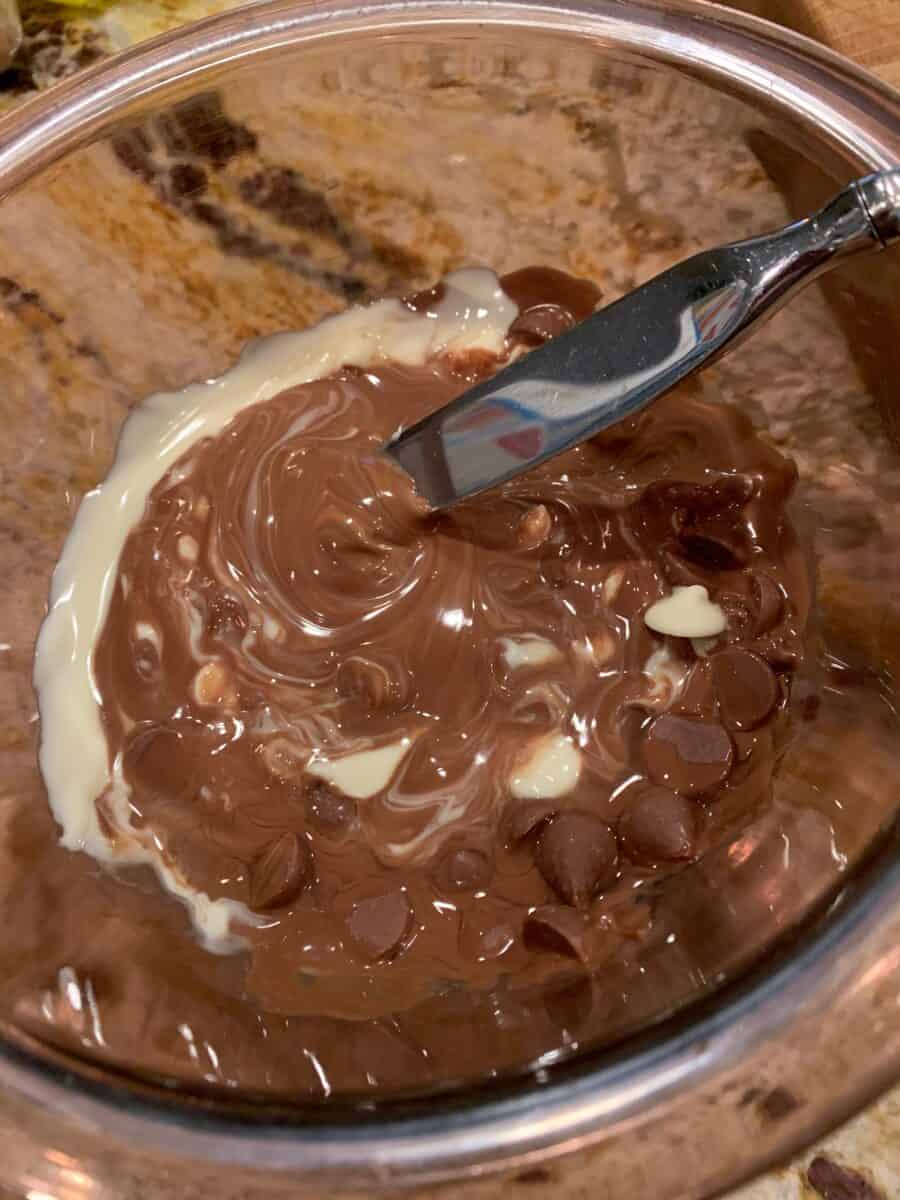 You'll probably have more melted chocolate than you need for the tops of the pies. I like to use the extra chocolate to coat the leftover whole strawberries - if there are any - and serve those as a side treat.
Fruit Topping Options
You can swap out strawberries for any fruit, as long as it's one that doesn't turn brown once sliced and tastes good with chocolate. I recommend either raspberries or blueberries as options, just be sure to also use either raspberry or blueberry preserves in the first layer of the pies.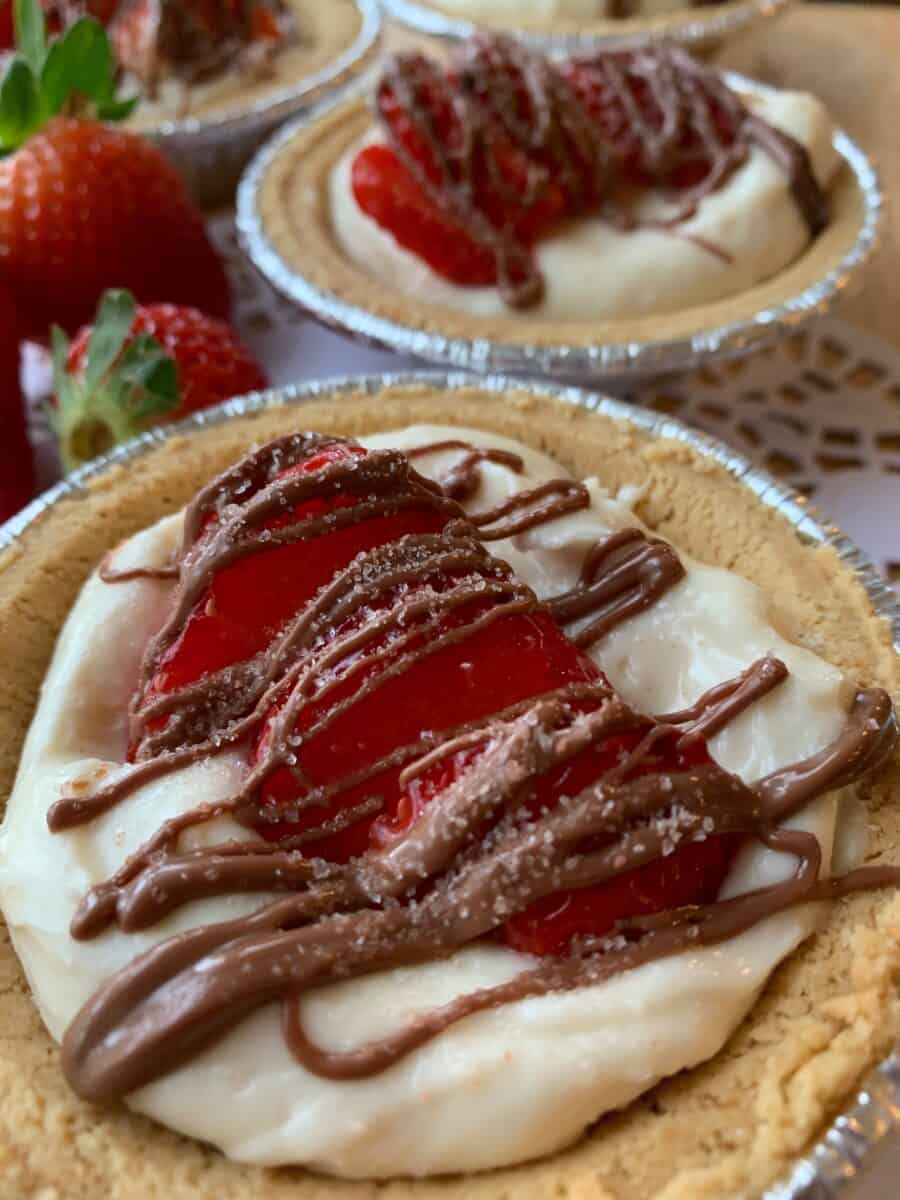 How do you store Chocolate Strawberry Pies?
These are delicious served right away, but chilling for an hour or so allows time for the filling to set and create a stable layer for the toppings. You can prepare them a day ahead with great results, but these are best served fresh, within a day or two. Store in the refrigerator, lightly covered, but try to enjoy them within 48 hours.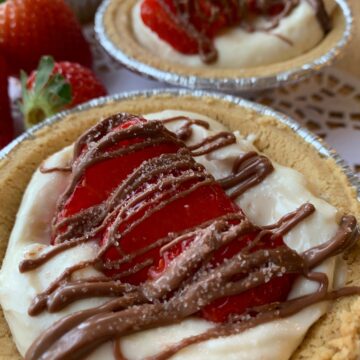 Chocolate Strawberry Pie
These little mini-pies have so much wow factor they are the perfect dessert for a special occasion. The fresh strawberries and creamy filling hide a sweet, surprise layer of strawberry preserves and everything is topped off with melted milk chocolate and a sprinkling of pink himalayan salt. Delicious!
Print
Rate
Pin Recipe
Ingredients
1

package of Keebler Graham Ready Crust

one package contains six crusts

4

ounces

goat cheese

5

ounces

cream cheese

1/3

cup

powdered sugar

1/2

teaspoon

vanilla extract

1

cup

milk chocolate chips

1/4

cup

white chocolate chips

1/2

teaspoon

coconut oil

1/3

cup

strawberry preserves

6-8

fresh strawberries, sliced

1

teaspoon

Pink Himalayan Salt
Instructions
Filling
Place goat cheese and cream cheese in a microwave safe bowl. Soften at half power for about two minutes until warmed and easy to stir. Add powdered sugar and vanilla extract and whisk to combine. Place mini graham cracker crusts onto a large plate or cookie sheet and add 2-3 teaspoons of strawberry preserves into each crust.

Spoon cream cheese, goat cheese mixture on top of the strawberry preserves, enough to cover the jam completely and fill the pie crust.
Topping
In another microwave safe bowl, place milk chocolate chips, white chocolate chips and coconut oil. Microwave on half power for about a minute or until melted and smooth. Add a dash of Pink Himalayan Salt and stir to combine.

Rinse strawberries and pat dry. Slice each berry.

Arrange sliced strawberries on top of the cream cheese mixture. Use a small spoon to drizzle the melted chocolate on top of the strawberries then add a dash or two of the Pink Himalayan Salt to garnish.

Be careful not to add too much salt, just one or two dashes will do it.

You can serve these right away or, if possible, refrigerate for at least an hour until the chocolate is set and the cream cheese filling is fully chilled.

Sprinkle several dashes of Pink Himalayan Salt on top of each pie.
Nutrition
Calories:
399
kcal
Carbohydrates:
44
g
Protein:
7
g
Fat:
22
g
Saturated Fat:
10
g
Cholesterol:
36
mg
Sodium:
679
mg
Potassium:
119
mg
Fiber:
1
g
Sugar:
27
g
Vitamin A:
513
IU
Vitamin C:
9
mg
Calcium:
78
mg
Iron:
1
mg
Please note, the nutrition details are estimated using a food database and are offered here only as a guideline for informational purposes.