Peanut butter cookies are soft, chewy and delicious and this recipe even includes whole wheat flour, which gives the cookies an especially yummy and nutty taste. These cookies are irresistibly chewy. The secret is - let the cookies set on the hot baking sheet for a few extra minutes after you take them out of the oven and before you place them on a cooling rack. These are truly the best peanut butter cookies.
Note: Some of the links in the recipe are paid links, Amazon Associates. This means I make a small commission when you click and shop. Your cost is the same and I only link to products or ingredients that I use and love.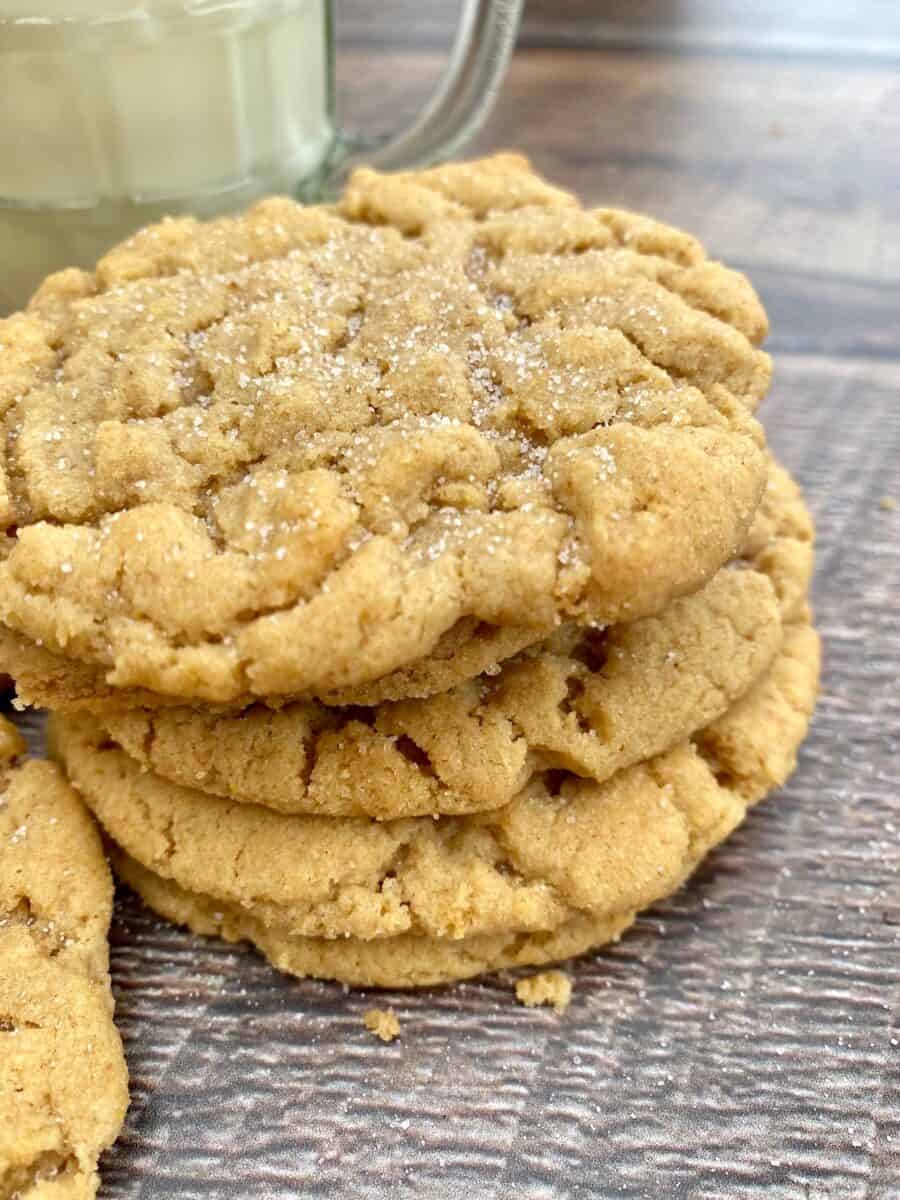 Ingredients to have on hand
The best part about homemade peanut butter cookies is we almost always have the ingredients we need on hand. I prefer to use creamy peanut butter, but when I was growing up, my Mom would make peanut butter cookies with chunky or crunchy peanut butter, and those were delicious too.
With just a few pantry staples you can whip together a batch of cookies in no time.
I keep whole wheat flour in the freezer since I don't use it every day, but it's nice to have readily available when I feel like making this recipe. Storing whole wheat flour in the freezer helps it stay fresh longer. You can stir it into the cookies while it's still cold from the freezer, or bring it up to room temperature.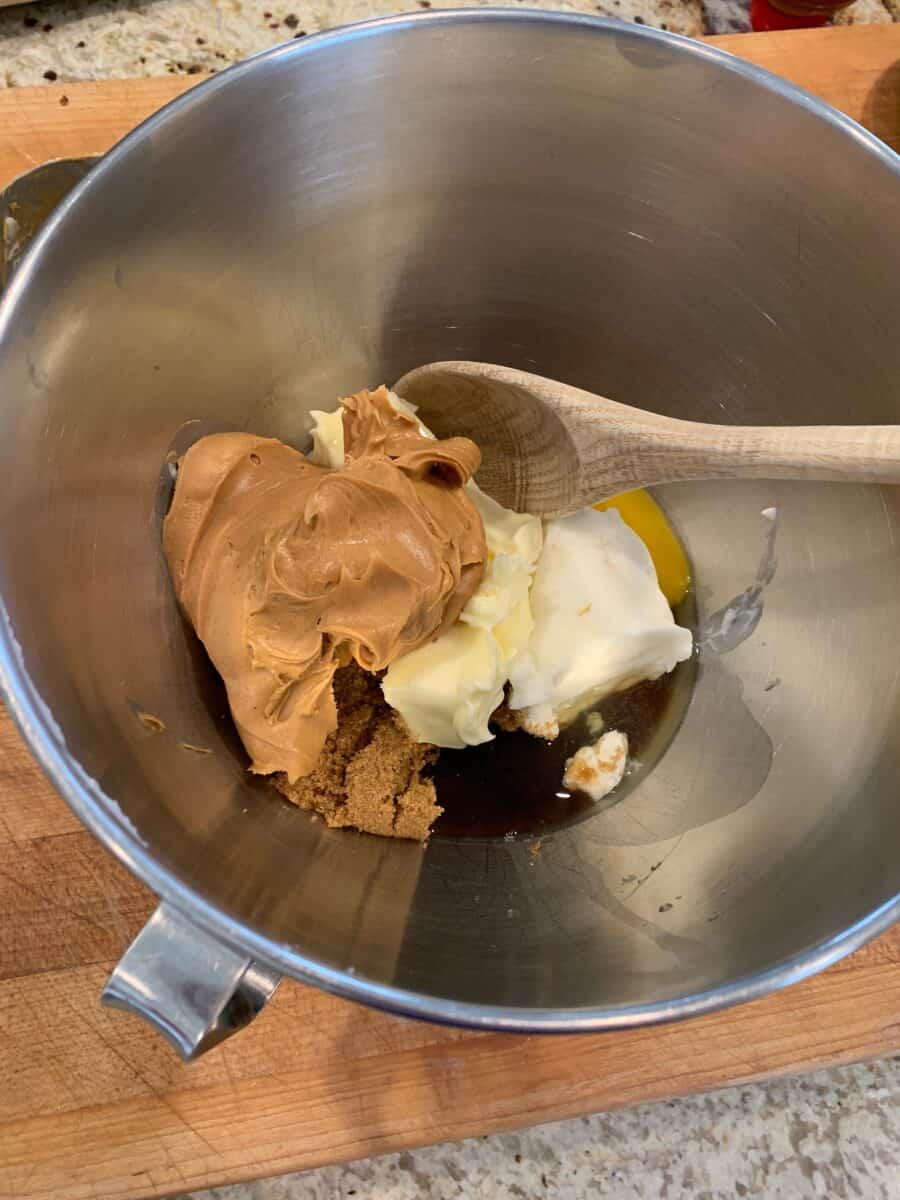 It starts with butter, shortening and peanut butter.
Make sure the butter is softened so all three ingredients blend evenly with the egg and sugars.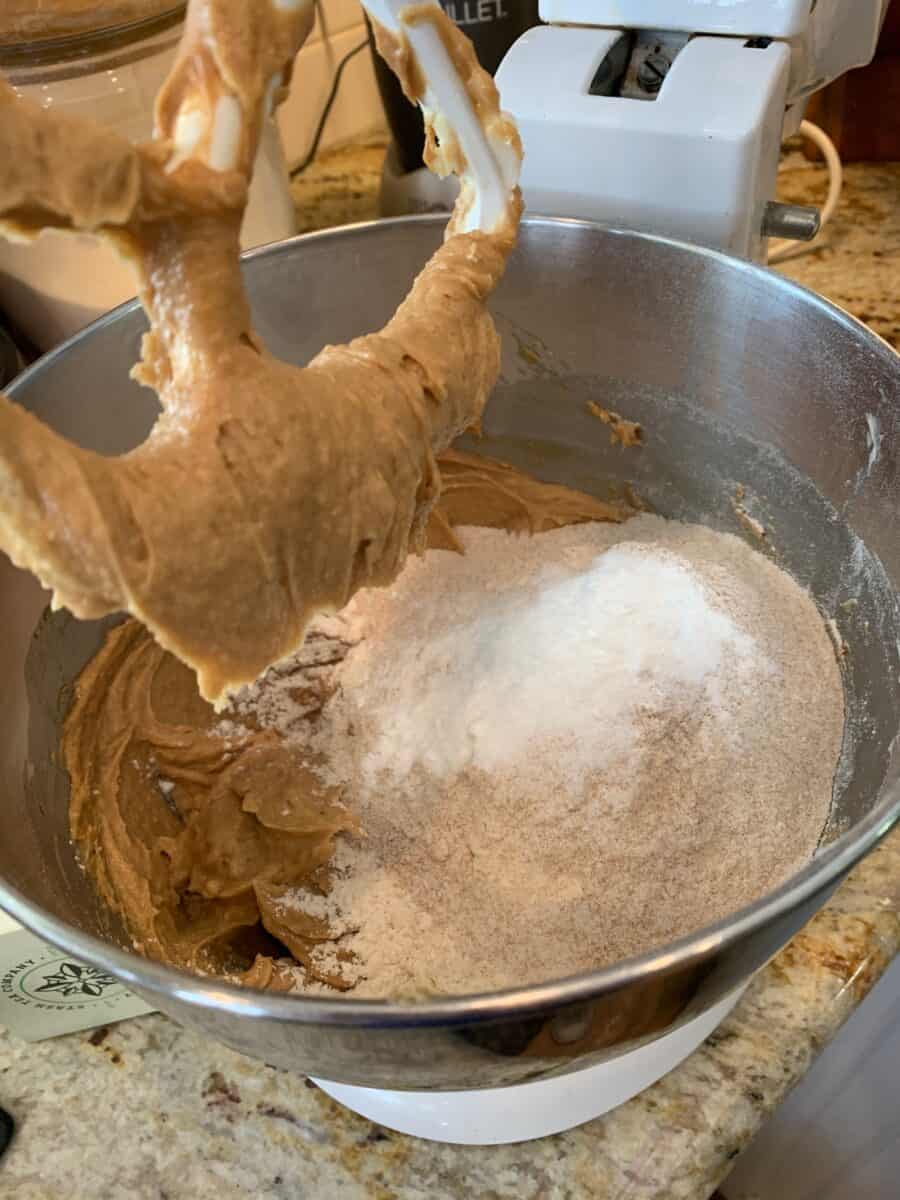 If you have a large mixer, by all means use it to blend the cookie dough. But a wooden spoon does just fine too.
In a large bowl, stir until all the ingredients are evenly mixed. Next you'll add the flours and the dry ingredients.
Whole wheat flour makes such a big difference in how these peanut butter cookies taste.
The nutty flavor in the flour blends beautifully with the peanut butter flavor. Plus, it helps give the cookies a somewhat "healthy" vibe. I like to use natural peanut butter, but by all means use whichever variety your family likes best.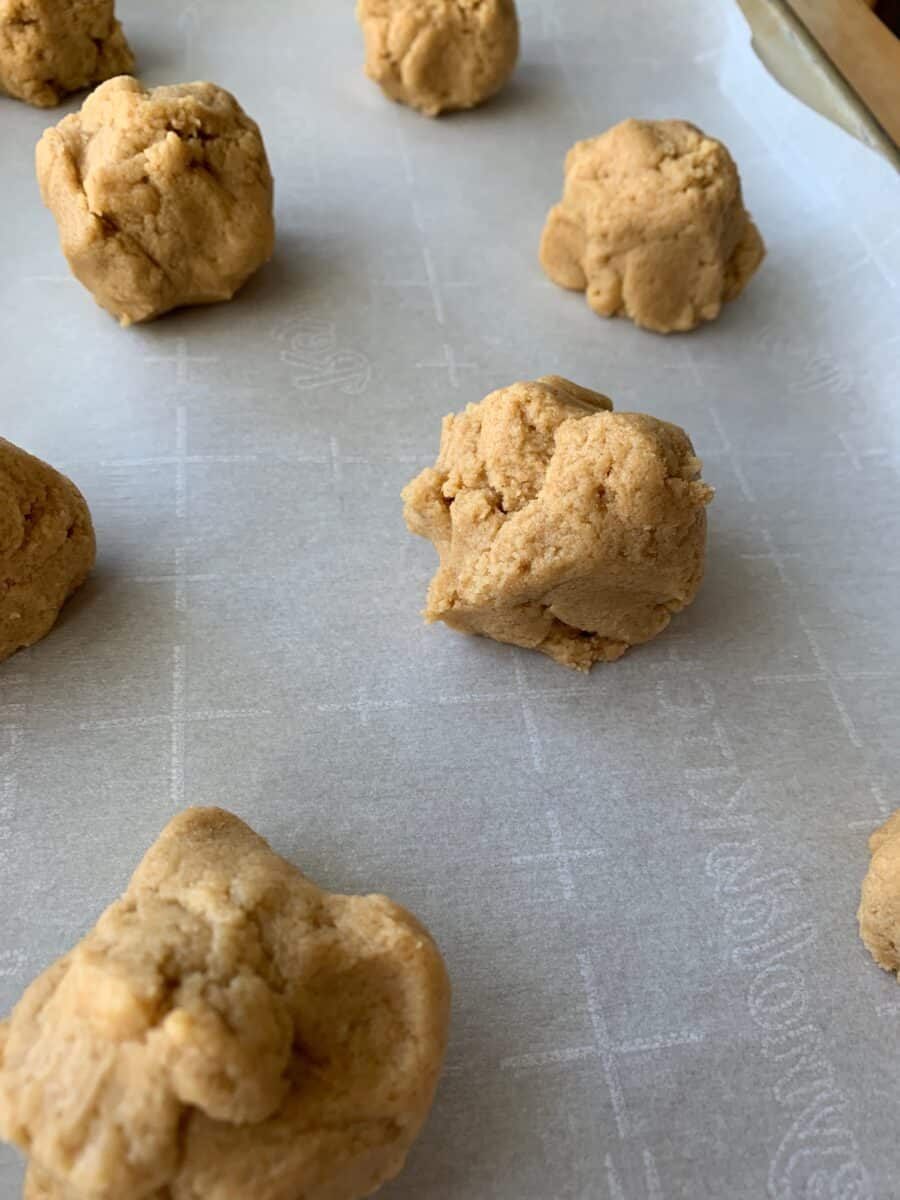 Be sure to make each cookie the same size, or as close to the same size as possible. This ensures each one will a consistently soft cookie. And of course, be sure to make the traditional criss-cross pattern with a fork on each cookie. Those fork marks are what make peanut butter cookies so distinctive. I like to use the back of a fork to make the pattern.
Use Parchment Paper
Parchment paper isn't a must, you can also bake these on a greased cookie sheet with great results.
I like using parchment paper since it's so durable and makes it cleaning up the baking pans a true breeze! Just crinkle up the paper and throw it away when you're done baking cookies.
The pan may still need a light washing, but the parchment paper makes a big difference in keeping the grease from building up on our baking sheets.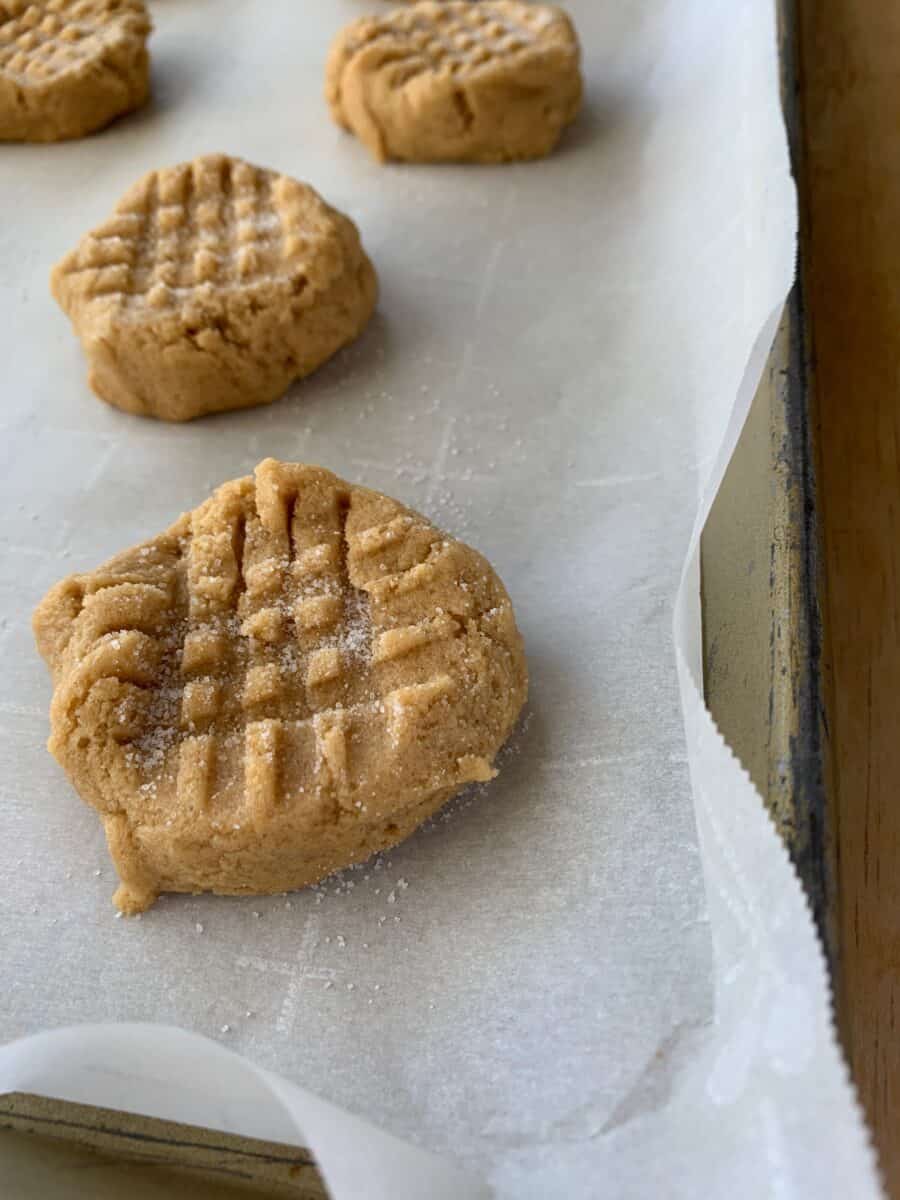 Soft, Chewy Cookies
The key to soft peanut butter cookies turning out soft and chewy every single time is to not over bake them. It's a good idea to watch how the first batch bakes in your oven, and to use less baking time if needed to achieve the perfect texture.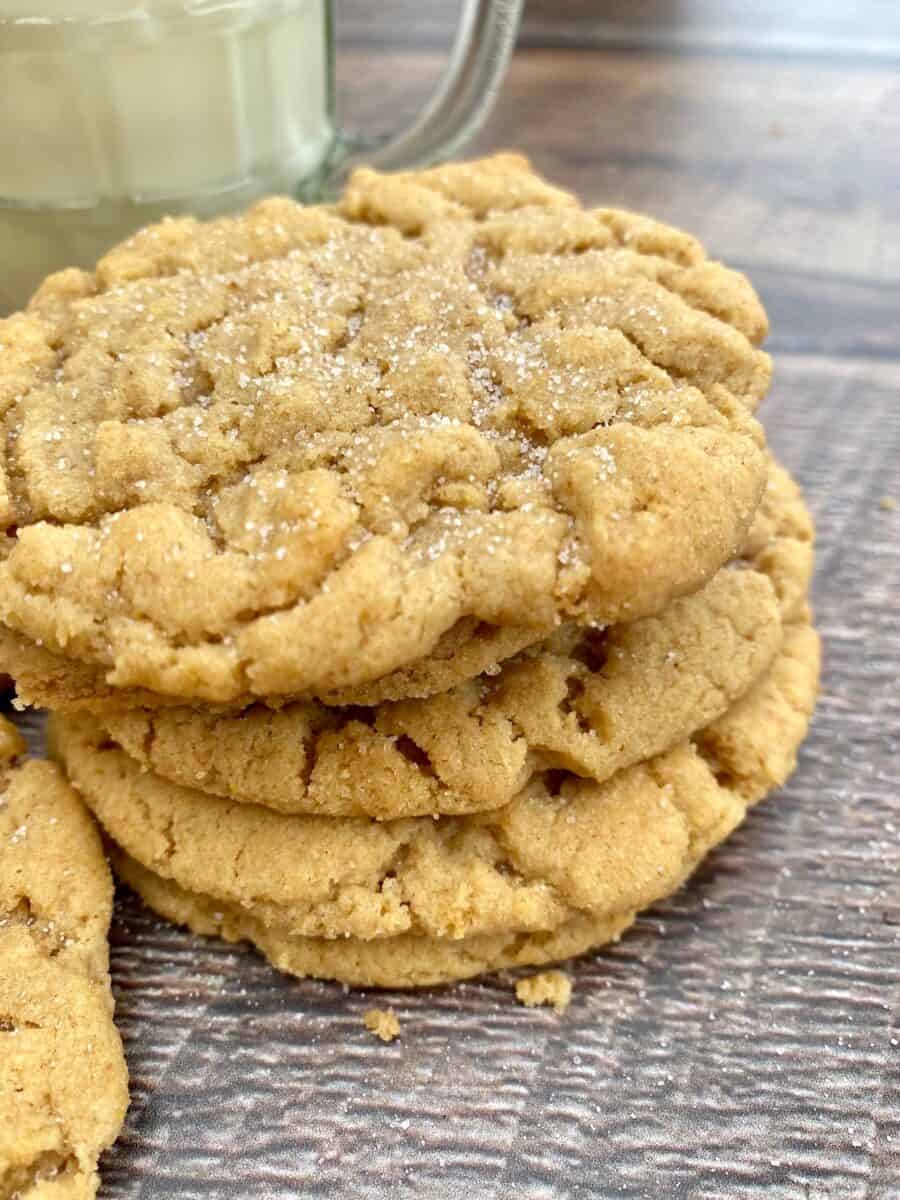 Check on the cookies after nine minutes of baking, if the cookies have spread out and are set, but still look very soft in the center - they are done.
Remove the baking sheet from the oven and let the cookies cool on the hot baking sheet for five additional minutes before placing them on a cooling rack. The first time I made these I didn't give the cookies enough time to cool on the baking sheet.
Storing and Freezing Cookies
Cool these on a wire rack. But cookies dry out quickly, so after I've stacked up the amount of cooled cookies that we plan to enjoy within a day or so I place them an airtight container, then I pop the rest into plastic freezer bags as soon as they cool.
This helps ensure the cookies are just as fresh and tender as the moment they came off the baking sheet. These are truly the softest peanut butter cookies.
I love how these peanut butter cookies freeze so beautifully, though it's usually hard to keep these around since they get gobbled up fast, even right out of the freezer. Just be sure to store them in a freezer safe bag so they stay as fresh as possible.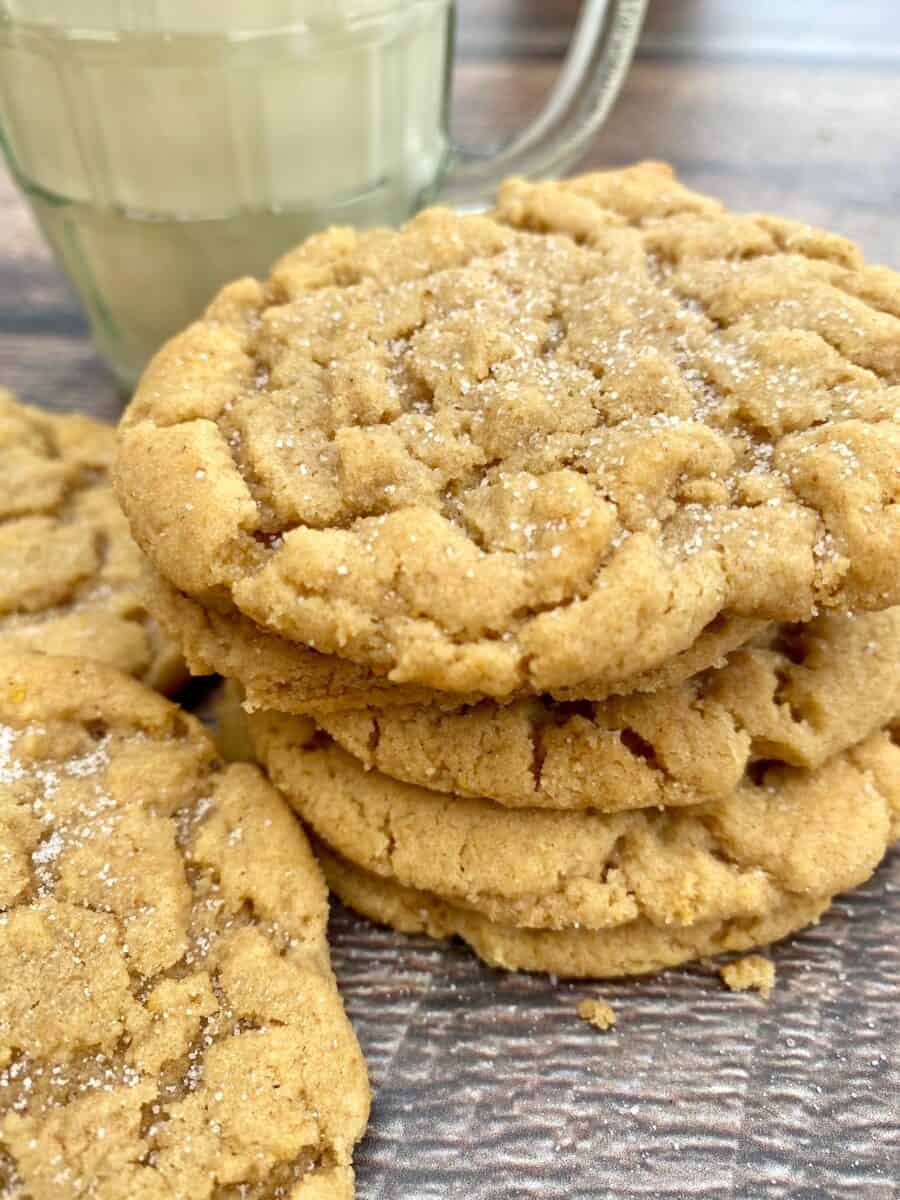 The Inspiration
I have many recipes in my collection, but this has been my go-to classic cookie for years. Without a doubt, this is an easy peanut butter cookie recipe, it uses simple ingredients and creates the best results every time. In short, a great recipe! The key to these turning out perfectly is to focus on the bake time in the recipe, and plan for the cookies to cool for a few minutes on the baking sheet.
I had the ingredients written down on a piece of paper in one of my well-worn recipe binders, but it originally came from an old Betty Crocker children's cookbook my daughter loved as a little girl. The little cookbook is long gone from our house, how we lost track of it I'll never know - but I'm so glad I saved the recipe.
Believe me, if you like a tender cookie with slightly crispy edges, you and your family will love these cookies. The only thing that might be better is to make them a second time! I hope this becomes one of your favorite cookie recipes.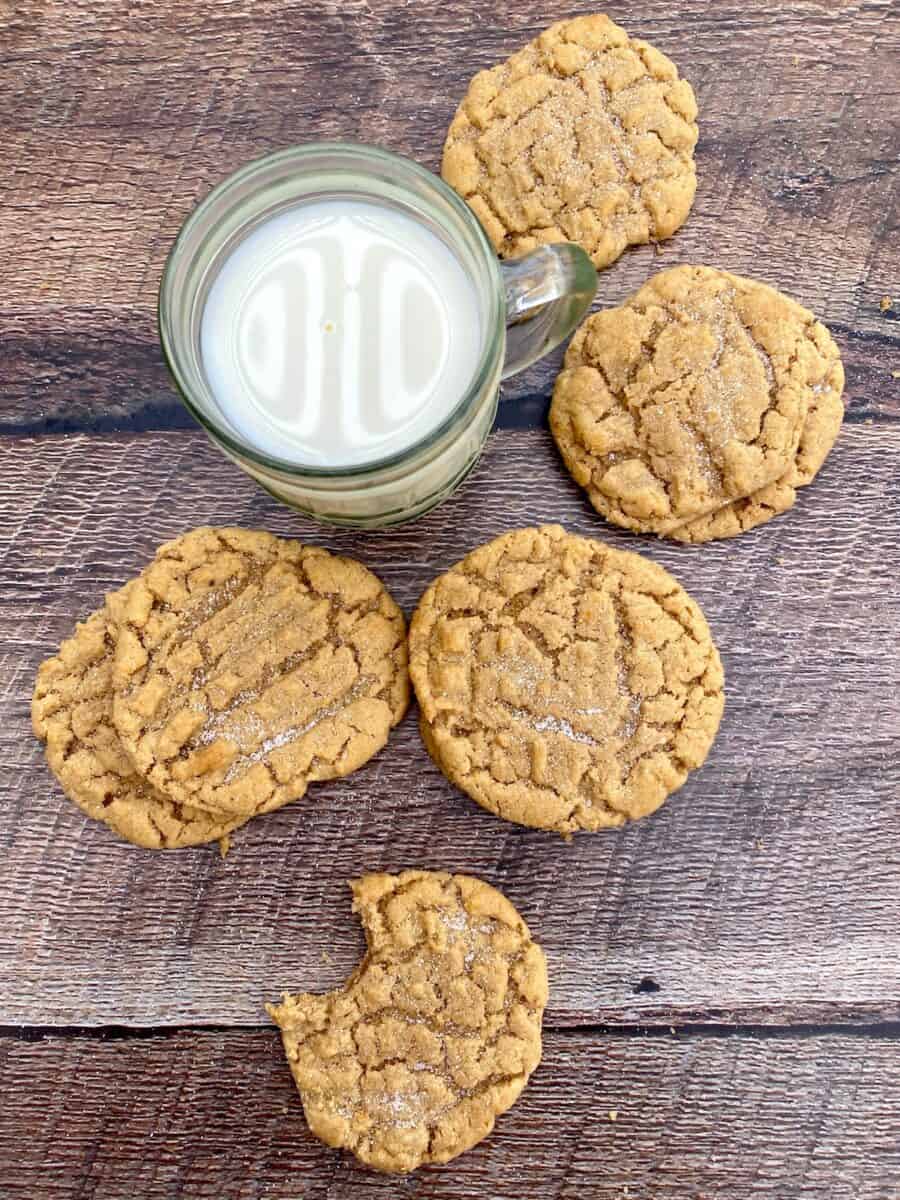 Top Tips and FAQ
Why do we make a criss cross pattern on top of each cookie?
It's such a tradition isn't it? This became part of the instructions for a peanut butter cookie recipe back in the 1930s, though it's not clearly explained why. What we know for sure is peanut butter cookie dough is thick and dense. Pushing the dough down with the tines of a fork helps to ensure the center will cook evenly with the rest of the cookie.
How do I keep the peanut butter cookies from getting hard?
I get it. It's easy to over bake peanut butter cookies and once they cool, the cookies tend to dry out and get hard or crunchy. This recipe keeps your cookies soft and chewy, because the cookies aren't over baked and then they cool for a few minutes on the baking sheet out of the oven.
Can I substitute the butter and just use one cup of shortening instead?
Technically, yes. But please use both butter and shortening for this recipe, the butter adds great flavor!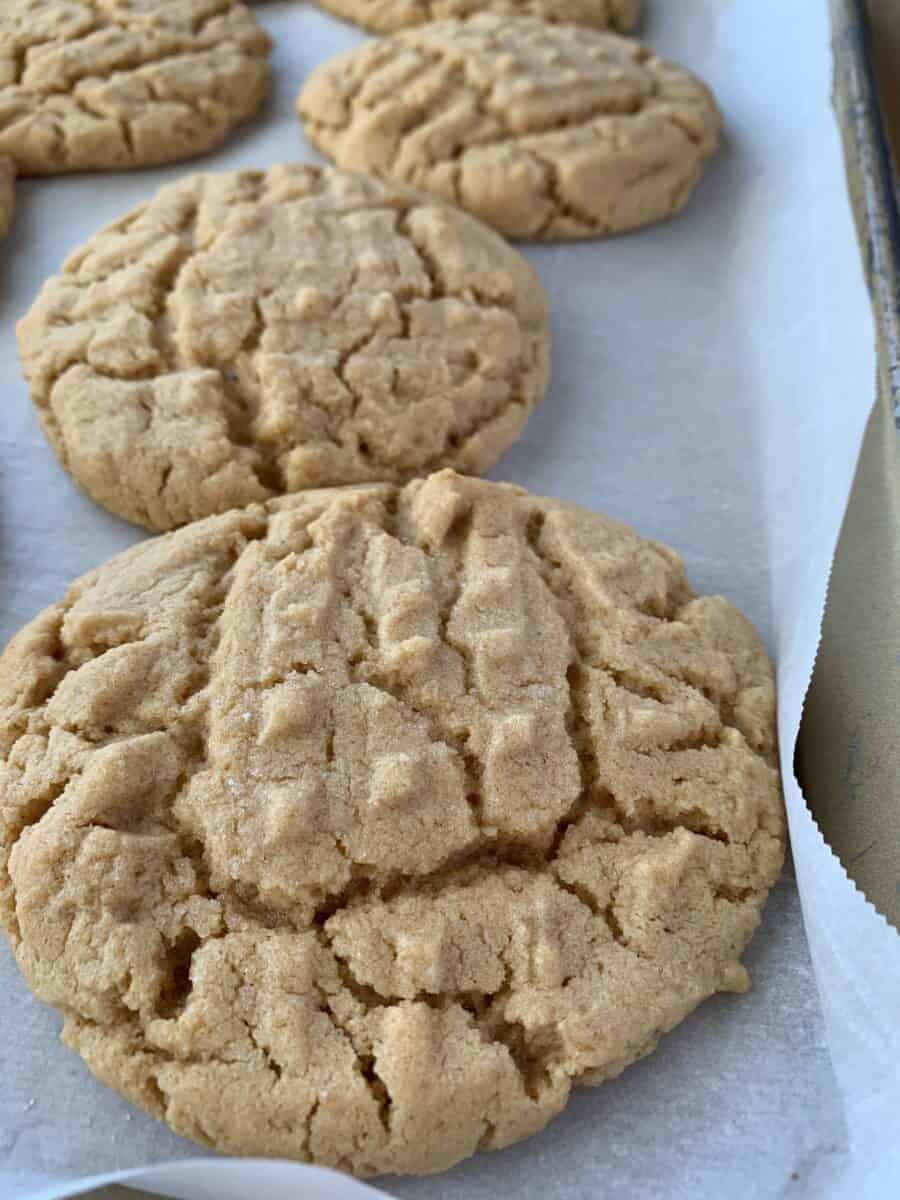 More Family Favorite Treats
Peanut butter is a classic pantry staple and I've found it's always good to keep a jar on hand. Whether using it for a classic peanut butter and jelly sandwich at lunch, a dip for celery or carrots, or an ingredient for cookies or dessert there's so much to love about peanut butter!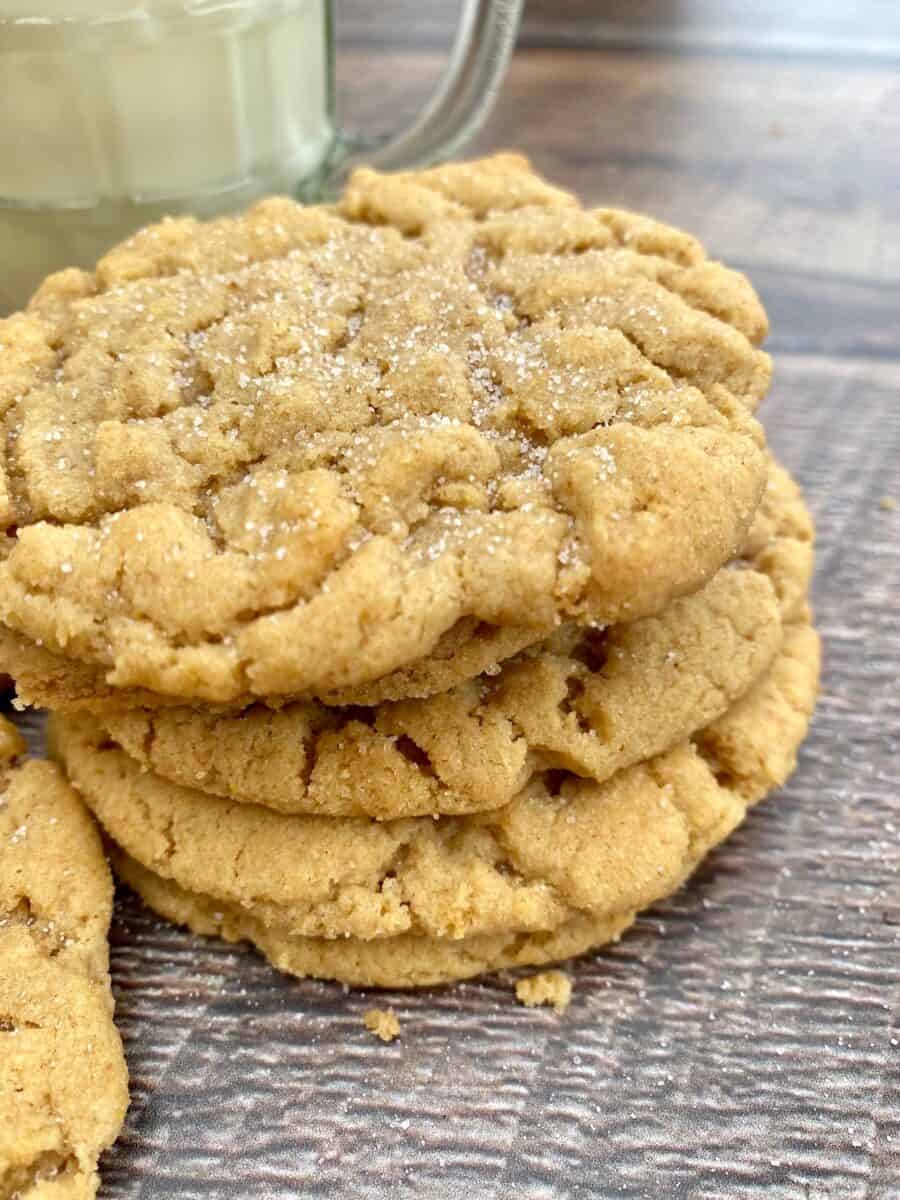 Here's another recipe I think your family will love. Peanut Butter Pies are one of the absolute favorite desserts. It's versatile too, you can stir in either your favorite jam or Reese's Peanut Butter cups. So delicious!
Looking for more dessert ideas, these are favorites in my family:
Mrs. Fields Chocolate Chip Bars: These always remind me of going to the shopping mall back when I was a teenager. Stopping at the Mrs. Fields store to buy cookies was a time honored tradition!
Fancy Rice Krispie Treats: While I always hesitate to consider this a recipe, the truth is the combination of orange zest and dried cranberries along with the creamy flavor of vanilla extract takes the classic version of a Rice Krispie Treat to new heights.
Chocolate Strawberry Mini Pies: Little pies that are so incredibly easy to make, there's a touch of strawberry jam in each pie too. But these mini pies are an impressive way to wrap up a meal. Kids love them!
Stay in Touch
Recipe