Fresh Apple Cake is easy to make and there's no need to peel the apples. This cake is like taking a cozy autumn day and turning it into a delicious dessert! This is a moist, perfectly spiced cake and it's a delightful treat for any occasion, much like the Best Blueberry Cake. It is a versatile and delicious cake baked with fresh fruit.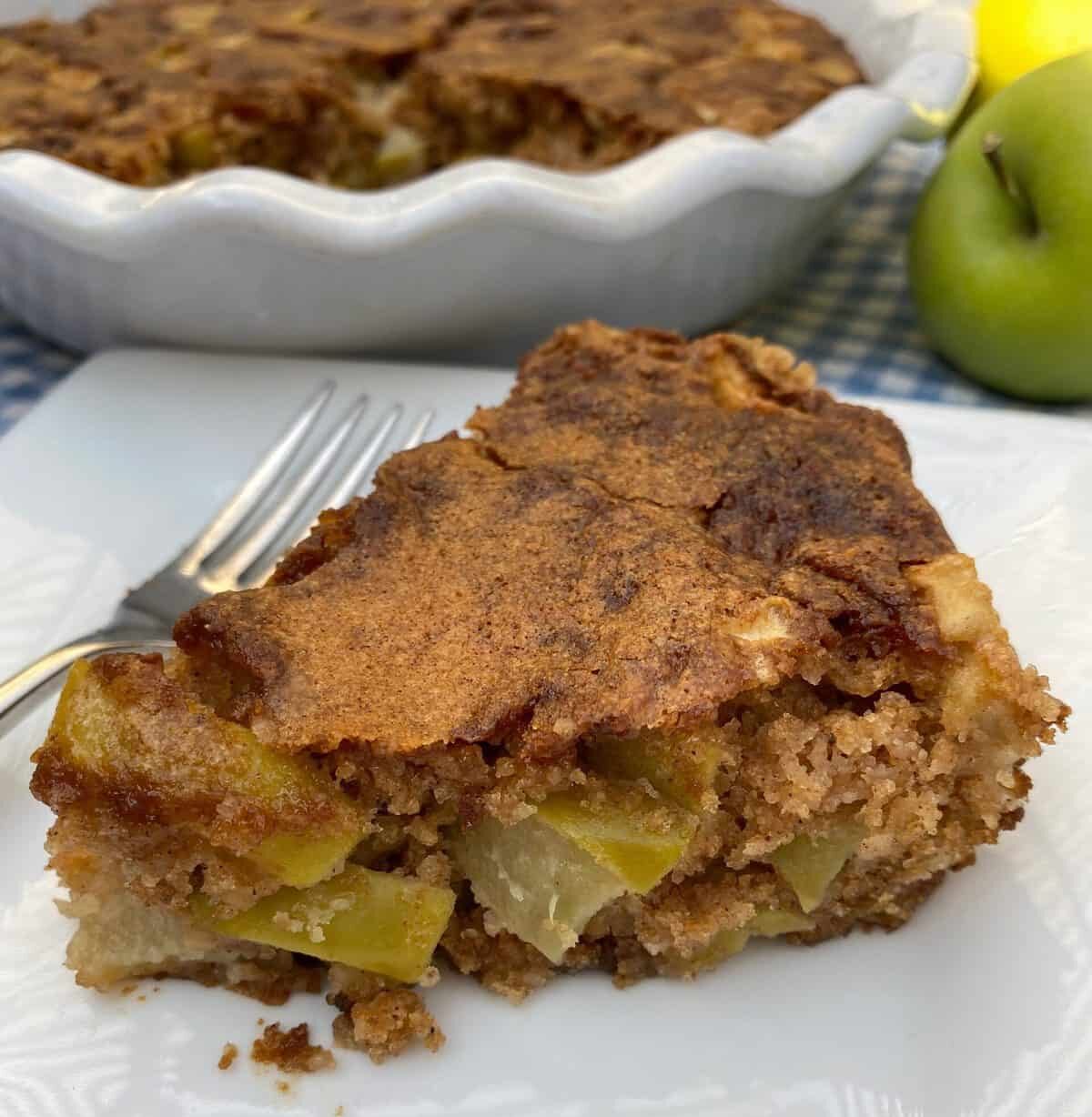 Jump to:
Ingredients to Have on Hand
The ingredients for this homemade, Fresh Apple Cake are basic pantry staples, just buy or pick a few fresh baking apples and you are set. If you love a scratch-made cake like Old Fashioned Chocolate Pound Cake or a dessert like Fresh Fruit Tart, then you will love this recipe!
Here's your grocery list:
3 - 4 baking apples
sugar
brown sugar
flour
baking powder, baking soda, salt
cinnamon
nutmeg
vanilla extract
butter
egg
Scroll down to the recipe for details on specific measurements.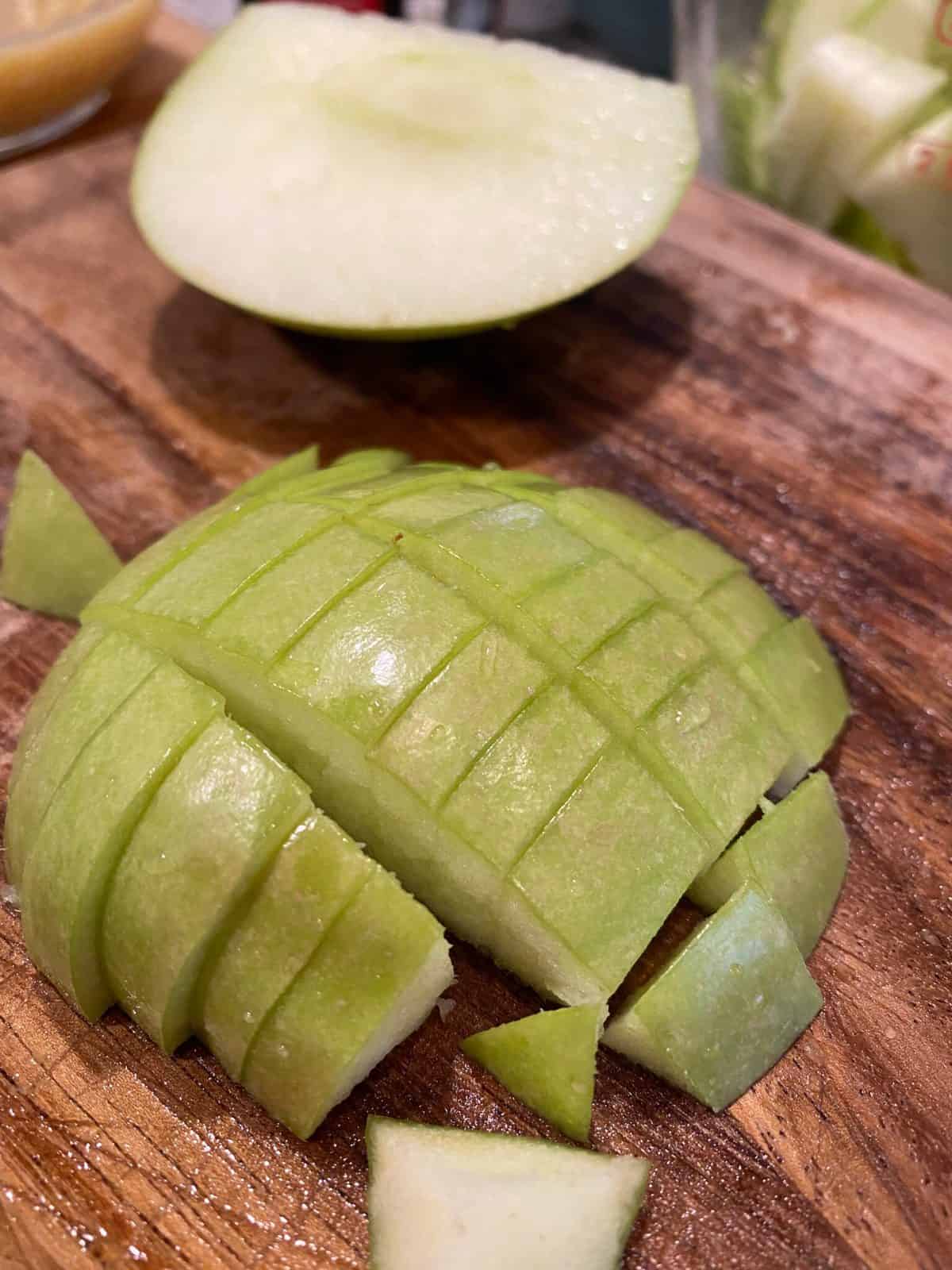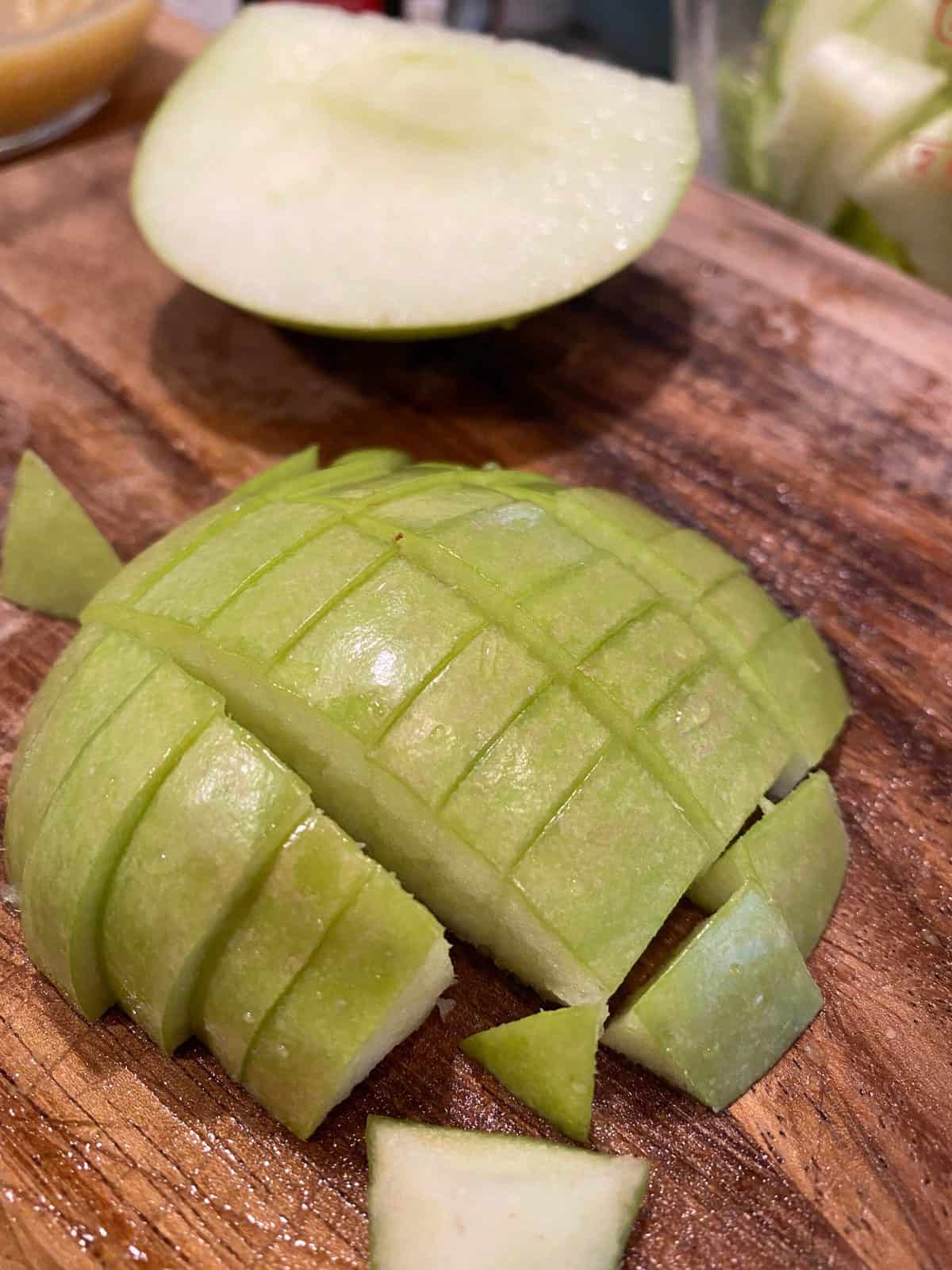 Prepare the Apples
Rinse the apples and pat them dry. Leave the peels on.
Slice the apples first, then cut across the slices to create small, bite-sized pieces of apple.
You'll want about 4 cups of diced apples, but it doesn't need to be a precise measurement.
Best Apples for Apple Cake
I grew up in eastern Washington and believe me, apples are a big deal in the Great Northwest. I've been cooking and baking with apples my whole life.
But not every apple variety is created equal, especially when it comes to baking.
For this recipe, you'll want to choose an apple that will maintain its shape after being diced and baked, but that will also be tender and sweet with that distinctive and cozy fresh apple flavor.
According to the Washington Apple Commission, there are a wide variety of apples that are delicious for baking and some varieties are even better in pies.
But since this recipe is for a baked cake, here are the varieties of apples I use and wholeheartedly recommend for Apple Spice Cake:
Golden Delicious
Granny Smith
Honeycrisp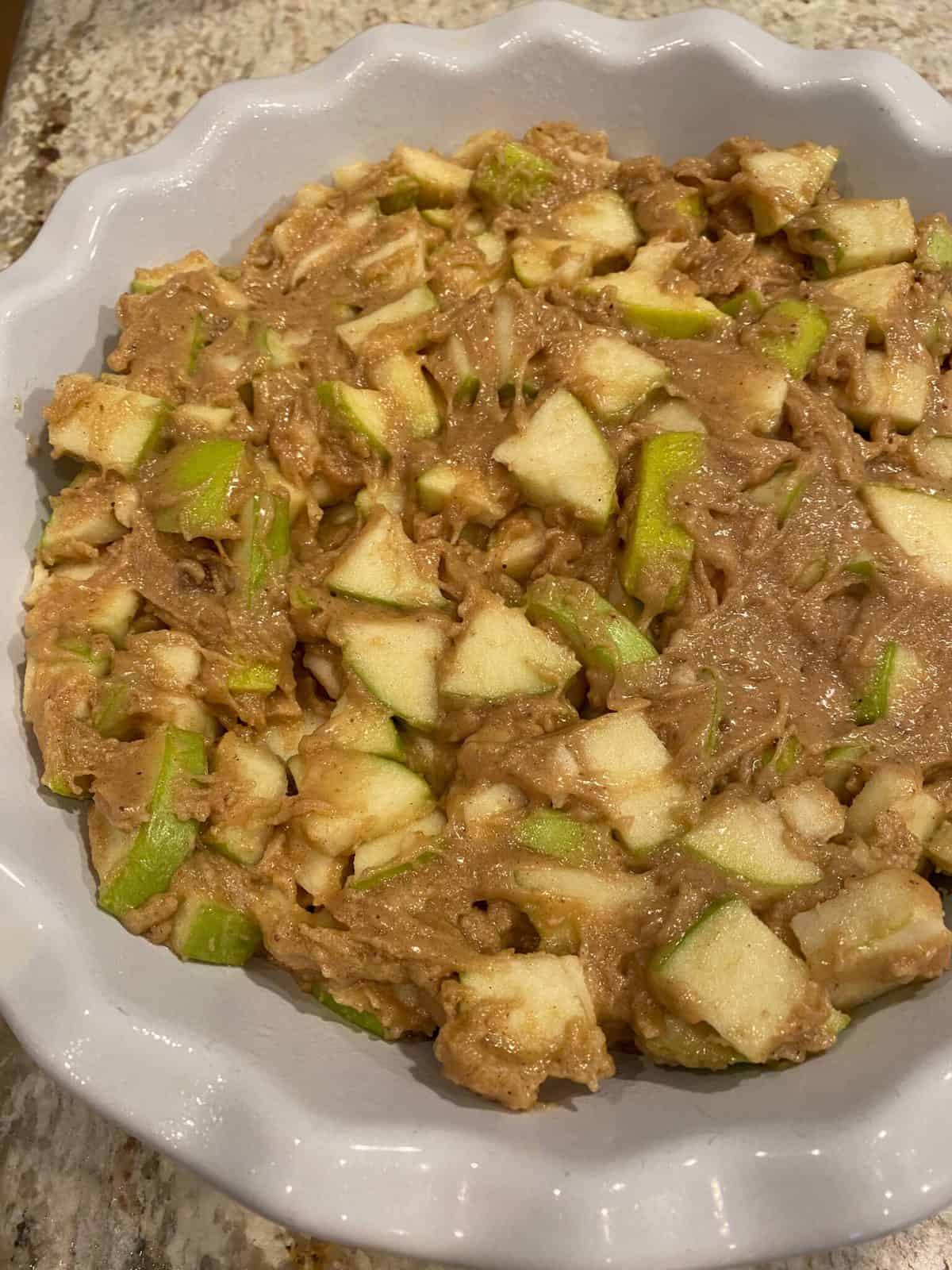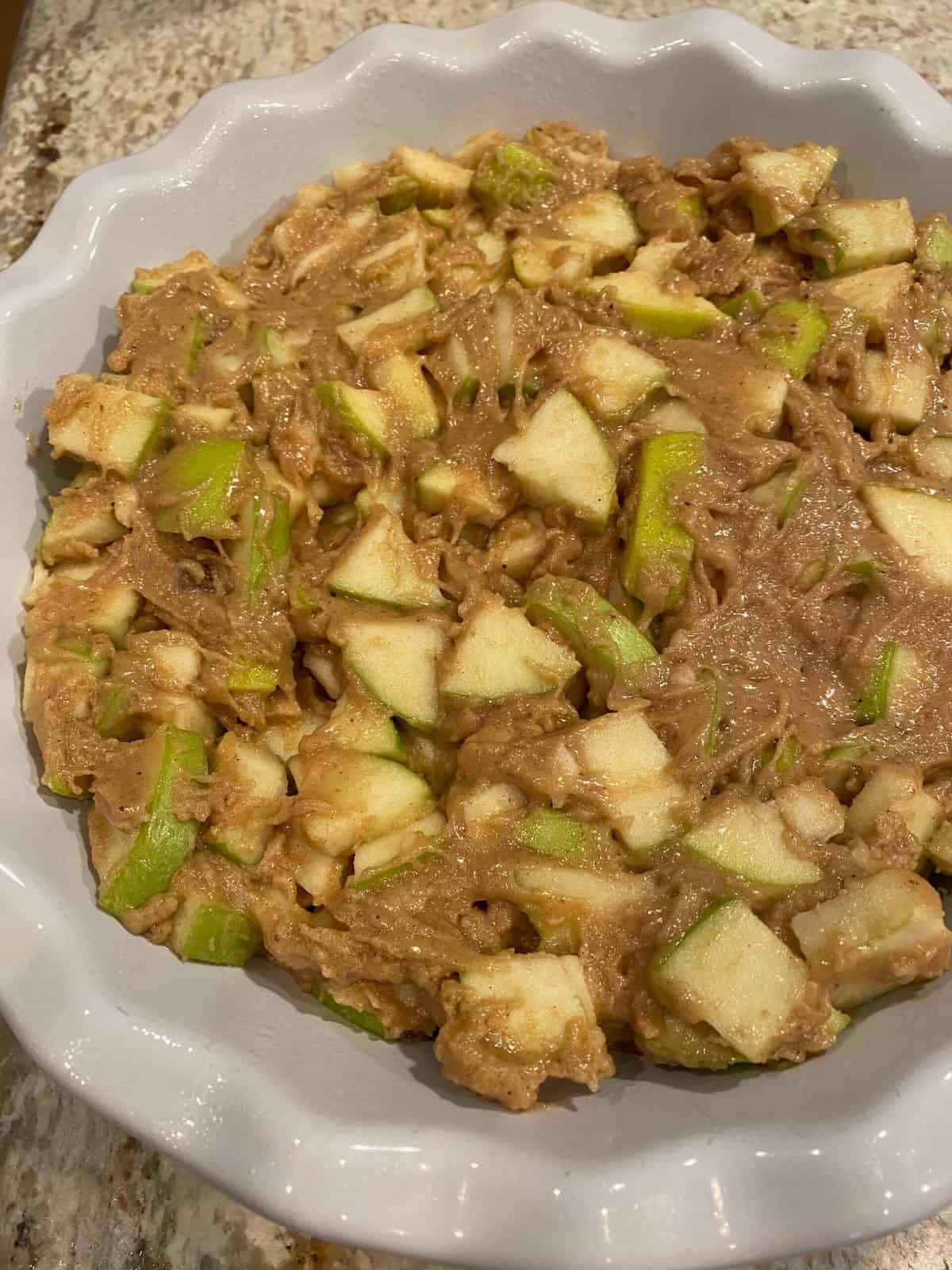 Spice Combination for the Best Apple Cake
It's easy for a spiced apple cake to get overwhelmed with spice. That's not the case here. All you'll need are cinnamon and nutmeg.
Cinnamon is often described as warm and sweet, with a slightly spicy taste. It's a classic spice that we are likely to have on hand that pairs perfectly with apples, giving the cake a distinct apple pie-like flavor. So good!
Nutmeg, on the other hand, has a nutty and slightly sweet taste, with a warm and spicy aroma. When used in combination with cinnamon, it adds a depth of flavor that is simply irresistible.
Cake in a Pie Dish
Homemade Apple Cake bakes beautifully in any shape baking dish as long as it's large enough to hold about 5 cups and is small enough for the batter to spread to about 2 inches in height across the dish.
I prefer to use a 9" pie dish with fluted edges since it's just the right size and it creates a beautiful presentation at serving time.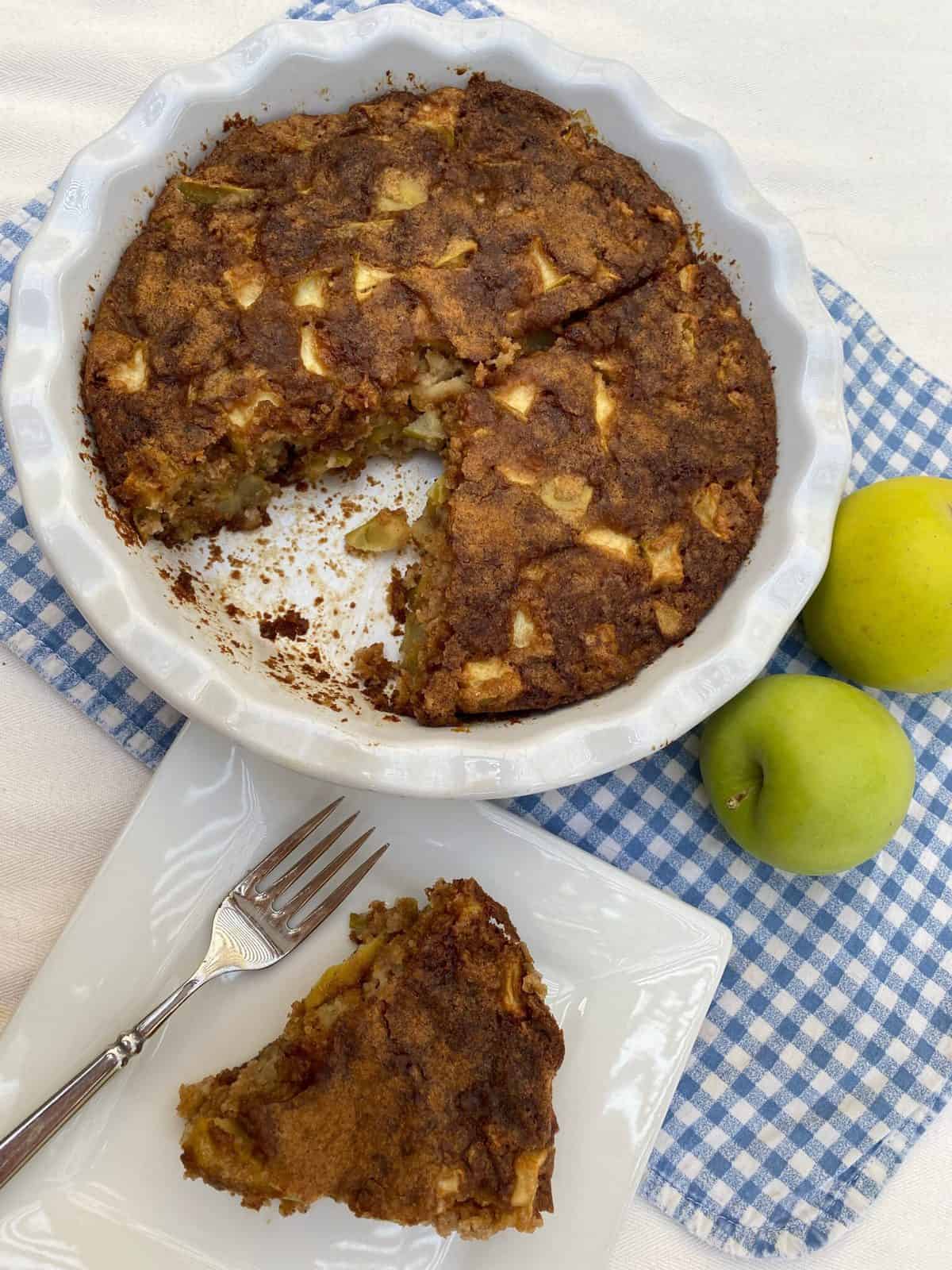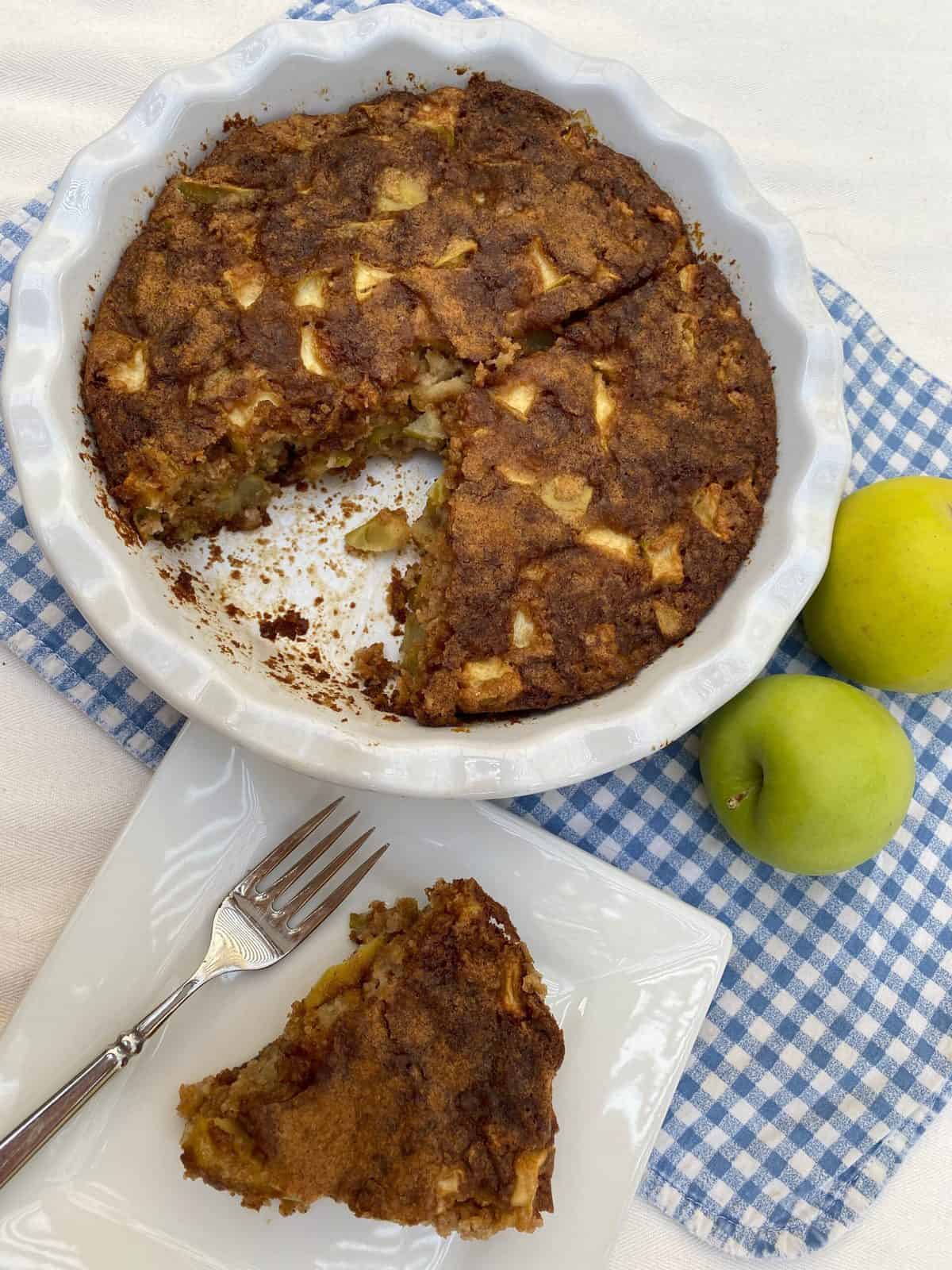 What You'll Love Most About This Recipe
Hands down, It's so easy to make.
It's an all-in-one apple cake that's a delicious way to enjoy a scratch-made dessert using fresh apples, but you leave the peels on the apples so there's no fuss.
The apple cake is incredibly moist and the sugars combine with the butter to create a top "crust" that is just slightly crunchy when it's hot from the oven.
The combination of spices is very subtle. Apple Spice Cake is not loaded down with a heavy dose of anything that would overtake the sweetness of the apples.
This is my go-to apple dessert, especially when I'm short on time.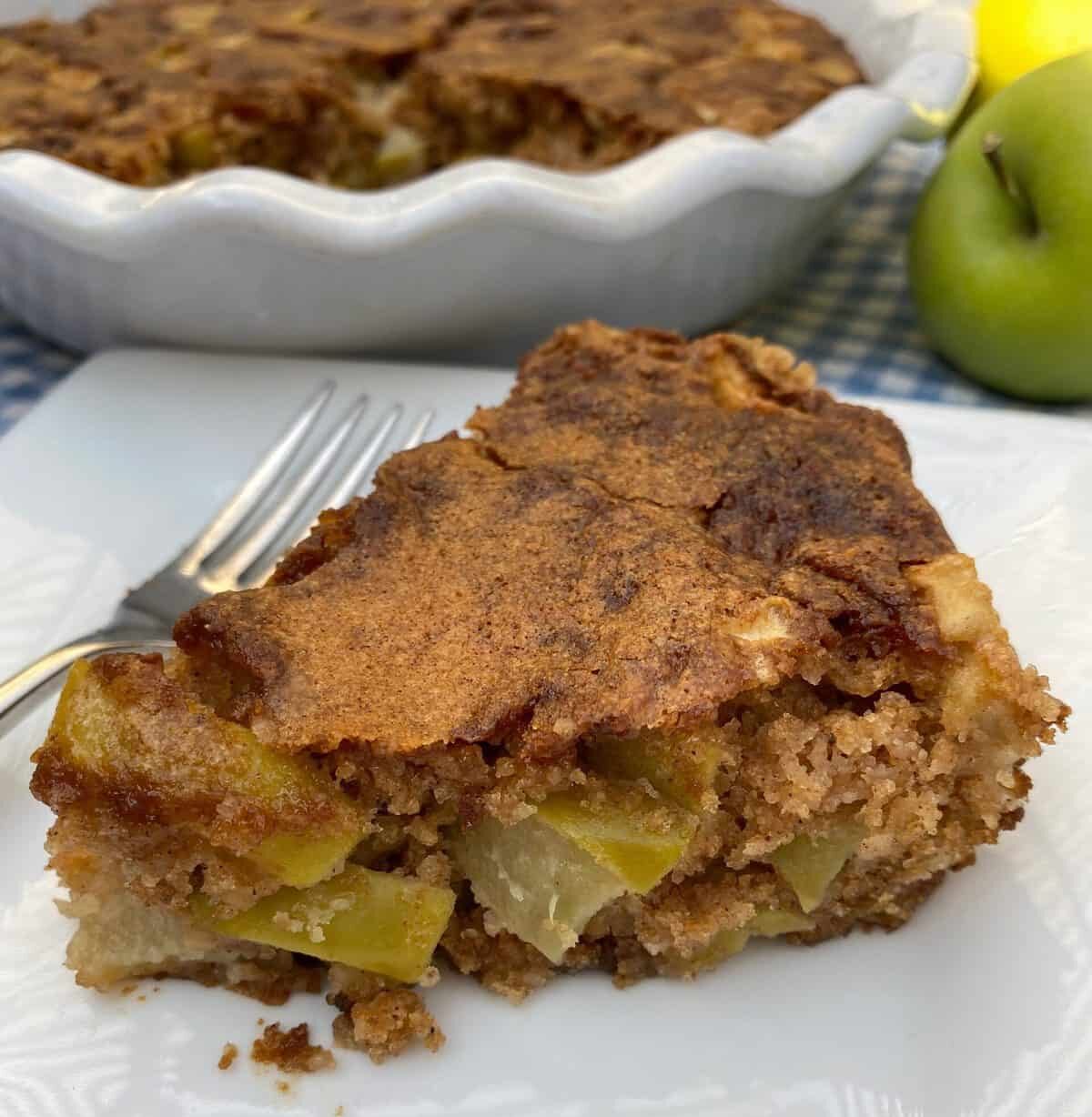 Serve Any Time of the Year
Apple spice cake is a dessert often associated with the fall season, particularly September, October and November. That's when apples are in season and the warm and comforting spices in the cake make it a perfect treat for cooler weather, depending on which part of the country you live in.
That being said, Apple Spice Cake can be enjoyed year-round, it's always a good time to indulge in this delicious dessert and enjoy it in any season.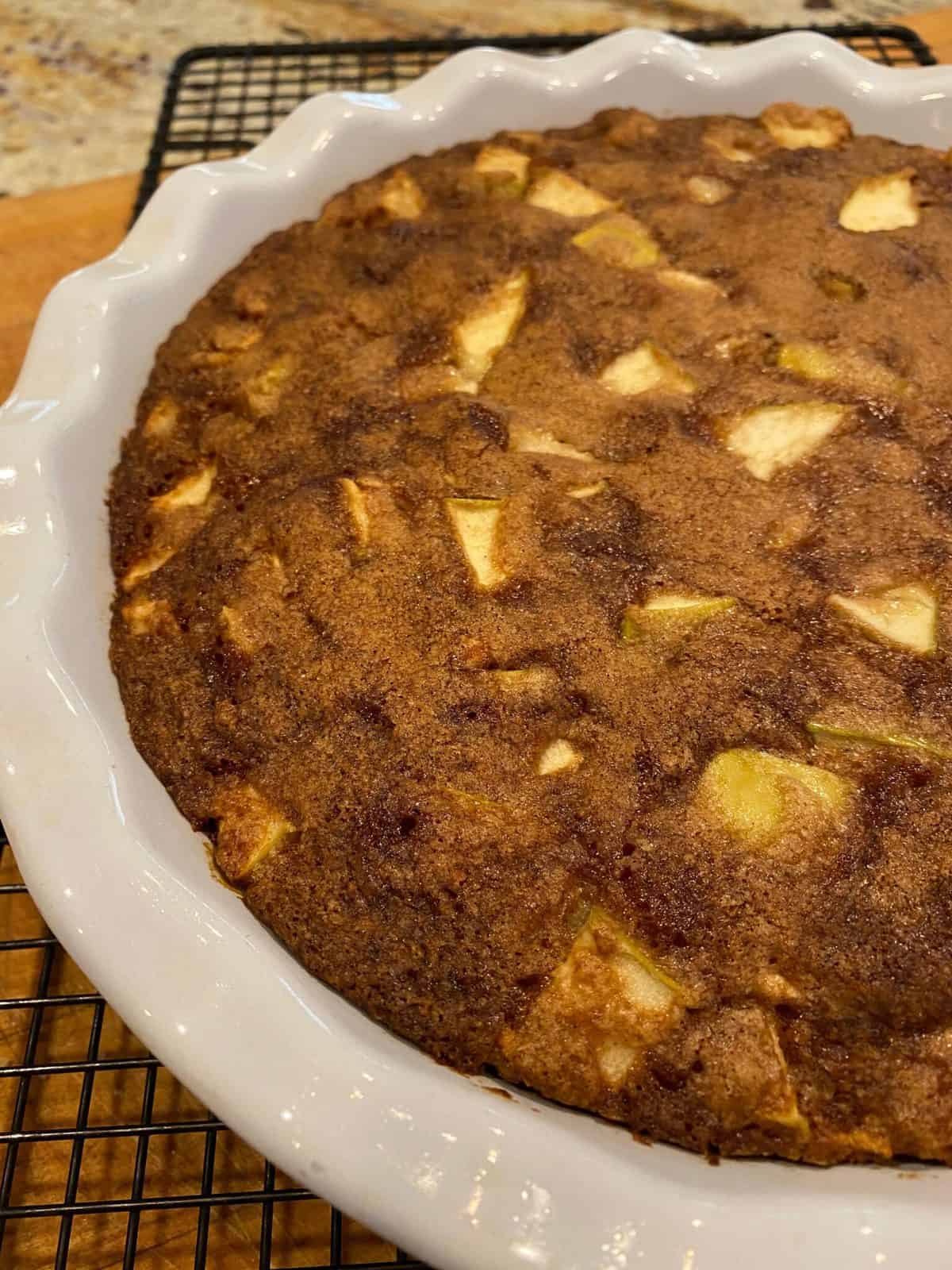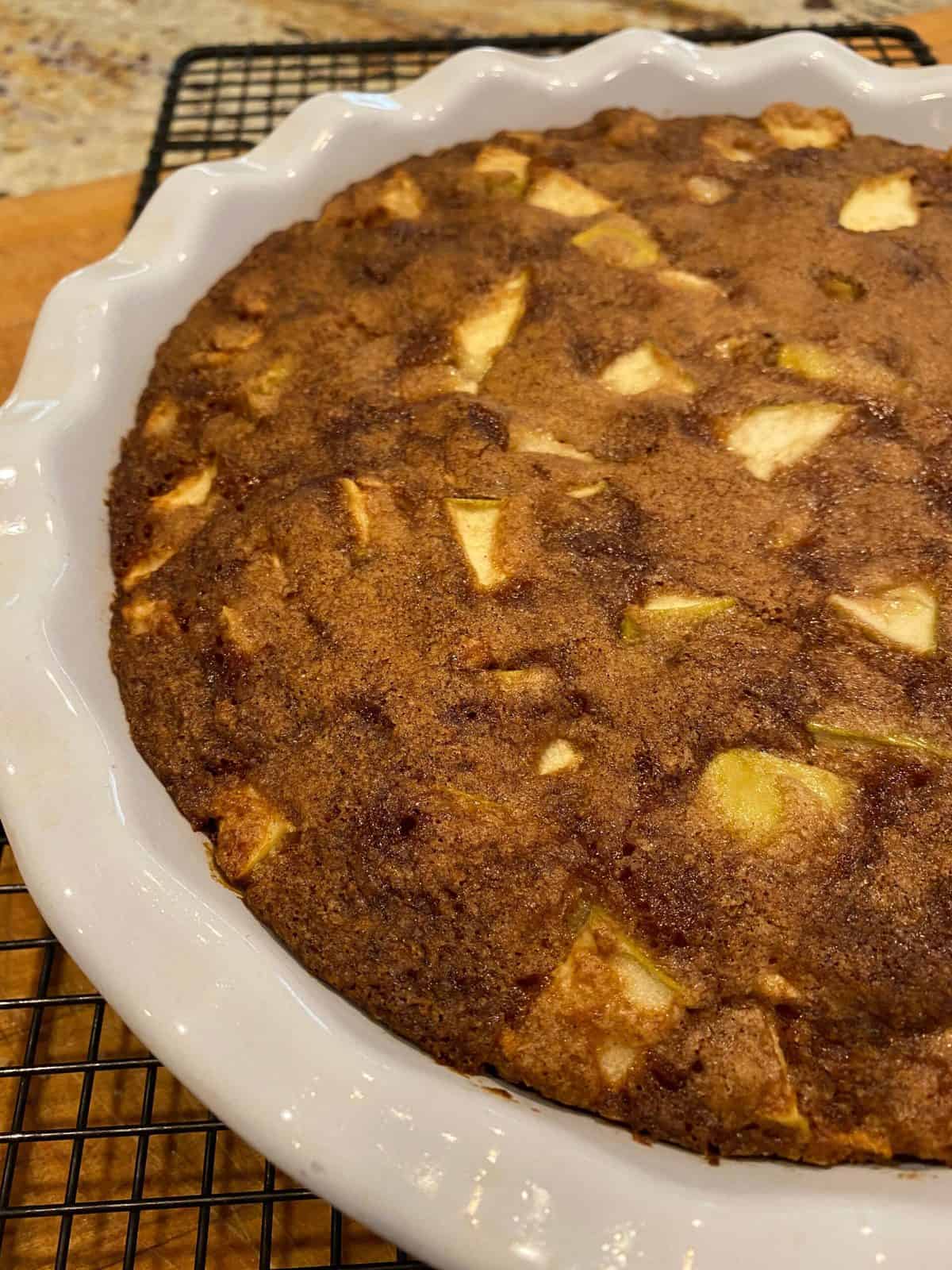 Optional Toppings
Apple Spice Cake doesn't require a topping or a sauce to be delicious, but if you prefer to have an extra layer of sweetness here are some terrific options.
Caramel sauce, warmed and spooned on top
Vanilla ice cream
Frozen yogurt
Whipped cream
Powdered sugar, dusted on top of each slice
Serve Cake Warm or Cold
When you take a bite of Apple Spice Cake you'll be greeted with flavors that perfectly balance the sweetness of a moist, tender cake with the slight tartness of the apples and the richness of the subtle spices. That's true whether it's served warm or cold.
The cake is excellent served warm from the oven after baking. It's also delicious after it's cooled or even refrigerated.
If after the cake has cooled you want to serve each slice warm, place each wedge of apple cake on a microwave-safe plate and warm it in the microwave for about 45 seconds on half power.
Top Tips and FAQ
Does the baked apple cake need to be refrigerated?
This cake will be fine at room temperature for the first day after baking, but after that, I recommend covering the cake with plastic wrap and storing it in the refrigerator.

This is a very moist cake and it's full of fresh apples so it needs to be stored in the refrigerator and enjoyed within four days.
Can I freeze my no-peel apple cake?
Absolutely. After baking, cool the cake in its baking dish then cover the dish tightly with foil or plastic wrap and place it in the freezer.

Enjoy the cake within three months.

Defrost on the counter and serve it once it reaches room temperature.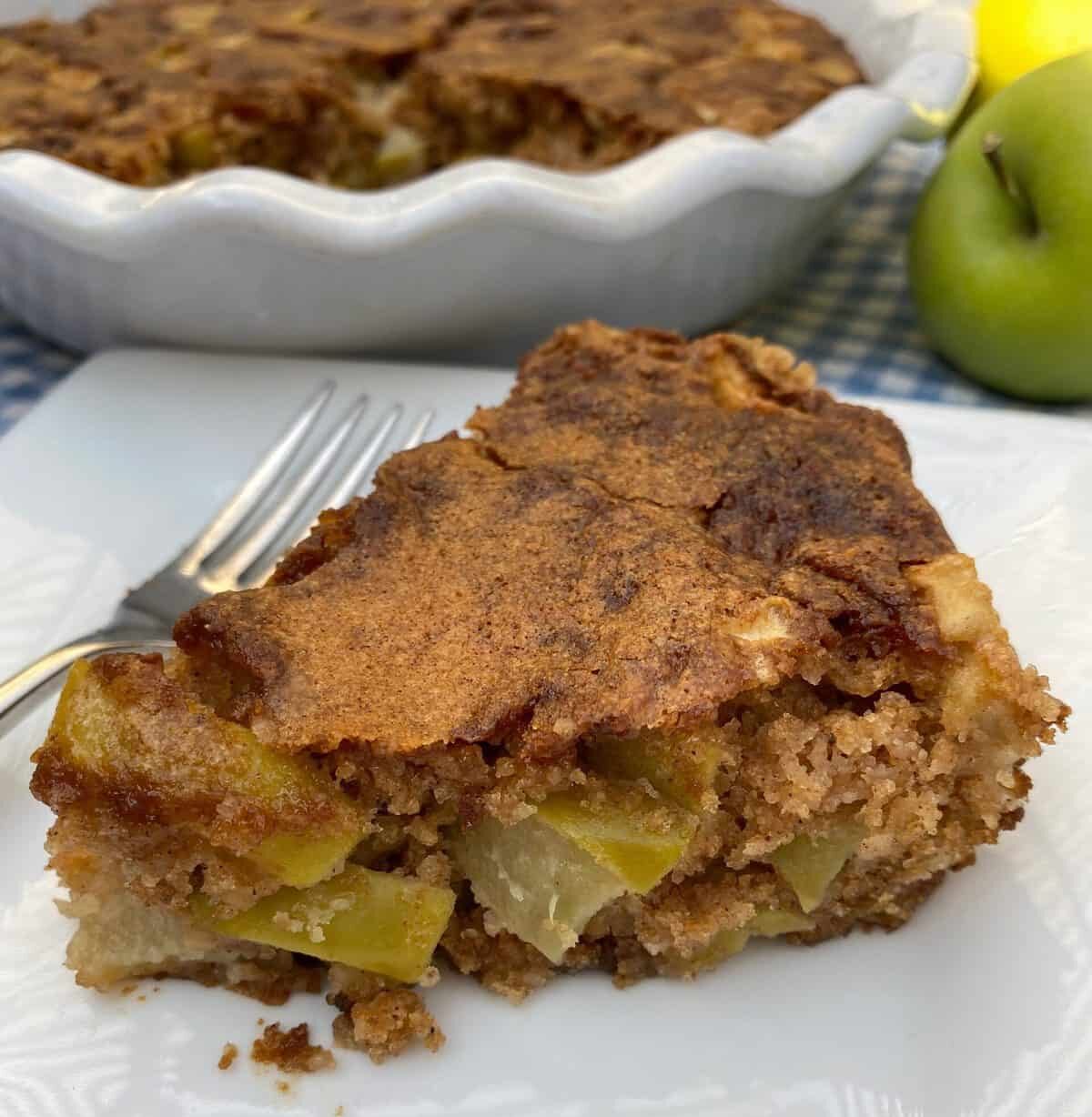 Other Recipes Using a Garden Harvest
For those lucky enough to have fresh apples available in their yards or garden, this recipe is a great way to easily prepare a treat using fresh apples. Share a freshly baked apple cake with neighbors, or offer it to new parents or anyone who is in need of a freshly baked treat.
Here are other recipes that are perfect for using up all the produce from a robust garden or after a visit to the Farmer's Market.
Do you have any extra cucumbers? I think you'll love my recipe for Refrigerator Pickles. How about all those extra fresh tomatoes? I highly recommend Tomato Basil Soup, it's delicious!
More Baking Recipes
If you tried Fresh Apple Cake or any other recipe on my website, please leave a 🌟 star rating and let me know how it goes in the 📝 comments below.
Recipe