Classic potato rolls, fresh from the oven and made from scratch. These are absolute perfection. The mashed potatoes add great taste and texture whether it's for a holiday dinner or your favorite weeknight soup or stew. These rolls will be what everybody talks about. What I love most about this recipe is its family history (see below). Plus, you can make these in two easy steps, or over two days - so serving fresh, hot rolls is a snap with any meal.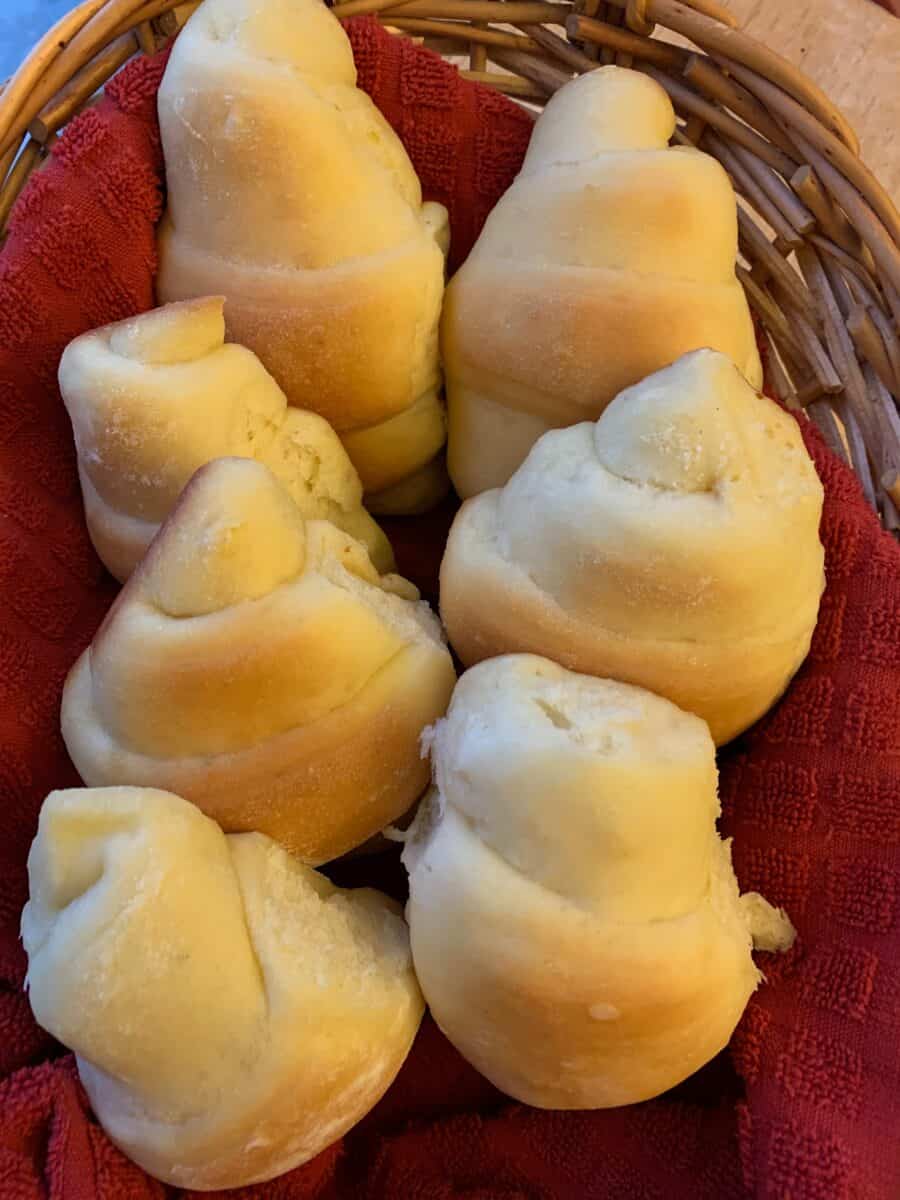 Storing Classic Potato Rolls
This recipe makes about 30 rolls, and they are best served fresh on the day you bake them. But this may make a few more rolls than you'll need. Here's great news! Just pop the baked rolls that you don't need into a plastic freezer bag. Label, date and place the bag in the freezer. These will keep beautifully in the freezer for several months.
Fresh from the Freezer
On the day you choose the enjoy warm potato rolls again, just remove the bag from the freezer and let it defrost on the kitchen counter for a few hours. Remove the rolls from the bag. Wrap in a bread bowl and warm lightly in the microwave on reduced power (about 50%) for about 2 minutes. These will be hot and tender. Just like they were on the day you baked them.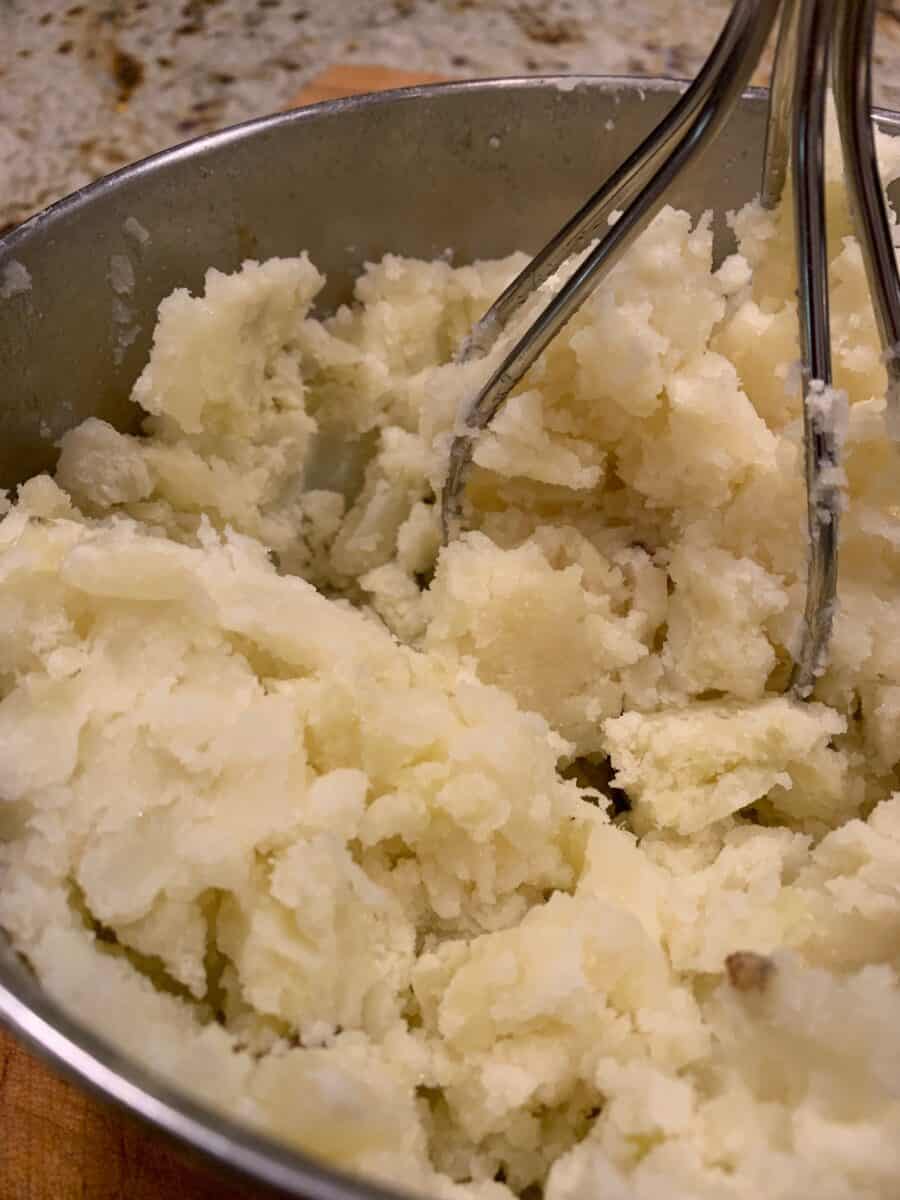 Can I use instant potatoes?
I know it's tempting because instant potatoes are quick and easy to fix. But for the very best results with this recipe, always use fresh potatoes.

What if my mashed potatoes have lumps?
A few small lumps here and there are fine. But you do want to mash the potatoes until they are a soft and consistently smooth. Here's tip to help avoid lumps. Cook the peeled russet potatoes in boiling water until they are very, very soft. Then drain the potatoes and cover and white they are still in the colander, cover with foil. The steam from the hot potatoes will help soften them even more.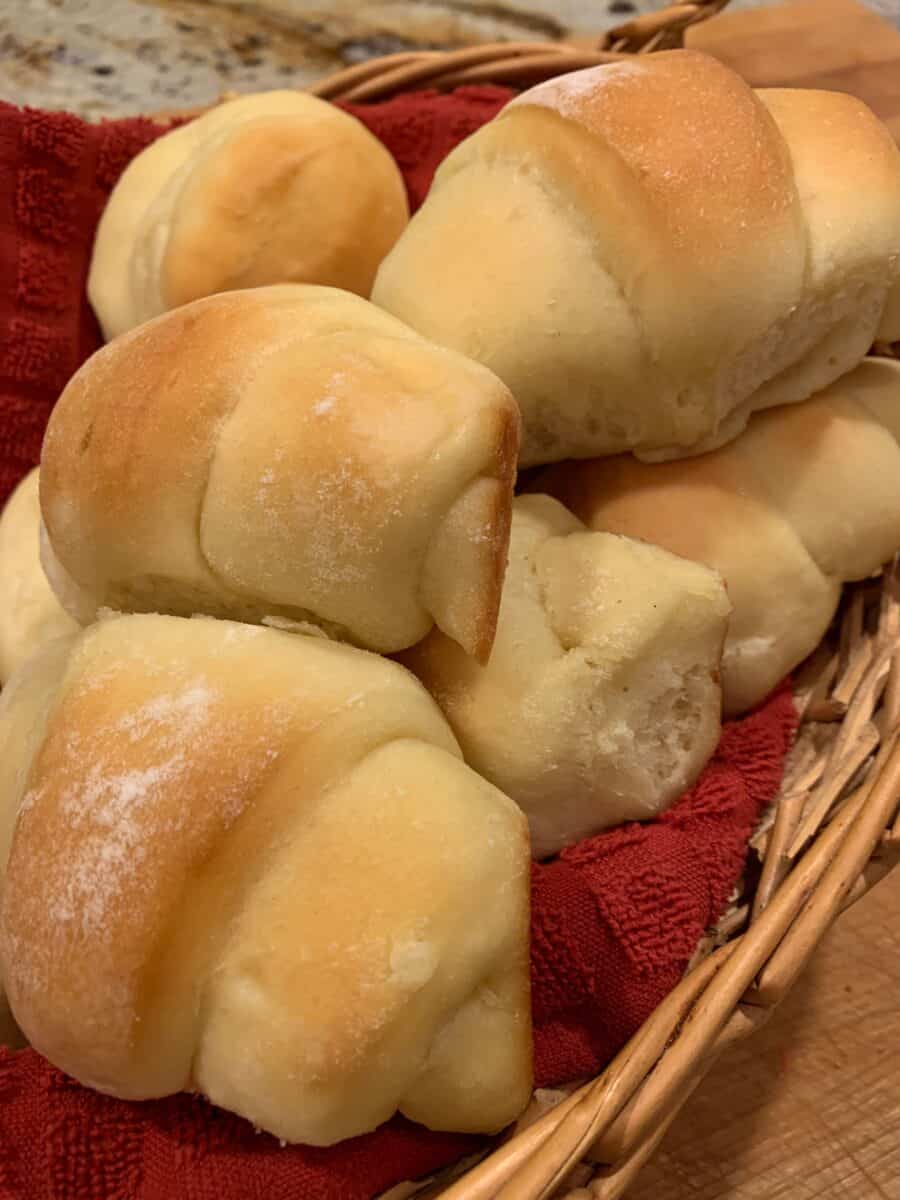 The Family Story
This is an Auntie's Favorite from my husband's family. According to my mother-in-law Odessa (See her handwritten recipe below, I love how it's so"crinkled.") this originated with her sister-in-law Aunt Katheline, who I'm told loved to bake these for holiday gatherings. Over the years, these rolls have also been lovingly made by Aunt Linda and Grandma Fulwyler and now my sister-in-law Kristie has taken the lead in our branch of the family in keeping the tradition going. Thanks to all the Aunties who have had a role in these rolls 🙂 and Grandma Fulwyler for starting it all.
P.S. Check out the photo below from 1965 and all the aunts and uncles together for a family gathering in Rupert, Idaho at Grandma and Grandpa Fulwyler's house.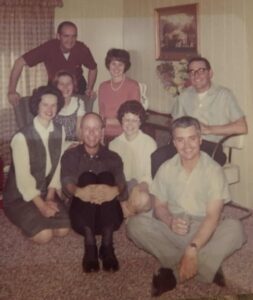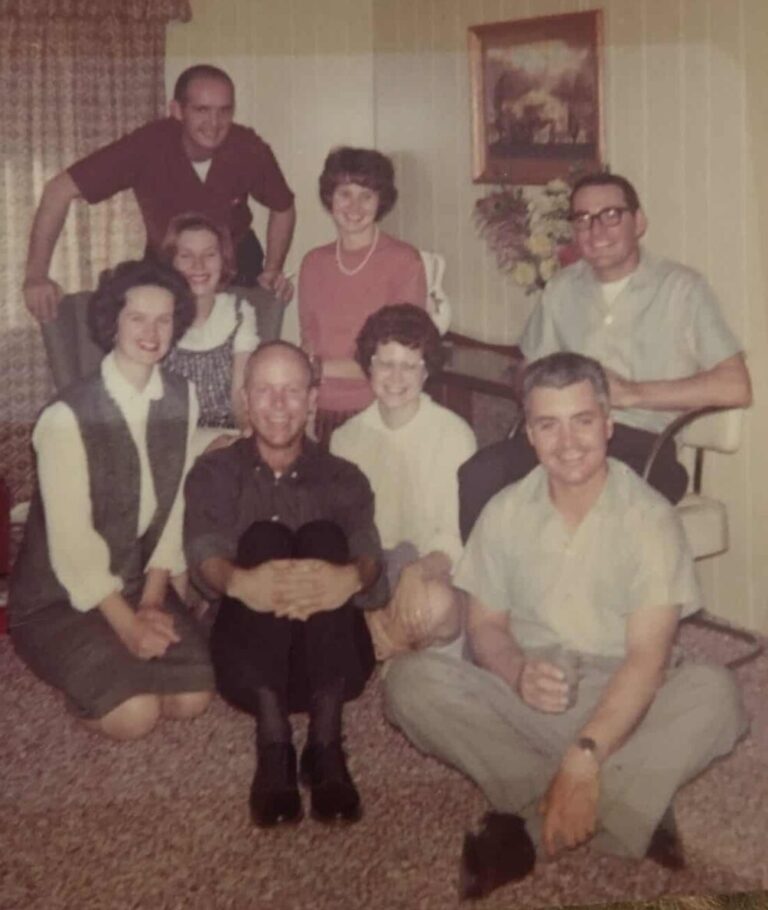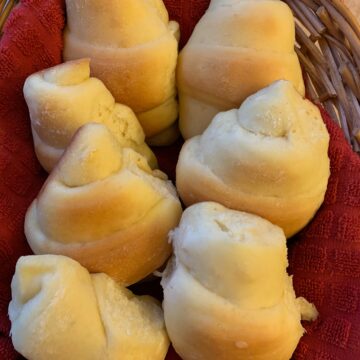 Classic Potato Rolls
Fresh from the oven and made from scratch, these potato rolls are absolute perfection. The mashed potatoes add such great taste and texture whether it's for a holiday meal or your favorite soup or stew, these rolls will be what everybody talks about.
Print
Rate
Pin Recipe
Servings:
15
people, makes about 30 rolls
Ingredients
1

package yeast

1/2

cup

warm water

1

cup

mashed potatoes

1/2

cup

butter

softened

2

eggs beaten

1

teaspoon

salt

1/4

cup

sugar

1

cup

warm milk

scalded then cooled

6

cups

flour
Instructions
Prepare the Dough
Dissolve yeast in warm water. Mix potatoes, butter, sugar, salt and eggs then add the yeast and water mixture and the cooled milk.

Add flour and mix until combined. The dough will be stiff.

Place in a greased bowl, cover and let rise for 2-3 hours. Or, place the covered bowl in the refrigerator for the next day. Remove from the refrigerator and let the dough sit in the bowl for about an hour at room temperature, then proceed with the directions below.
Make the Rolls
Dust a cutting board with flour and roll out dough with a rolling pin until about a 1/4 inch thick. Using a round cookie cutter, cut into rounds then fold over to create a half-moon or slice pizza-style and roll each slice into a cute crescent shape.
Bake
Brush a large baking sheet with butter and place rolls on the sheet. Allow to rise for about 90 minutes.

350° for 20-30 minutes
Nutrition
Calories:
282
kcal
Carbohydrates:
46
g
Protein:
7
g
Fat:
8
g
Saturated Fat:
4
g
Cholesterol:
40
mg
Sodium:
177
mg
Potassium:
127
mg
Fiber:
2
g
Sugar:
4
g
Vitamin A:
247
IU
Vitamin C:
3
mg
Calcium:
32
mg
Iron:
2
mg
Please note, the nutrition details are estimated using a food database and are offered here only as a guideline for informational purposes.