Butternut Squash Mac and Cheese is the creamiest and most satisfying combination of squash, cheese and pasta that I've ever found. The butternut cheese sauce is rich and creamy and the seasonings are light and just a bit nutty thanks to nutmeg and a dash of Tabasco sauce. This is a delicious way to serve macaroni and cheese any time of year!
Note: Links in the recipe are paid links, Amazon Associates. This means I make a small commission when you click and shop. Your cost is the same and I only link to and recommend things or ingredients that I use or love.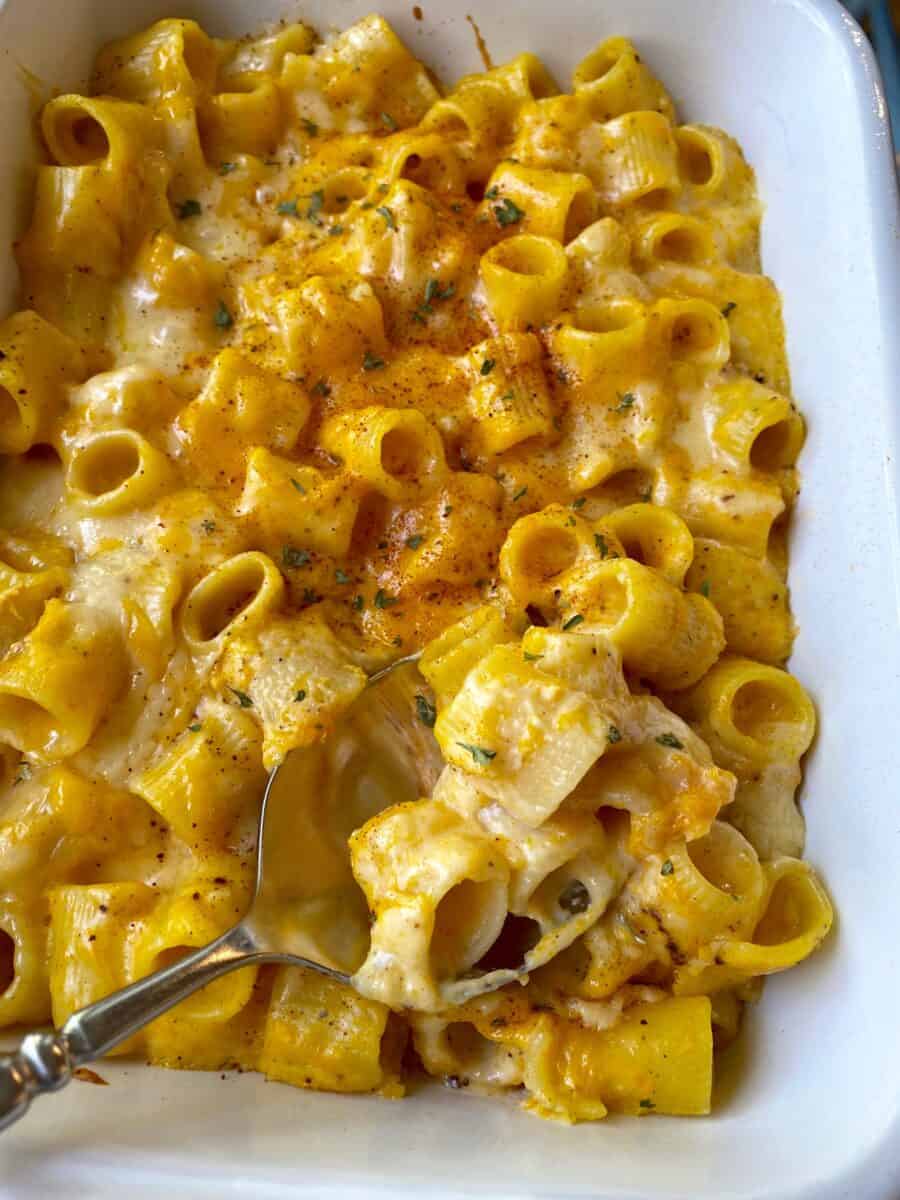 I love this recipe, and think you will too! When it comes to flavor, the combination of butternut squash, three cheeses and pasta creates classic comfort food and a wonderful taste! Creamy, cheesy goodness abounds in this dish. I've made a lot of mac and cheese over the years, but this is my favorite way to prepare it. Whether you serve it as a side or the main course, this is a winner.
What You'll Need
butternut squash
pasta
cheddar cheese
smoked gouda cheese
parmesan cheese
butter
flour
milk
nutmeg
tabasco sauce
salt
pepper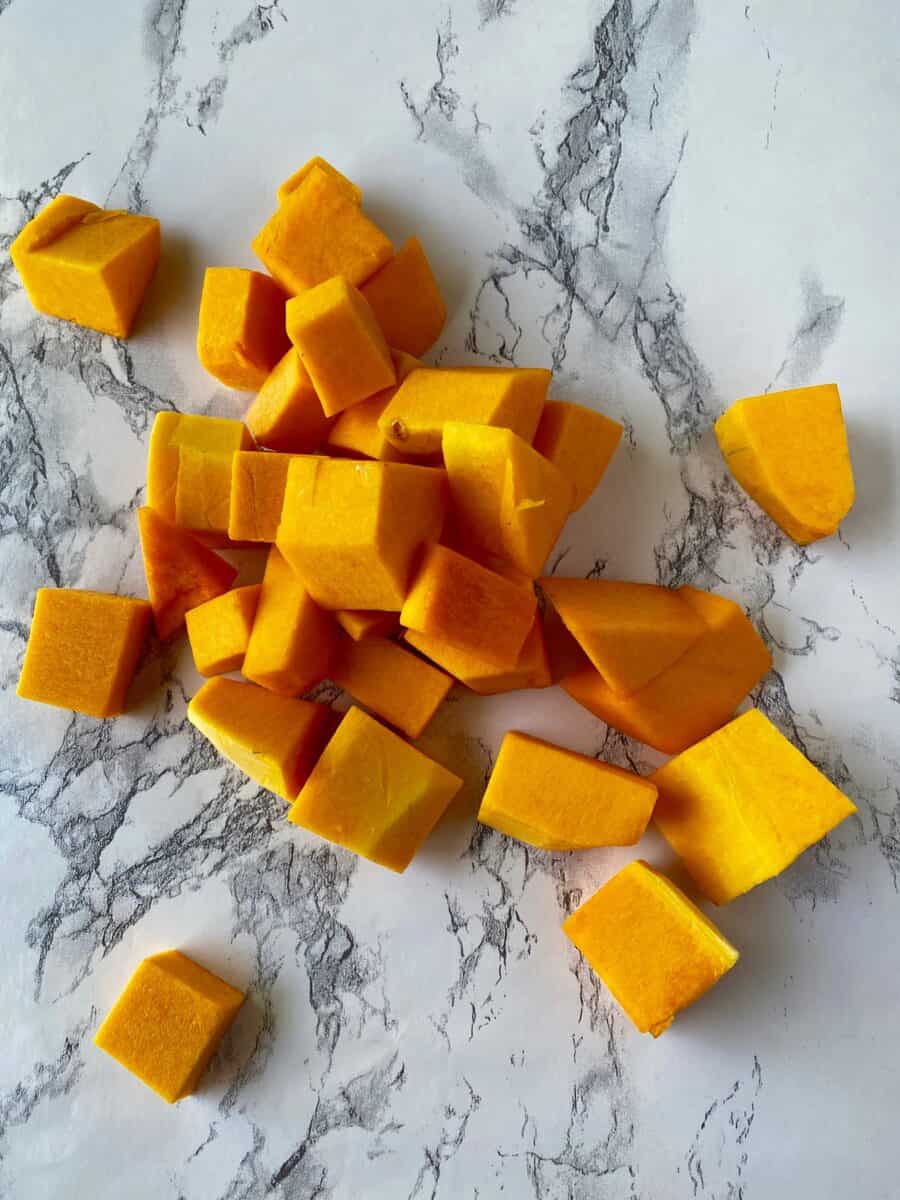 Can I use canned or frozen butternut squash?

Fortunately, there are plenty of options for getting to the interior of a butternut squash and either frozen or canned butternut squash will work. But I think the texture and flavor is far better in the butternut cheese sauce when we use fresh squash in this recipe. I do like shortcuts though, and often buy the squash at the grocery store already cubed or peeled. But if you are willing to peel and cube a whole squash, all the better. I offer tips on how to prepare a butternut squash in my recipe for Cookie Crumb Casserole.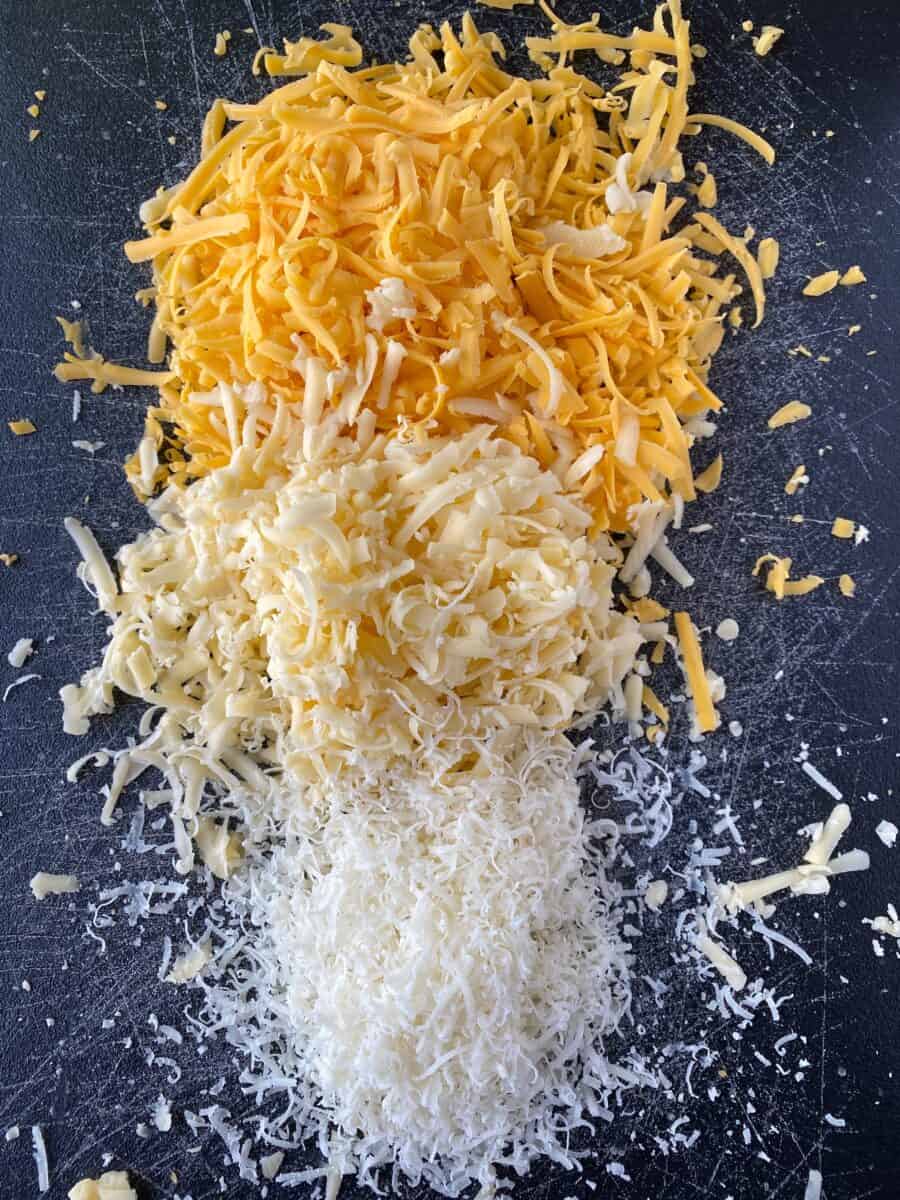 A Few Tips
Mac and cheese is famous for including plenty of yummy cheddar cheese and this recipe is no exception. But here the combination of cheddar, along with smoked gouda and parmesan cheeses improves the flavor. Smoked gouda has a richer flavor than regular gouda cheese and I think it's a great complement to the butternut squash.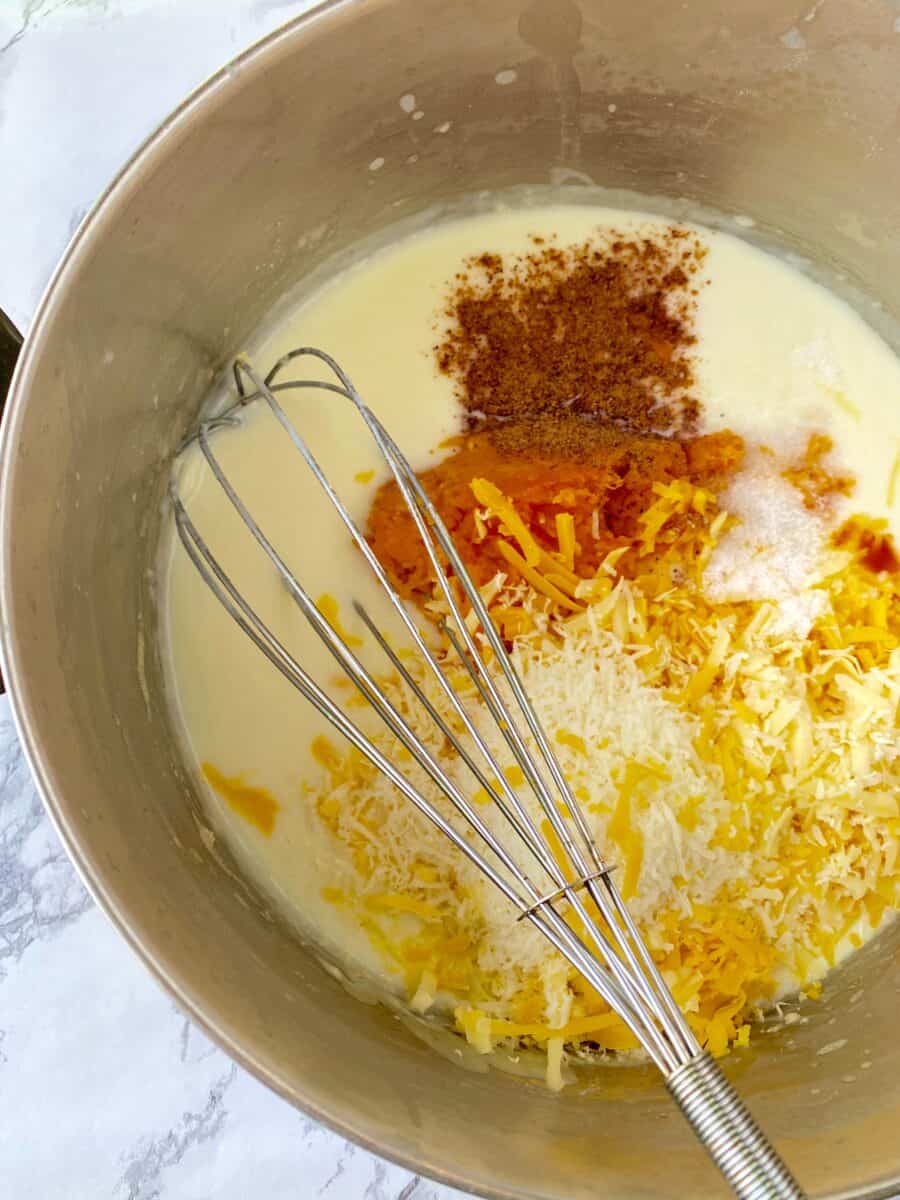 I recommend using bite-sized pasta for this recipe. You'll want pasta that's in a shape that will be able to hold plenty of the creamy butternut cheese sauce in every bite. My favorite size and shape is mezzi rigatoni, which is a rigatoni that's slightly smaller than standard rigatoni pasta. Other good options include elbow macaroni, penne pasta or shells.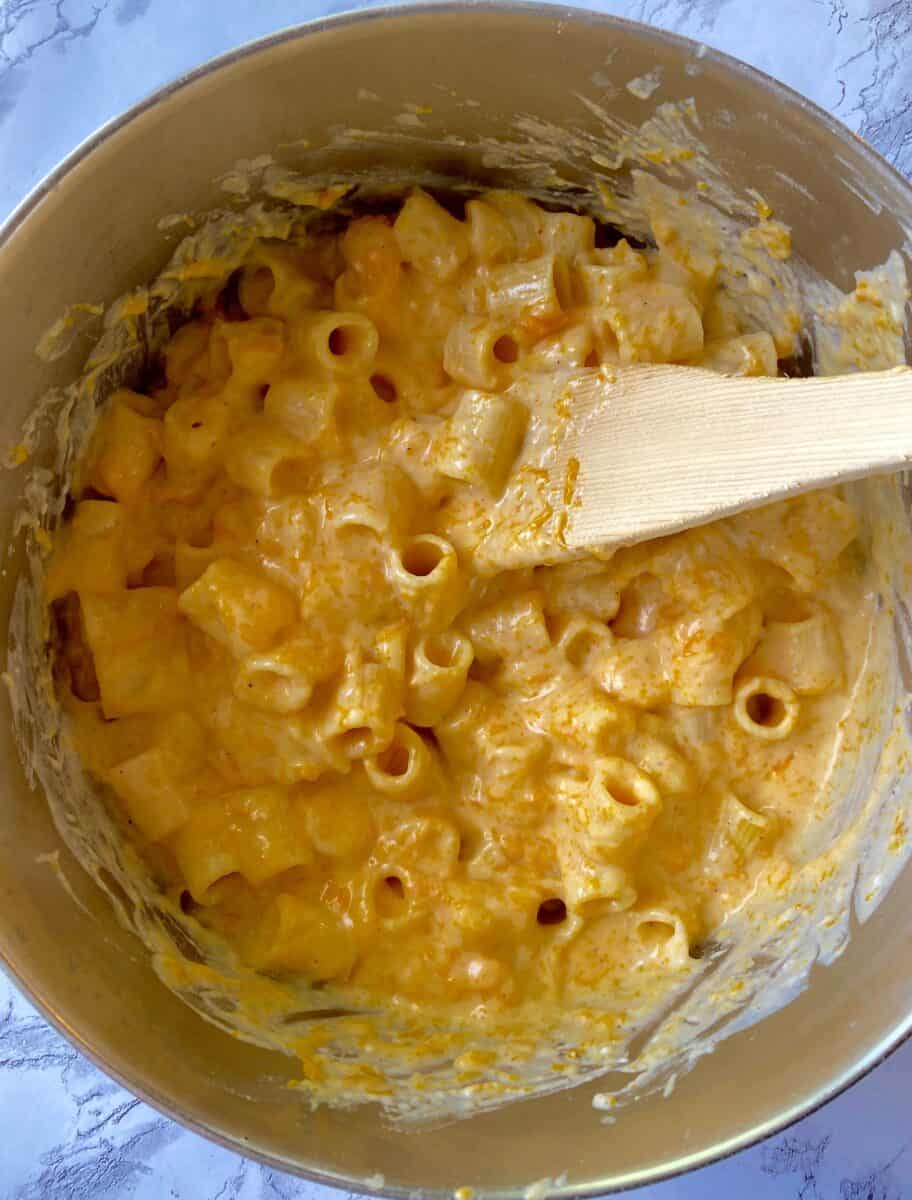 Use a baking dish that holds two quarts. A larger, glass baking dish works fine too, but the mac and cheese layer will be thinner and will cook faster. If you use a dish larger than two quarts, reduce the cooking time by about 10 minutes.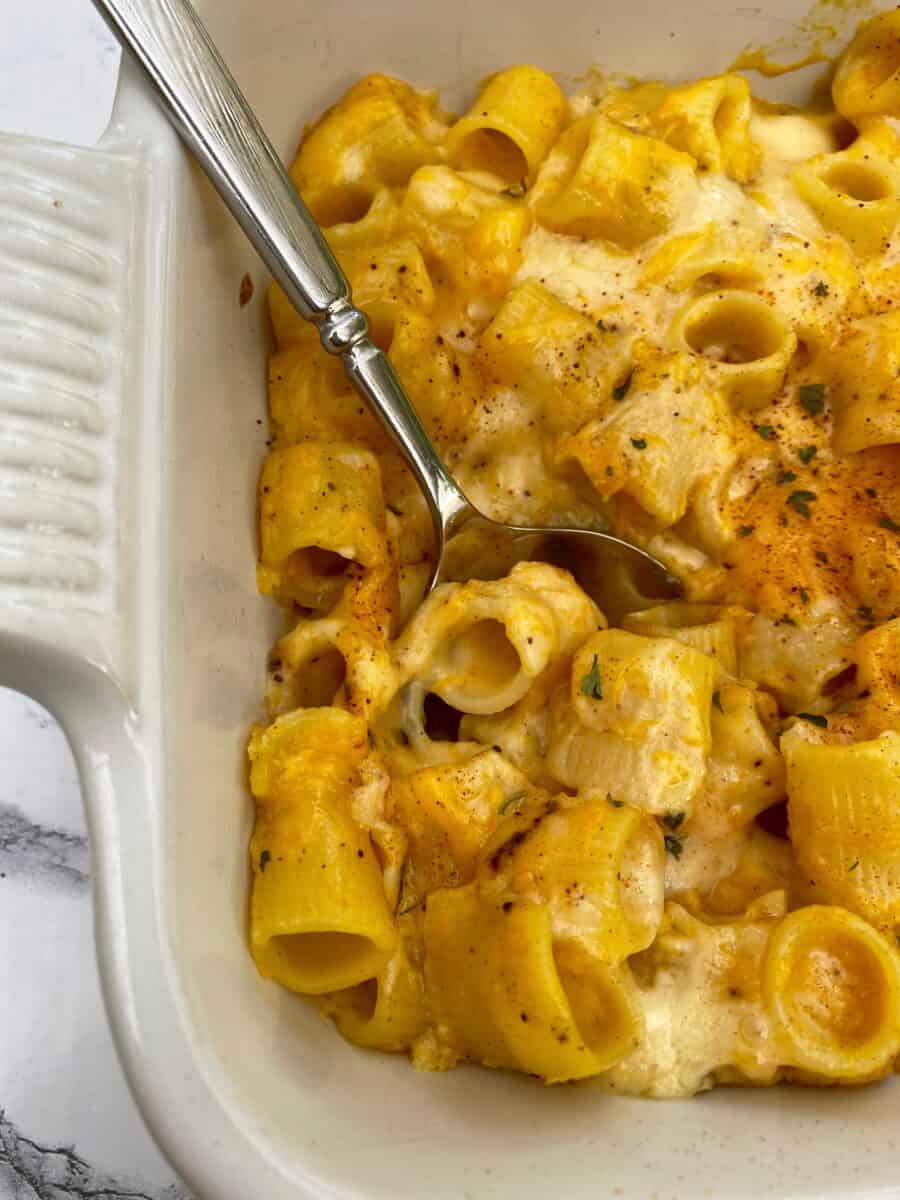 The Inspiration
I was inspired to come up with the recipe after seeing how much my daughter enjoyed Trader Joe's version of the classic fall dish.
In developing this recipe I learned a bit more about cream sauces. The sauce in my recipe begins with what my mom would call a good old fashioned white sauce. But since it's seasoned with nutmeg, it becomes what very fancy folks in the kitchen might call a classic béchamel sauce. I like how Bon Appetite magazine explains what that pretty name actually means. But I'm not one for being too fancy. Let's just add the cheese, stir it up with pasta and enjoy every delicious bite.
Here are more of my favorite comfort food recipes. Be sure to let me know what you think of these too! Share your rating by adding stars each time you cook something from the Crinkled Cookbook.
Blue Cheese and Rosemary Scalloped Potatoes