If you are looking for a new recipe that bakes chunks of tender chicken in a creamy sauce, get ready to dig in. Dutch Oven Chicken is a great go-to recipe. It's easy-to-make comfort food. Tender chicken and caramelized onions are topped with nutty poppy seeds and a crunchy, buttery cracker topping. It's a tasty, company chicken casserole recipe to prepare outdoors in a cast iron Dutch Oven or inside in your home kitchen.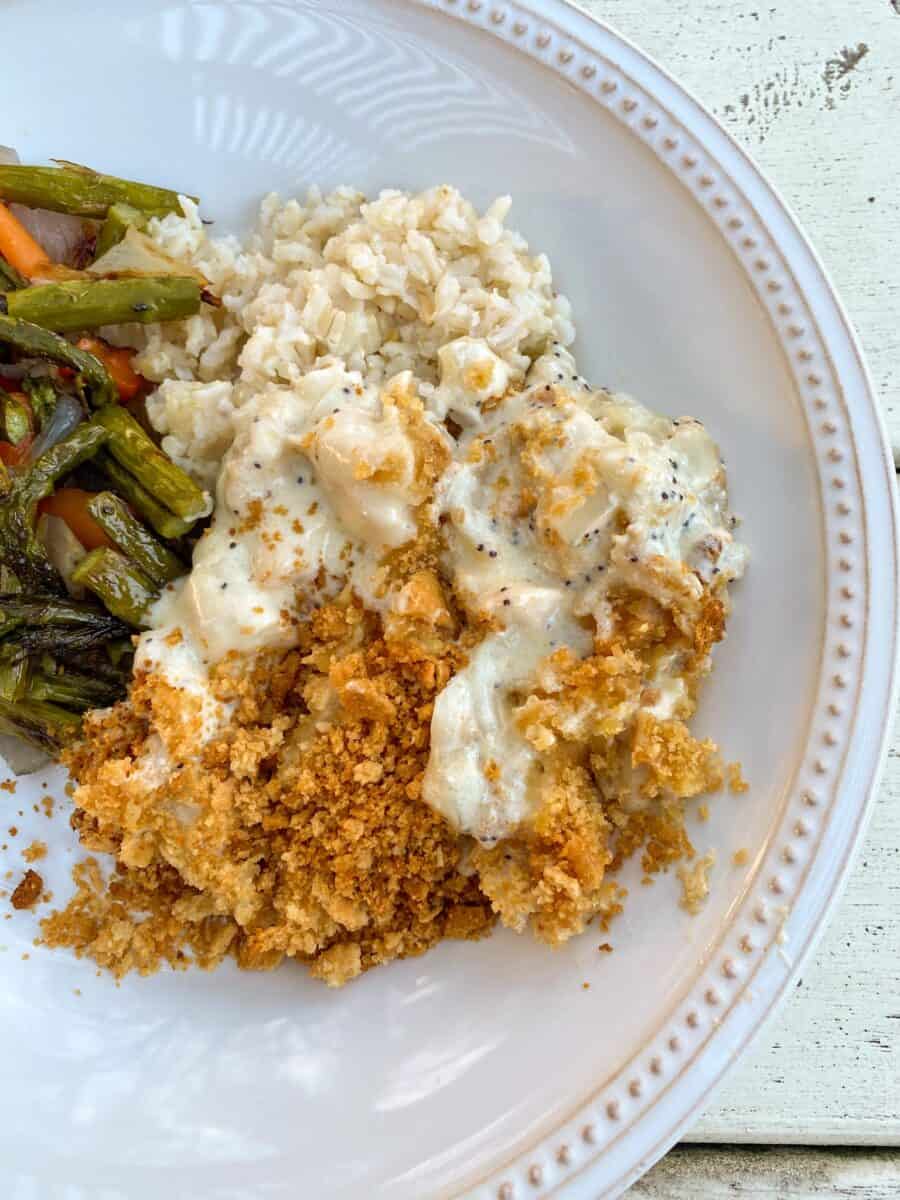 Dutch Oven Chicken is classic comfort food. If you are a fan of recipes like No Ketchup Meatloaf, Chicken Spaghetti with Rotel and Velveeta, Rotisserie Chicken and Stuffing Casserole or Butternut Squash Mac and Cheese, then this is a recipe you are going to love!
Jump to:
Ingredients to Have on Hand
The grocery list for Dutch Oven Chicken is short (yay!) and most everything on the list is likely either in your pantry now or an item that might be found on a quick trip to the store.
Chicken Breasts
Onion
Sour Cream
Cream of Chicken Soup
Buttery Crackers, such as Club Crackers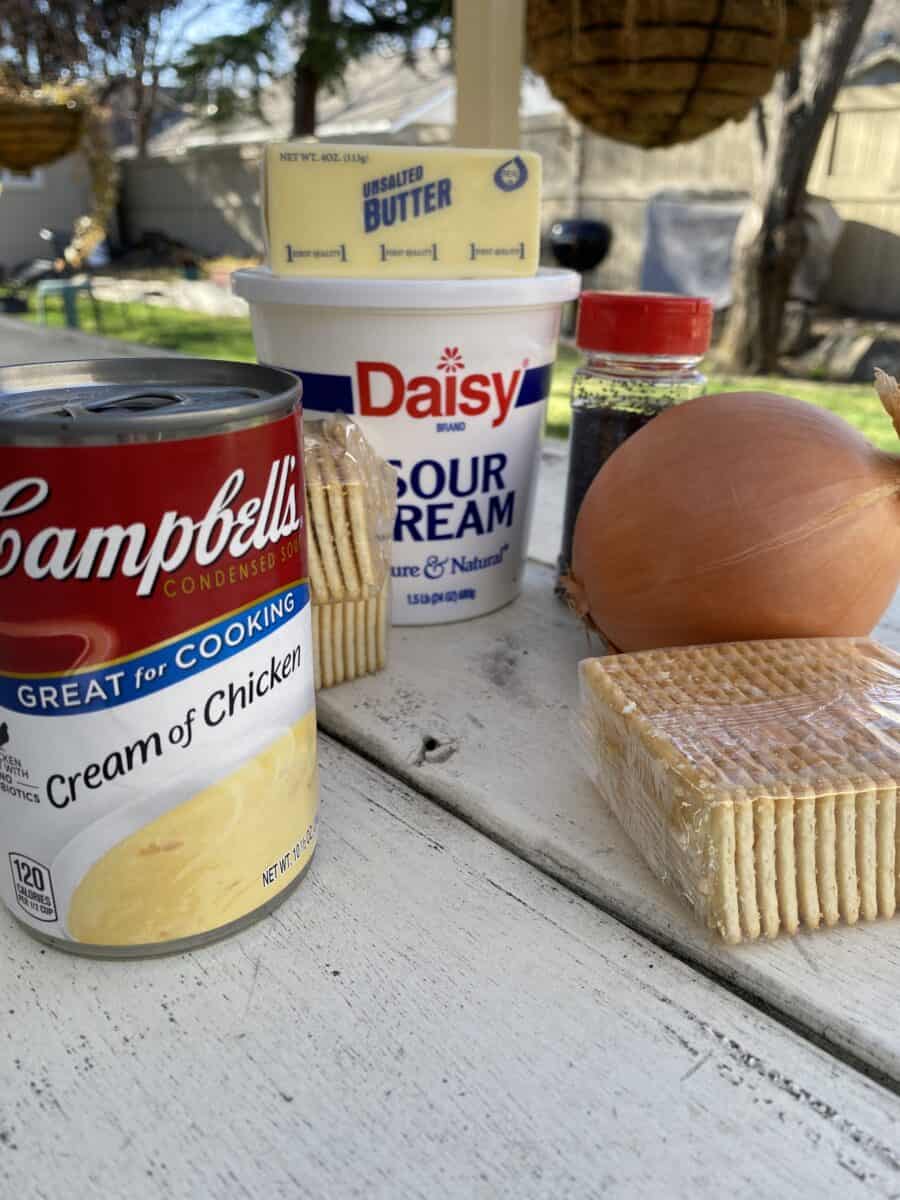 The prep time for Dutch Oven Chicken is fast. Essentially, it's a chicken mixture baked with a soup mixture. I like to keep cream of chicken soup on hand just for this dish. You can use cream of mushroom soup as an option.
This is an easy-to-make chicken recipe using boneless skinless chicken breasts that your family will love. It's also relatively low carb, despite that crunchy, cracker topping.
Tiny, Nutty Poppy Seeds
You might wonder, why do we need to add something so little to this recipe. Poppy seeds might be tiny, but they add a mild, nutty flavor to Dutch Oven Chicken and they add a lot to this recipe! According to the Food Network, poppy seeds even have a bit of a health benefit. Bring on the poppy seeds!
FAQ
Where can I find poppy seeds?
The grocery store in your neighborhood should have them. I usually find poppy seeds in the spice aisle but sometimes they are in the baking aisle. As an option, you can buy them here too.
Do I have to use chicken breasts?
Whether you use boneless skinless chicken breast halves, chicken tenders or even boneless skinless chicken thighs, you'll have a winner, winner chicken dinner.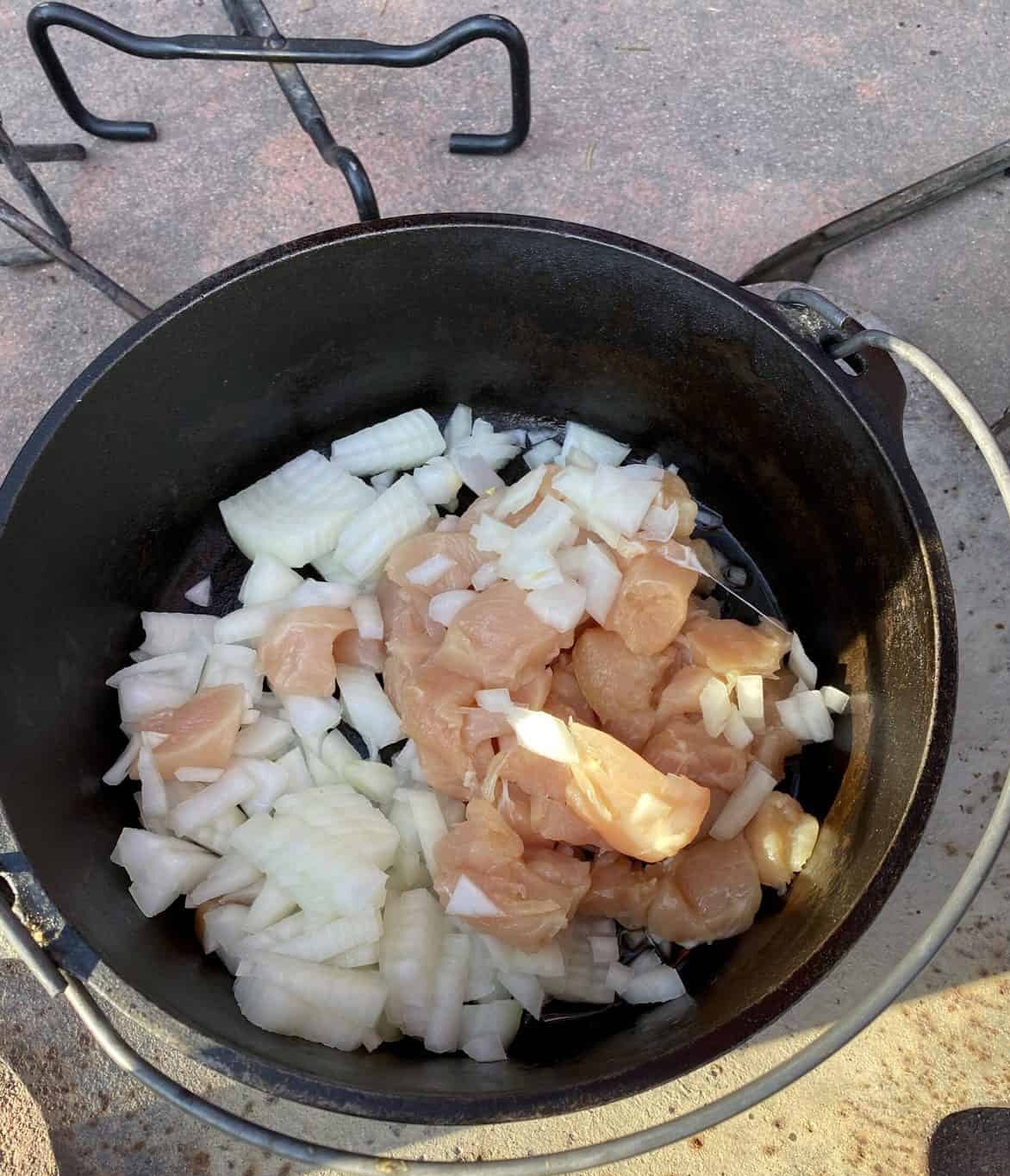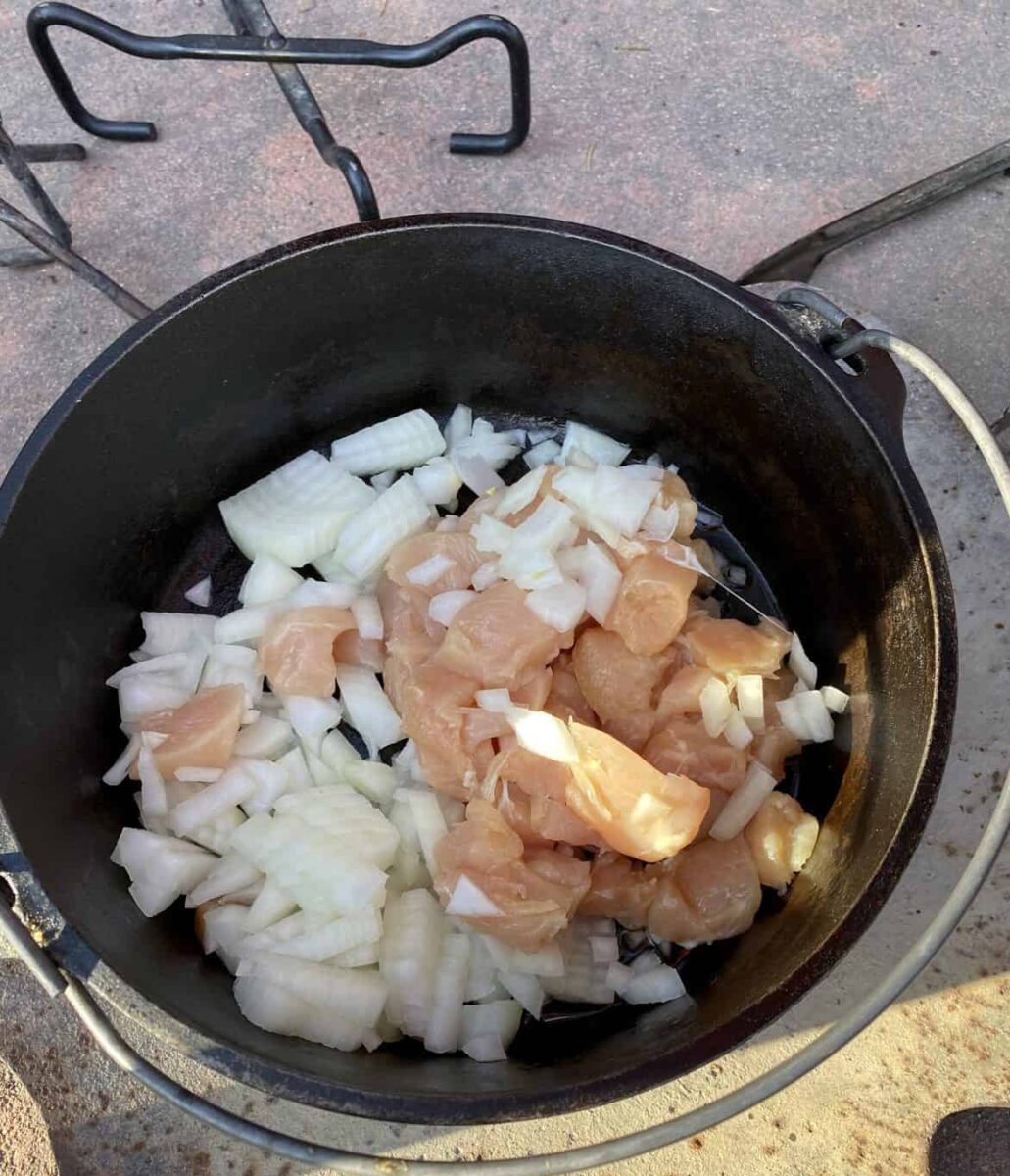 Outdoor Cooking Option
Unlike our home ovens where we just preheat the oven and prepare a large casserole dish, with outdoor Dutch Oven cooking we need to get the coals ready first. The charcoal will take about 20-30 minutes to reach the right temperature, you can tell when they're ready because the edges of the charcoal turn gray.
It may seem time-consuming, but this is usually the perfect amount of time to do some prep work for this easy chicken casserole, whether you need to melt a few tablespoons of butter, chop a few wedges of onion, mix soup or prep the remaining ingredients.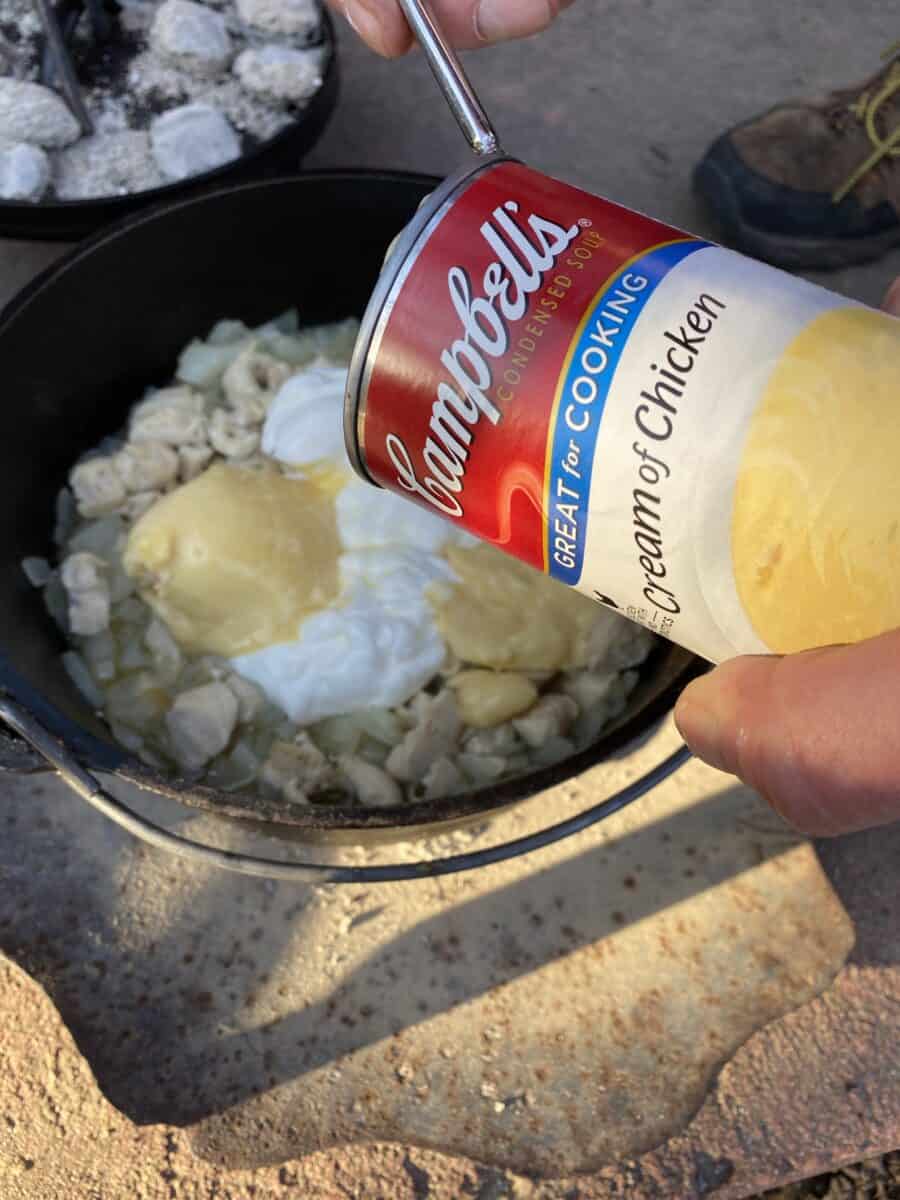 What to Serve with Dutch Oven Chicken
Whether you make this outside in a cast iron Dutch Oven or inside, this baked chicken recipe is a satisfying one-pot main course for dinner. The creamy sauce is delicious served with white rice, brown rice or even a wild rice mix. But, you could keep things really simple and serve it with a baked potato or even toast.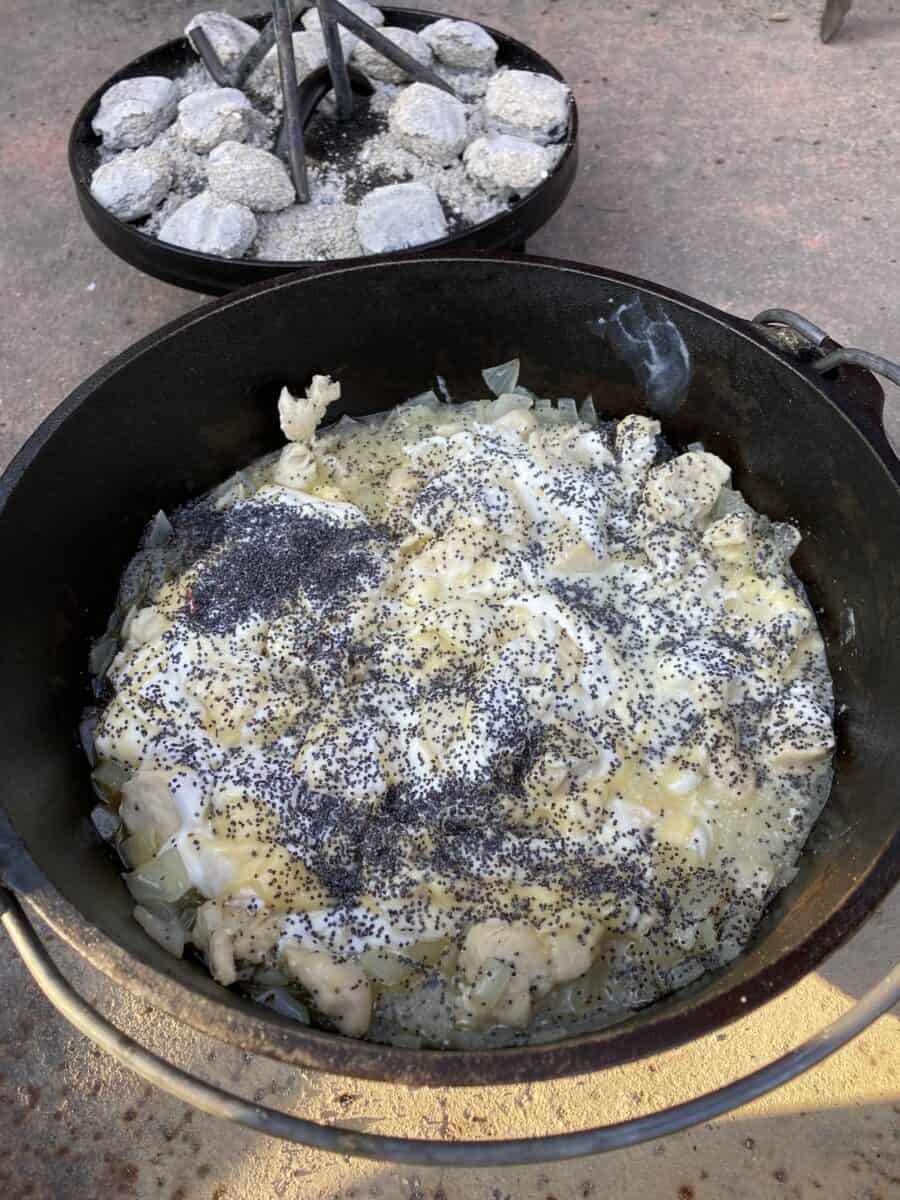 Dutch Oven Cooking
Have you ever made a meal outdoors in a big cast iron Dutch Oven? It's a fun and actually very easy way to fix a big pot of food. Talk about a conversation starter when you have company!
Of all the chicken casserole recipes out there, this one is the best of both worlds. It's a flavor combination that even a picky eater will love yet it's fancy enough to serve guests and the total time from prep work to baking is pretty quick.
Scroll down for a few "tricks of the trade" for Dutch Oven cooking.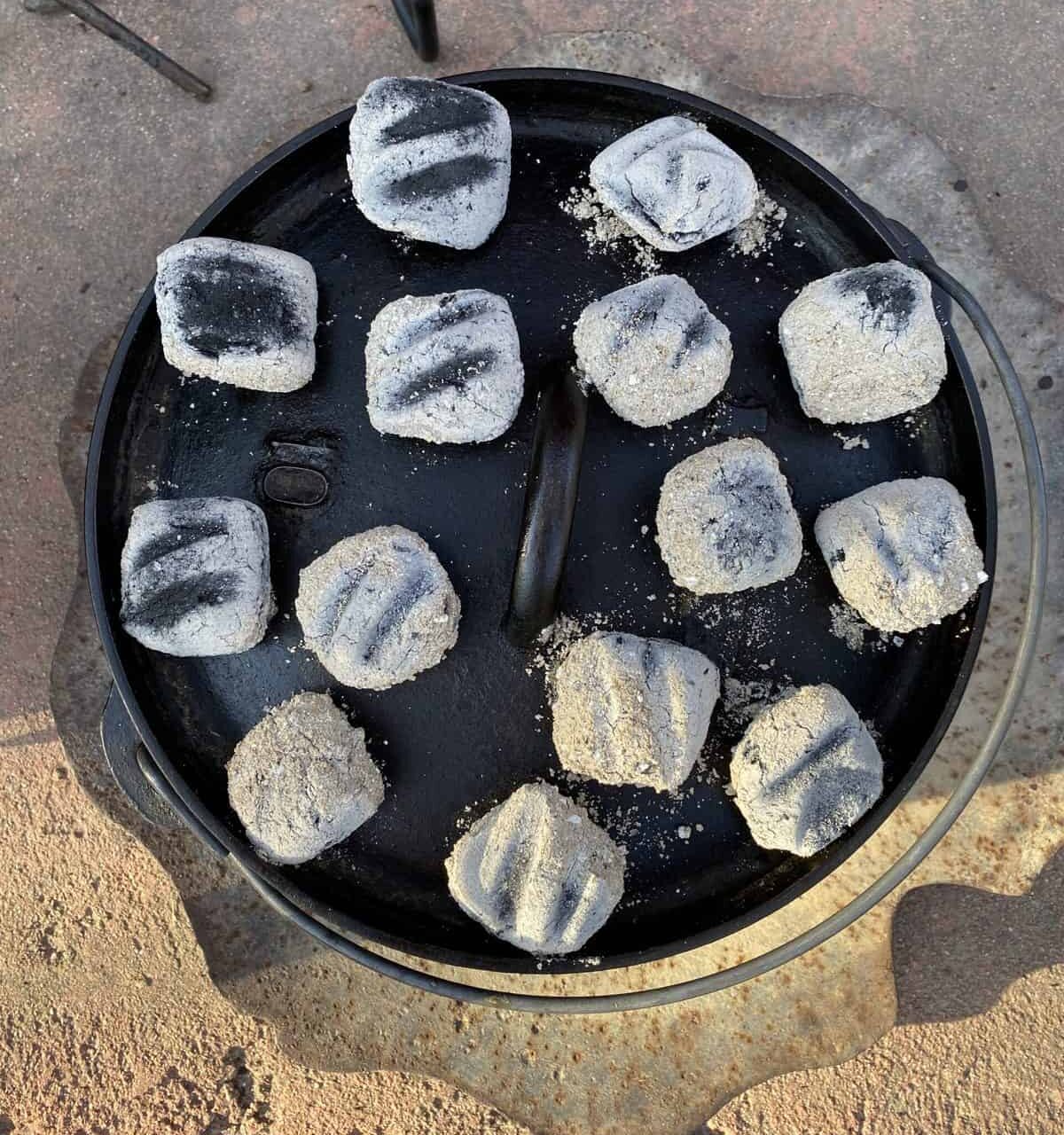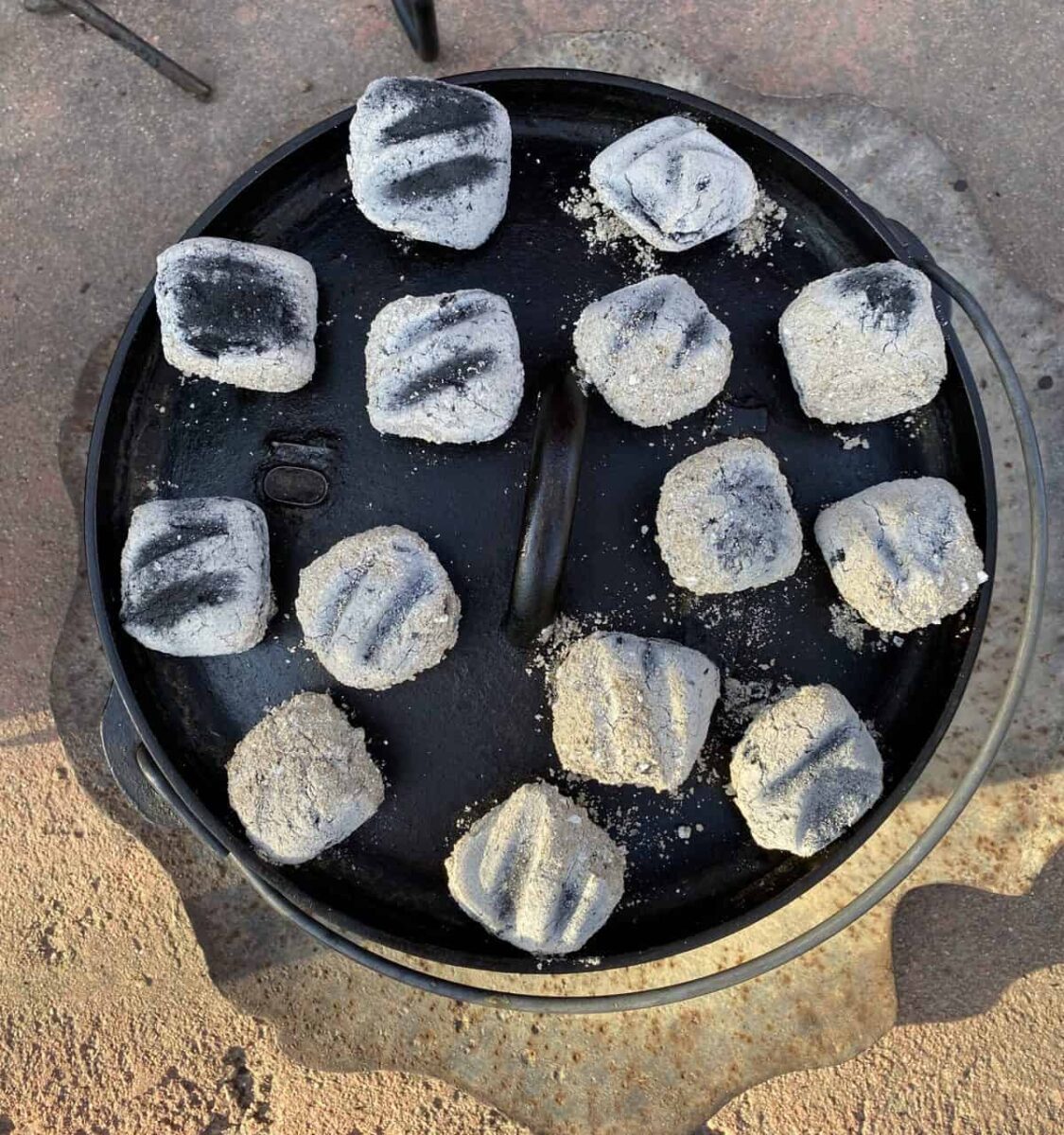 Equipment for Dutch Oven Cooking
There are a few items you'll want to have ready before your maiden voyage with Dutch Oven cooking. Here are some of the "must-have" items to help make the cooking adventure go smoothly with this simple recipe.
10" Dutch Oven There are many size options in Dutch Oven cooking, some are much larger. But this 10" size holds 5 quarts which is big enough to prepare plenty of food.
Lid lifter. Of all the Dutch Oven accessories, this is probably the most important to have. Lifting a lid full of hot coals over high or even medium-high heat is something you don't want to risk with a potholder.
Lid stand this is really important because you'll want a nice clean place to put your lid when you want to check what's cooking in the oven, or when you remove the lid so folks can dig in.
A chimney charcoal starter makes lighting all that charcoal a cinch. Just count the number of coals you'll need, place them in the chimney on top of a few paper towels and ignite.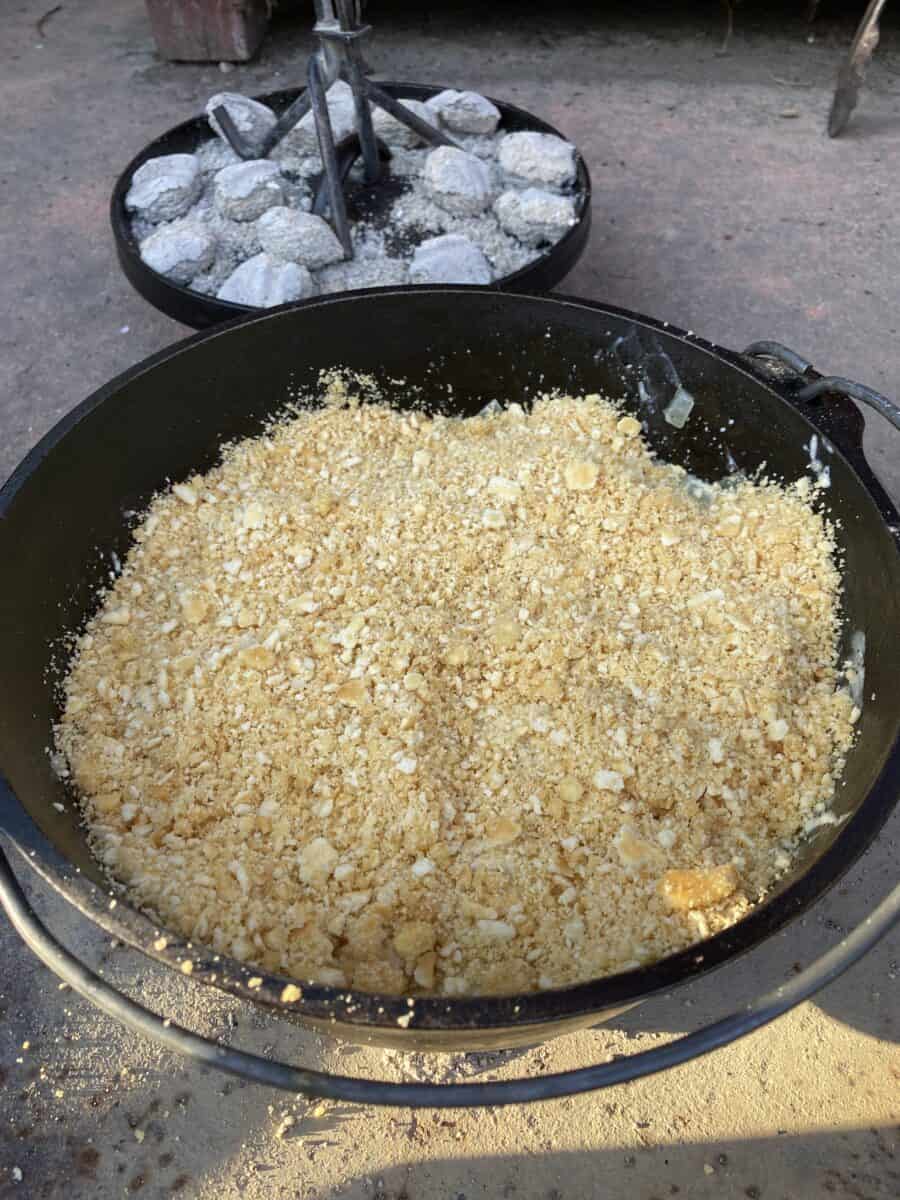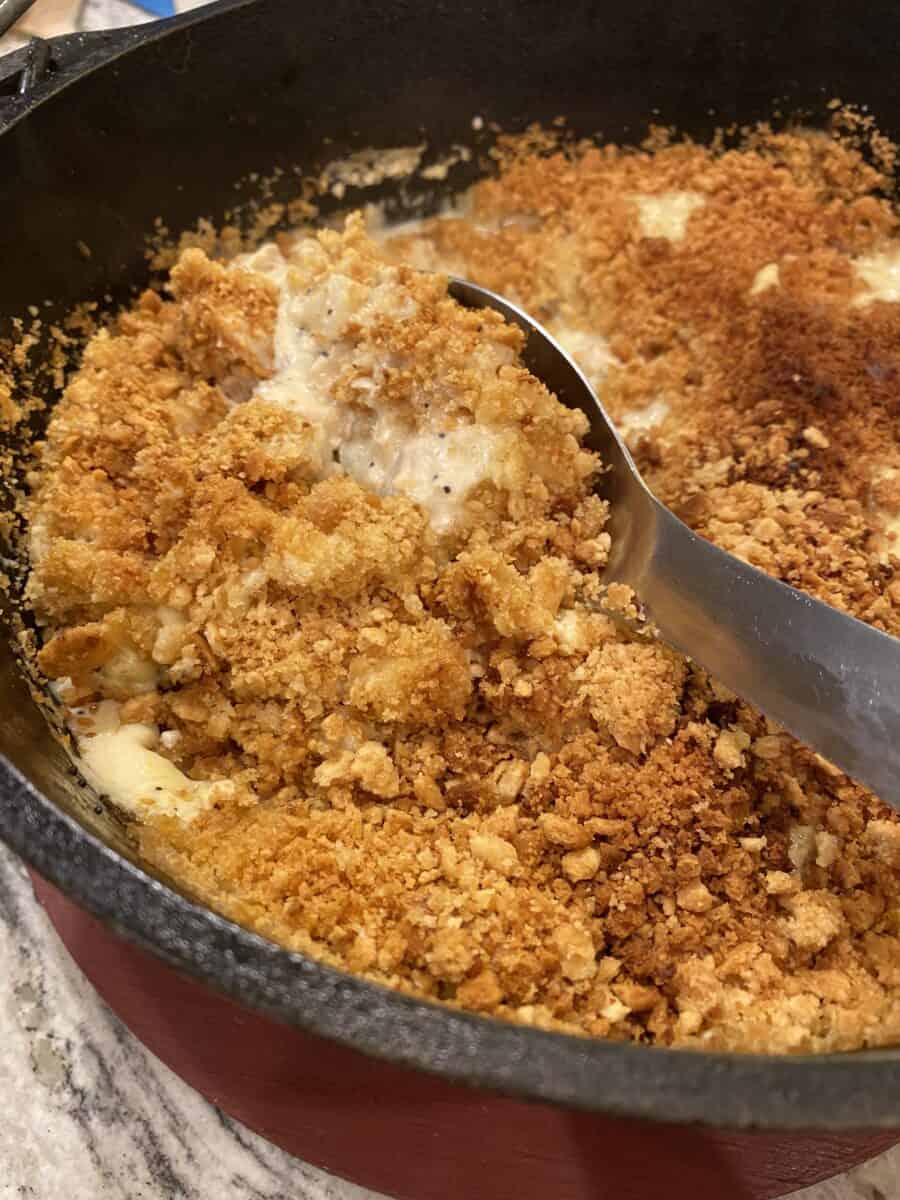 Inside Kitchen Cooking Option
Pretty much any recipe that is designed for a Dutch Oven can be adapted for cooking or baking inside in your kitchen oven. The cook time is very similar and this recipe is no exception. See below for a step-by-step for either option.
When it comes to a Dutch Oven in my kitchen, this Le Creuset Dutch Oven is by far my favorite. It's durable, beautiful, cooks food evenly and it's pretty enough to scoop up right from the pot.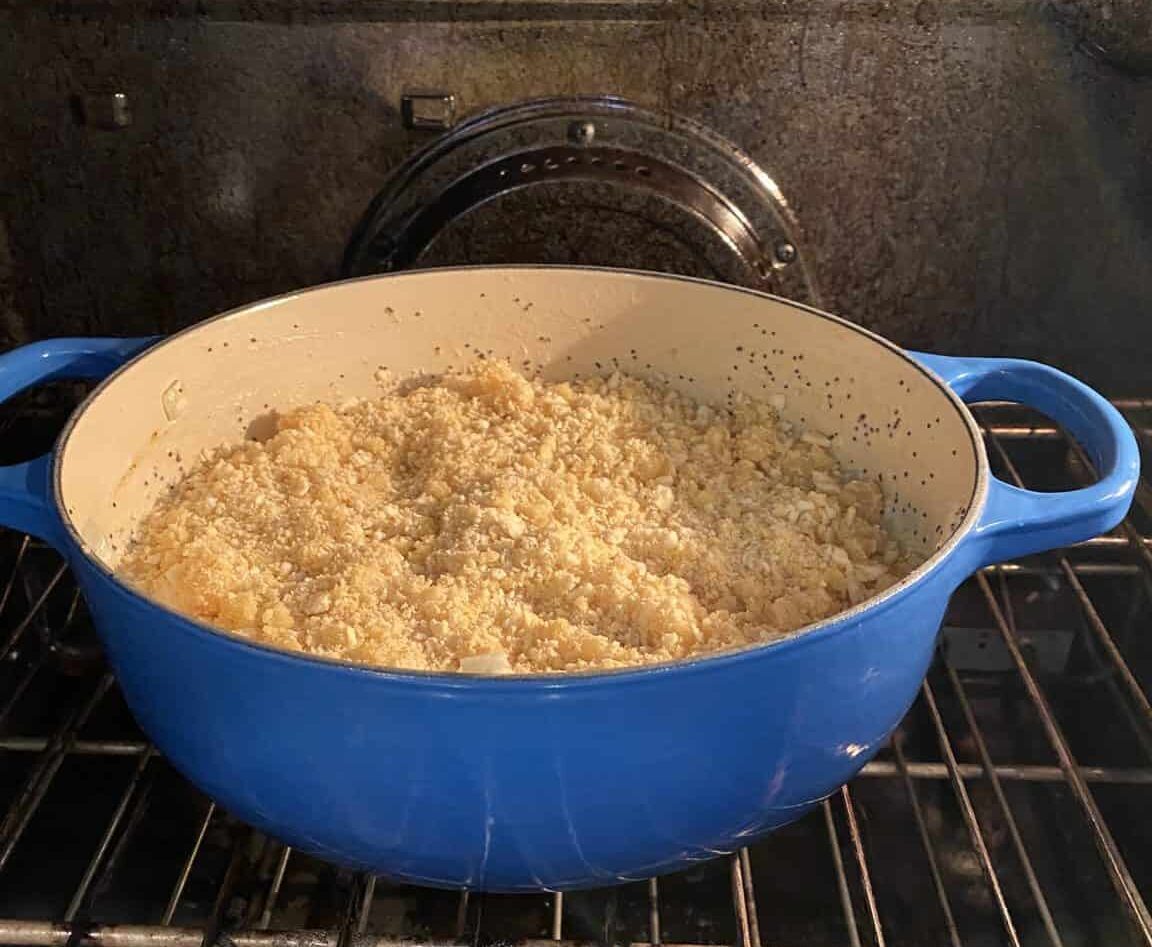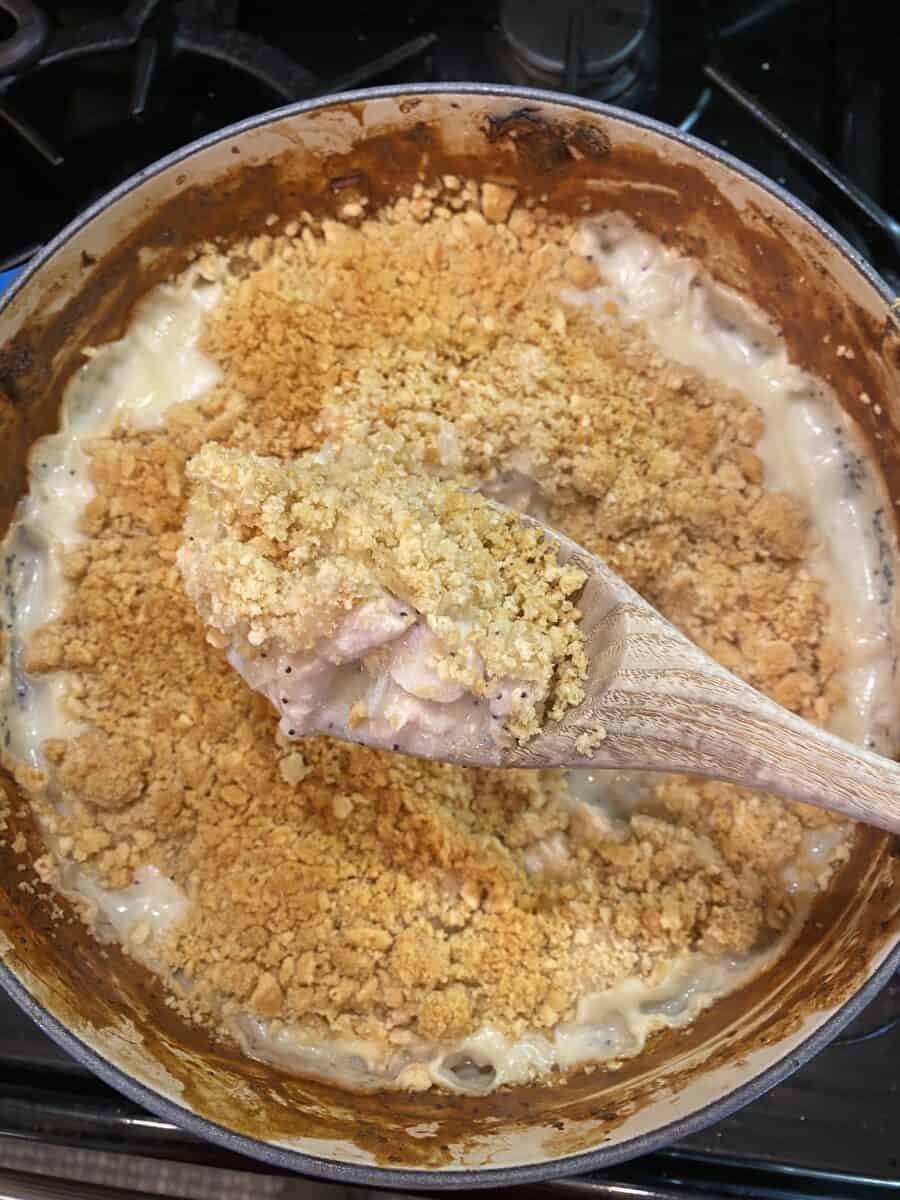 Crunchy Cracker Topping
Don't skimp on this part. It's an easy step and the melted butter combined with crushed crackers bakes into a crunchy, buttery topping that can't be beat.
You'll want to see the chicken and the sauce simmering under the cracker topping, but it doesn't need to reach a hard boiling point. Remember, the chicken was fully cooked in step one of the process.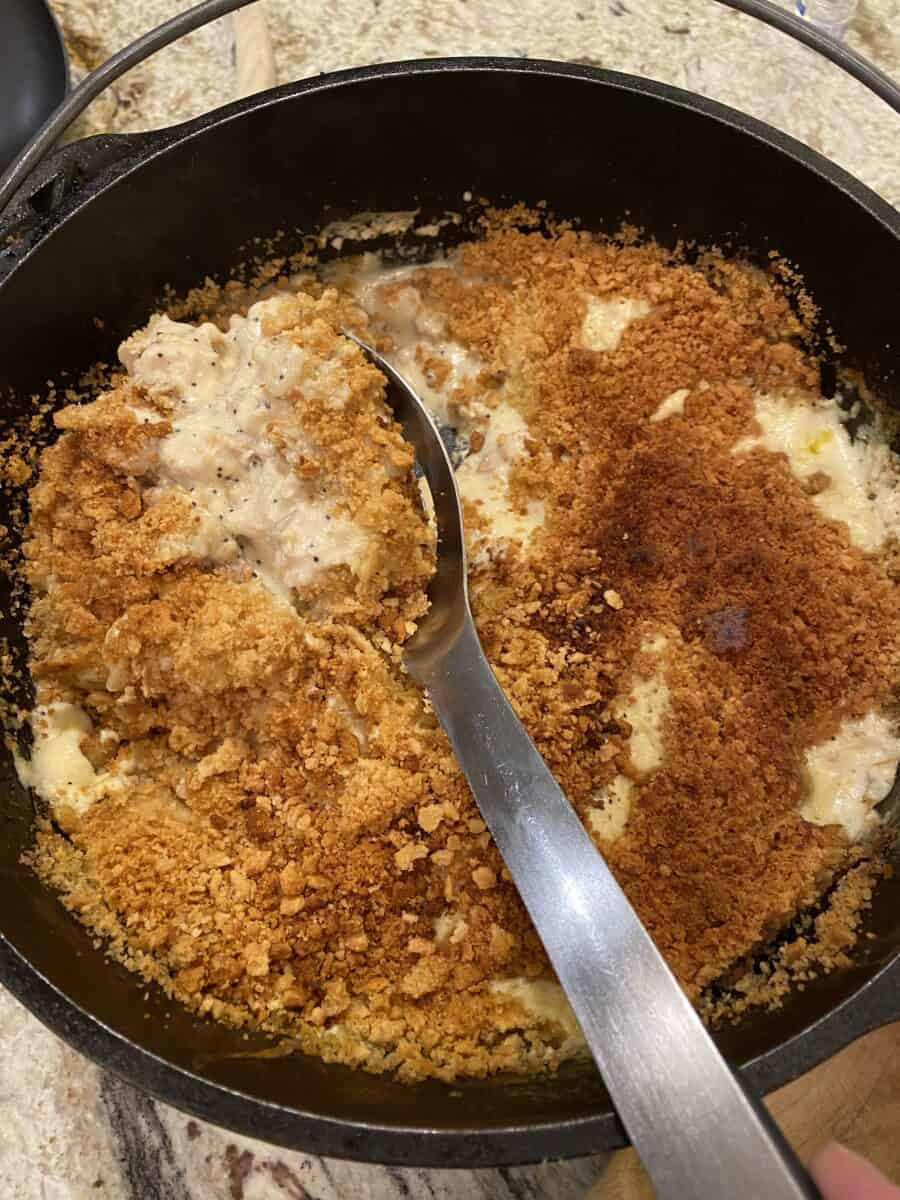 This recipe was adapted from one I found in a little paperback Southern Living cookbook a few years ago.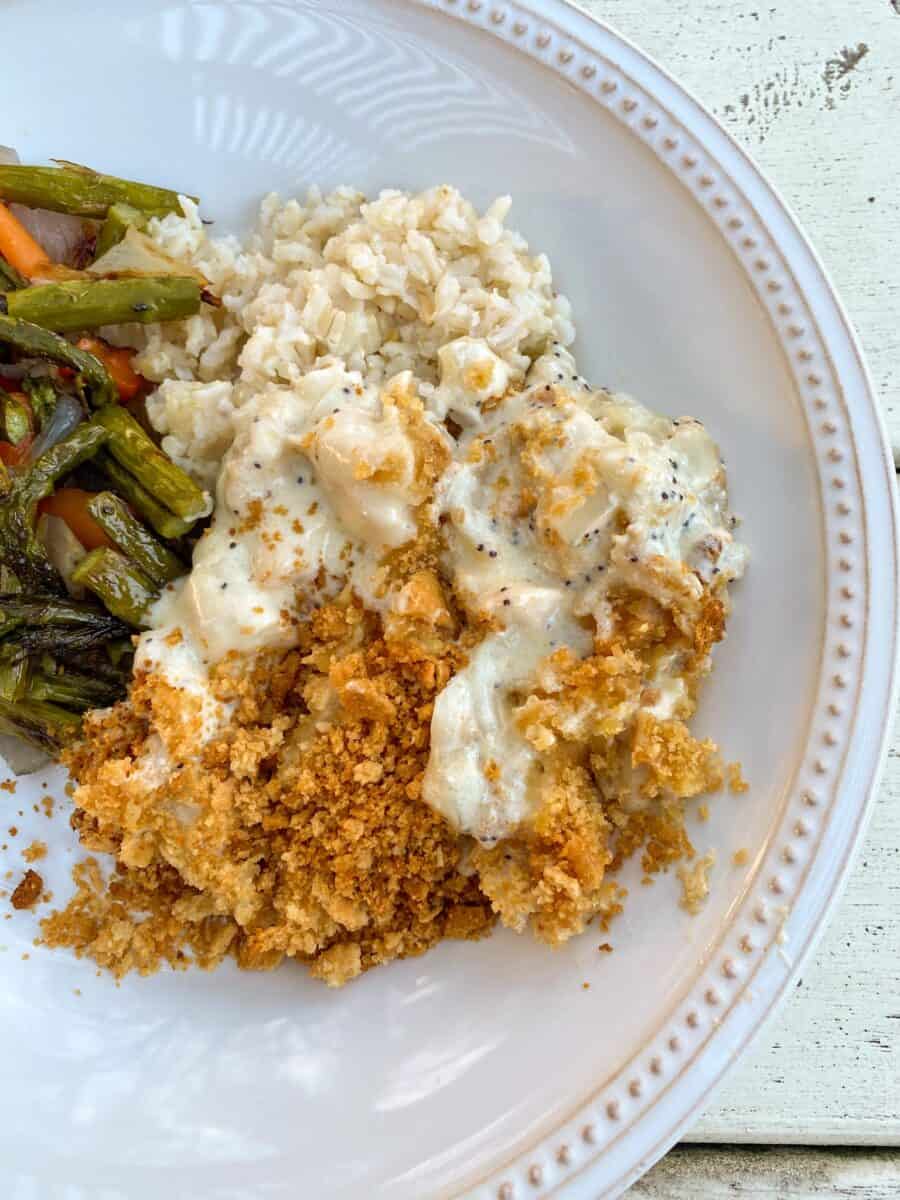 What to Serve with Dutch Oven Chicken
Here are a few side dish options that will be tasty with Dutch Oven Chicken.
Rate the Recipe
Recipe