Blue Cheese and Rosemary Scalloped Potatoes are impressive enough for guests or holidays and simple enough to go alongside a weeknight BBQ. If you like blue cheese, you'll LOVE these potatoes. Crumbled cheese with those distinctive threads of blue, along with fresh rosemary combine for a unique flavor in a delicious made from scratch white sauce. It's a terrific change of pace from traditional scalloped or au gratin potatoes made with cheddar cheese. 
Note: The links in this recipe are paid links, Amazon Associates. This means I make a small commission when you click and shop. Your cost is the same and I only link to products or ingredients that I use and love.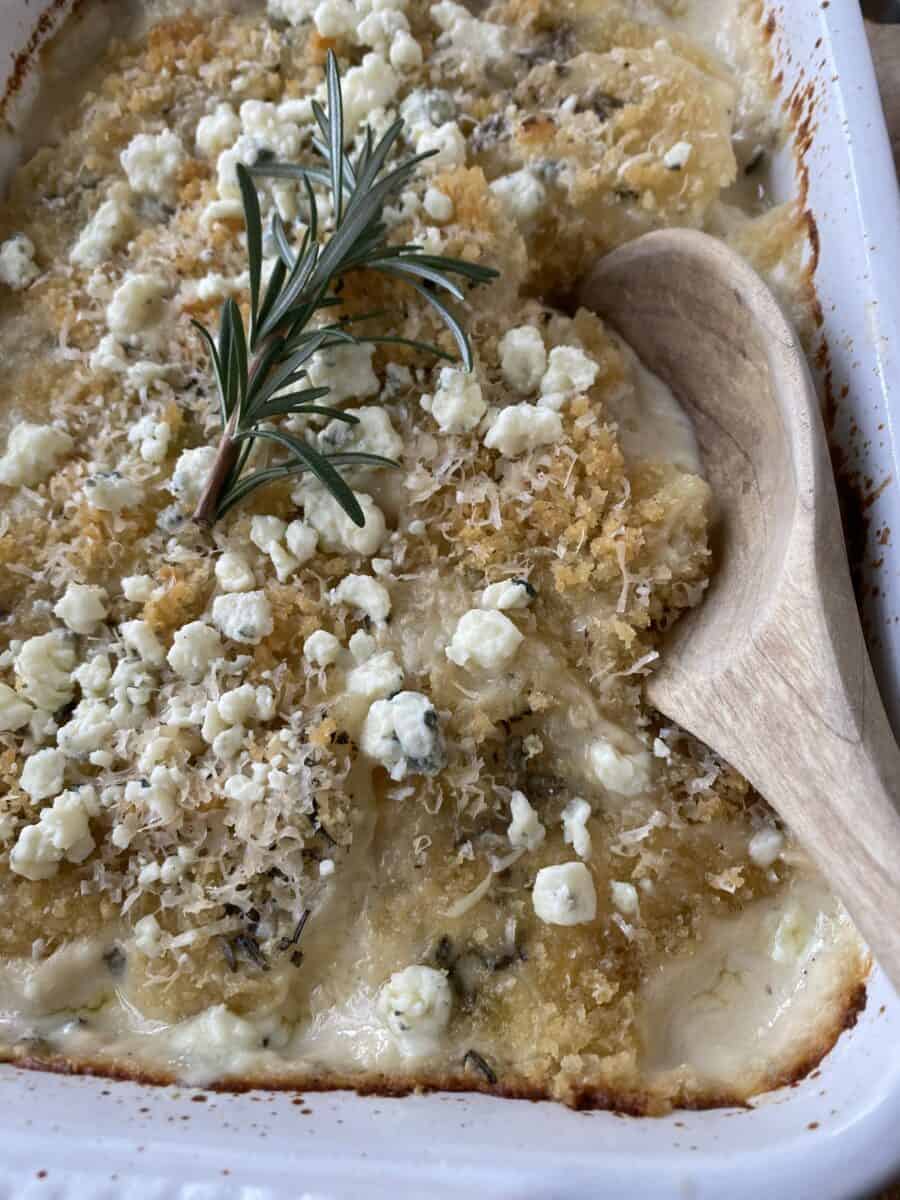 Blue Cheese Replaces Cheddar
This recipe takes a traditional scalloped or au gratin potato recipe - sliced potatoes, cream of chicken soup and shredded cheddar cheese - and ramps it way, way up by replacing cheddar and creamed soup with a combo of blue cheese, parmesan white sauce and fresh rosemary. To help enhance the flavor in the sauce, I recommend using Better Than Bouillon Seasoned Vegetable Base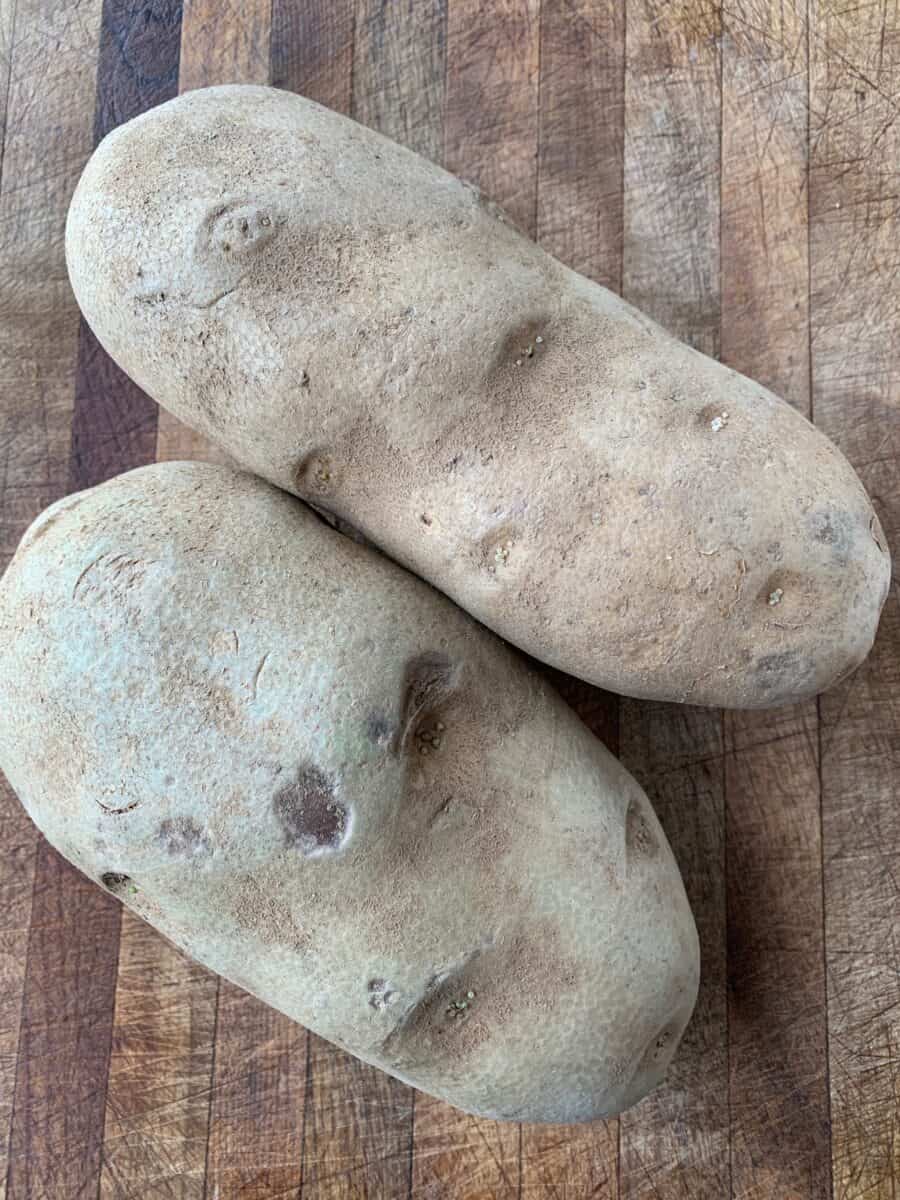 Bonus: Extra Blue Cheese White Sauce
I came up with this new twist on a family favorite recipe by first creating the rich white sauce - but as an added bonus, you will likely have more than you need to coat the potatoes. That's intentional. Why? Because this sauce is equally delicious over pasta and I like to save a cup or so for a rich pasta topping later in the week. Make a fancy white sauce once, eat twice!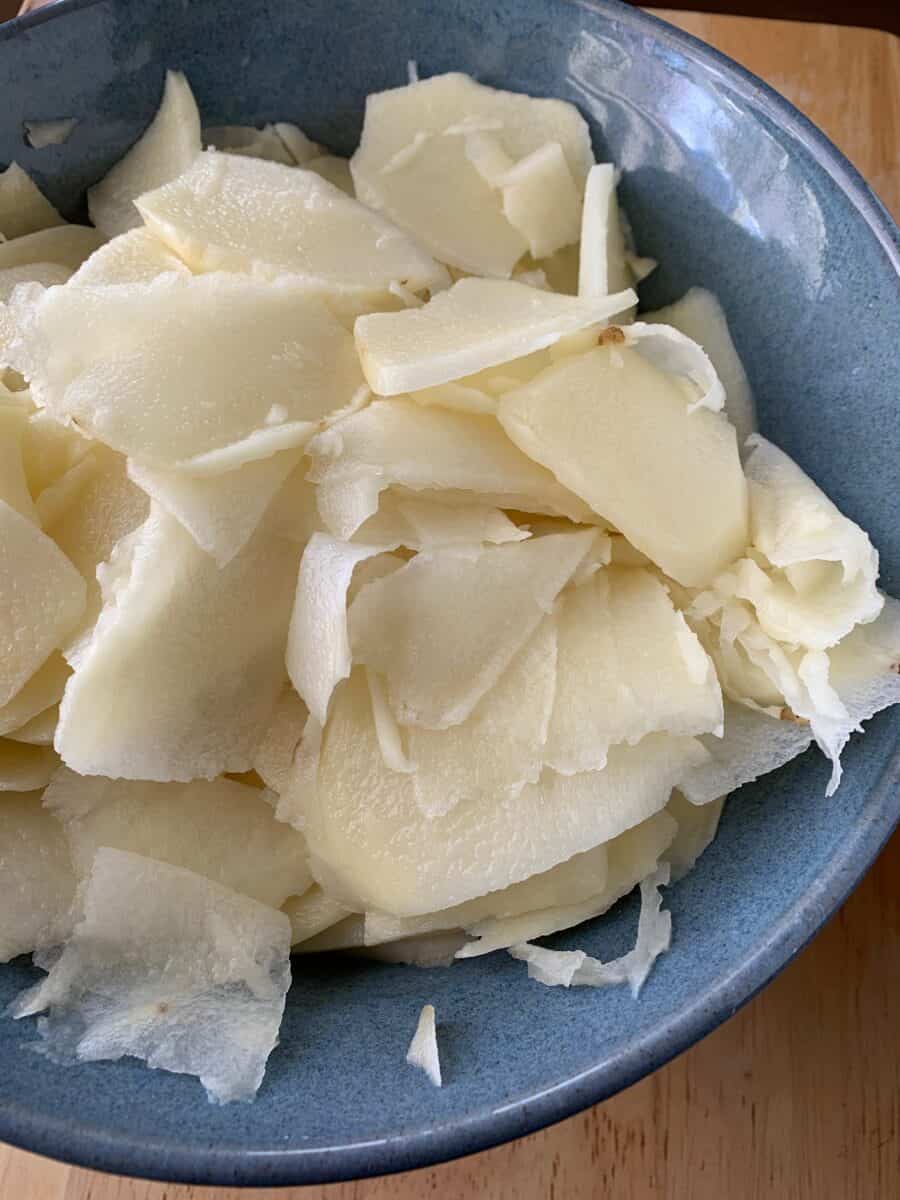 Layer Ingredients
This recipe comes together quickly once you've got the potatoes sliced and the white sauce made. I like to bake this in a 2-quart baking dish. Any shape baking dish will work fine, but a 2-quart size offers just enough space to create two layers of potatoes, sauce and rosemary.
What's the difference between scalloped and au gratin potatoes?
It's such a classic question, and the answer seems to depend on lot on who you ask. Growing up, my family always referred to potatoes layered and baked this way as scalloped potatoes. But my husband's family called them au gratin. According to Southern Living magazine, the difference comes down to whether you include cheese in the recipe and whether bread crumbs are placed on top. To add to the confusion, you'll find plenty of variations in many cookbooks and on restaurant menus. Truthfully, no matter what we call them both scalloped potatoes and au gratin potatoes are a comforting and delicious way to serve potatoes.
Meal Idea
Want to make a meal out of it? I highly recommend serving Balsamic Brussels Sprouts and Classic Potato Rolls with this side dish. Just add your favorite meat or other protein and you are set for a delicious and impressive meal. I can't wait to hear what you think of this recipe! Be sure to rate it below.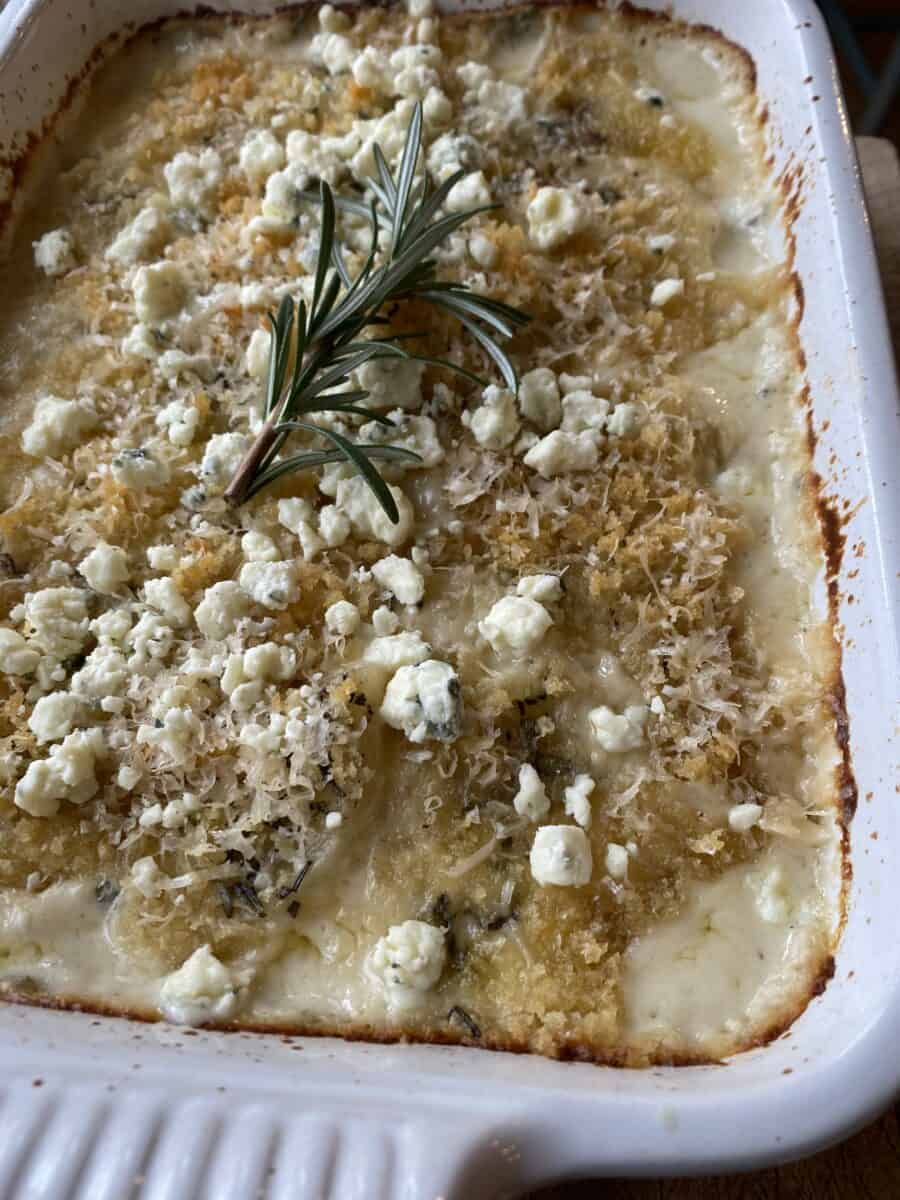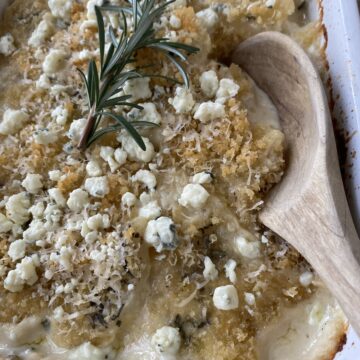 Blue Cheese and Rosemary Scalloped Potatoes
This is a side dish impressive enough for guests or holidays and simple enough to go alongside a weeknight roast or grilled chicken.
Print
Rate
Pin Recipe
Servings:
8
people, as a side dish
Ingredients
Blue Cheese Cream Sauce
1/2

cup

butter

1/2

cup

flour

4

cups

milk

I recommend 2% or whole milk for extra creaminess

1 1/2

cups

blue cheese

crumbled

1

cup

parmesan cheese

grated

1

teaspoon

vegetable bouillon

I use Better Than Bouillon Seasoned Vegetable Base

1

teaspoon

salt and 1 tsp pepper

or to taste
 Potatoes and Rosemary
2

large russet potatoes

about 4 cups, sliced 1/4" thin or less

1

teaspoon

salt

1/2

teaspoon

pepper

2

tablespoons

fresh rosemary

minced
Topping
2

tablespoons

butter

melted

1/2

cup

panko bread crumbs

1/4

cup

additional parmesan cheese

grated

2

tablespoons

additional blue cheese

crumbles
Instructions
Preheat oven to 350°

Spray a 2-quart glass baking dish with Pam or grease with shortening.
Blue Cheese White Sauce
In a saucepan on the stove, melt butter over medium heat, then add flour and whisk for about a minute or until hot and bubbly. Slowly add the milk and stir until thickened and creamy. Turn off heat and whisk in blue cheese, parmesan cheese, salt and pepper to taste, and the vegetable bouillon. Set aside.
Layer Potatoes with White Sauce and Rosemary
Peel potatoes and cut into even slices. Place half the potatoes in the baking pan, top with about 1 cup of the white sauce from the saucepan. Top with 1/2 the chopped fresh rosemary and a few dashes of salt and pepper. Layer remaining potatoes on top and pour 1 1/2 cups of the white sauce on top of the new layer, be sure all the potatoes are covered with the sauce, followed by the remaining diced rosemary, salt and pepper. Note, you will have about 1 1/2 cups of extra cheese sauce - and that's OK. Save it for a pasta topping later, perhaps with grilled chicken.
Bake
Cover with foil and bake for 60 minutes. While the potatoes are baking, combine the topping ingredients and set aside. After an hour of baking, remove foil and spread topping over the hot potatoes. Continue baking uncovered another 20 - 30 minutes or until bubbly and golden brown. Using a fork, test the potatoes for doneness, if they are still a little crunchy, return to the oven covered for another 10 minutes or so.

Remove from the oven and sprinkle with 2 tablespoons of blue cheese crumbles and 1/4 cup of grated parmesan cheese on top. Place a sprig of rosemary on top for garnish.
Notes
Peel and slice the potatoes right before you layer them in the baking dish. Otherwise, place the sliced potatoes in ice water until the cheese sauce is ready. Drain the potatoes and layer as the recipe describes. This will keep the potatoes from turning brown.  
Nutrition
Calories:
444
kcal
Carbohydrates:
25
g
Protein:
18
g
Fat:
31
g
Saturated Fat:
19
g
Cholesterol:
82
mg
Sodium:
1295
mg
Potassium:
482
mg
Fiber:
2
g
Sugar:
7
g
Vitamin A:
985
IU
Vitamin C:
11
mg
Calcium:
482
mg
Iron:
1
mg
Please note, the nutrition details are estimated using a food database and are offered here only as a guideline for informational purposes.