A store-bought cake mix is the starting point for this adorable Easter Bunny cake. Everyone loves how this cute cake looks and kids have a ball offering a helping hand to decorate it. This is a fun Easter dessert that can easily become an annual tradition, like it is in our house. This is a wonderful treat to serve as you wrap up Easter dinner.
Note: Some of the links on this page are paid links, Amazon Associates. This means I make a small commission when you click and shop. Your cost is always the same and I only link to and recommend products or ingredients that I use.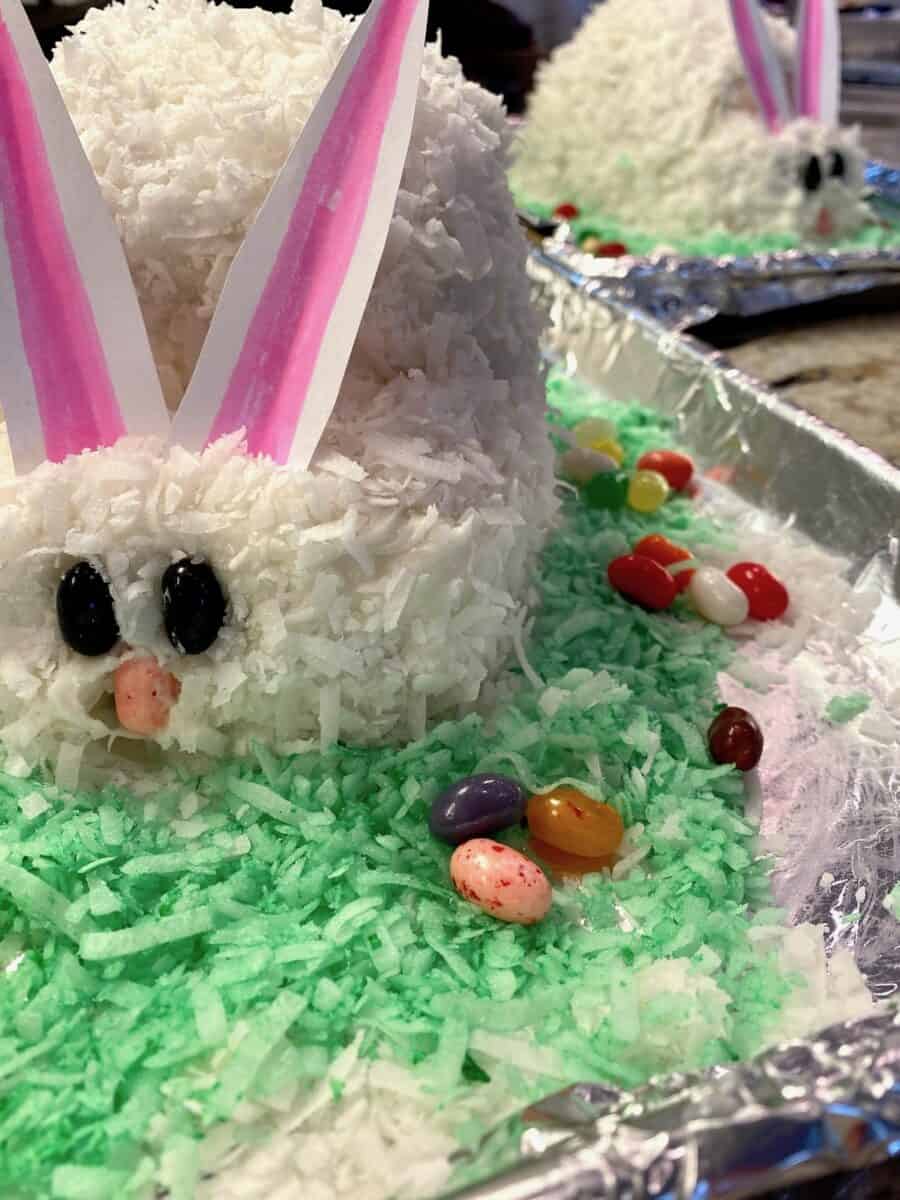 Jump to:
Ingredients to Have on Hand
This bunny cake recipe couldn't be more easy to bake. Simply buy your favorite cake mix, a can of fluffy white frosting and plenty of coconut and you are on your way. Get ready for the smiles when your little ones see these cakes!
Store-bought whipped, fluffy white frosting, in a 12 ounce tub
Sweetened coconut
Green food coloring
Assorted jelly beans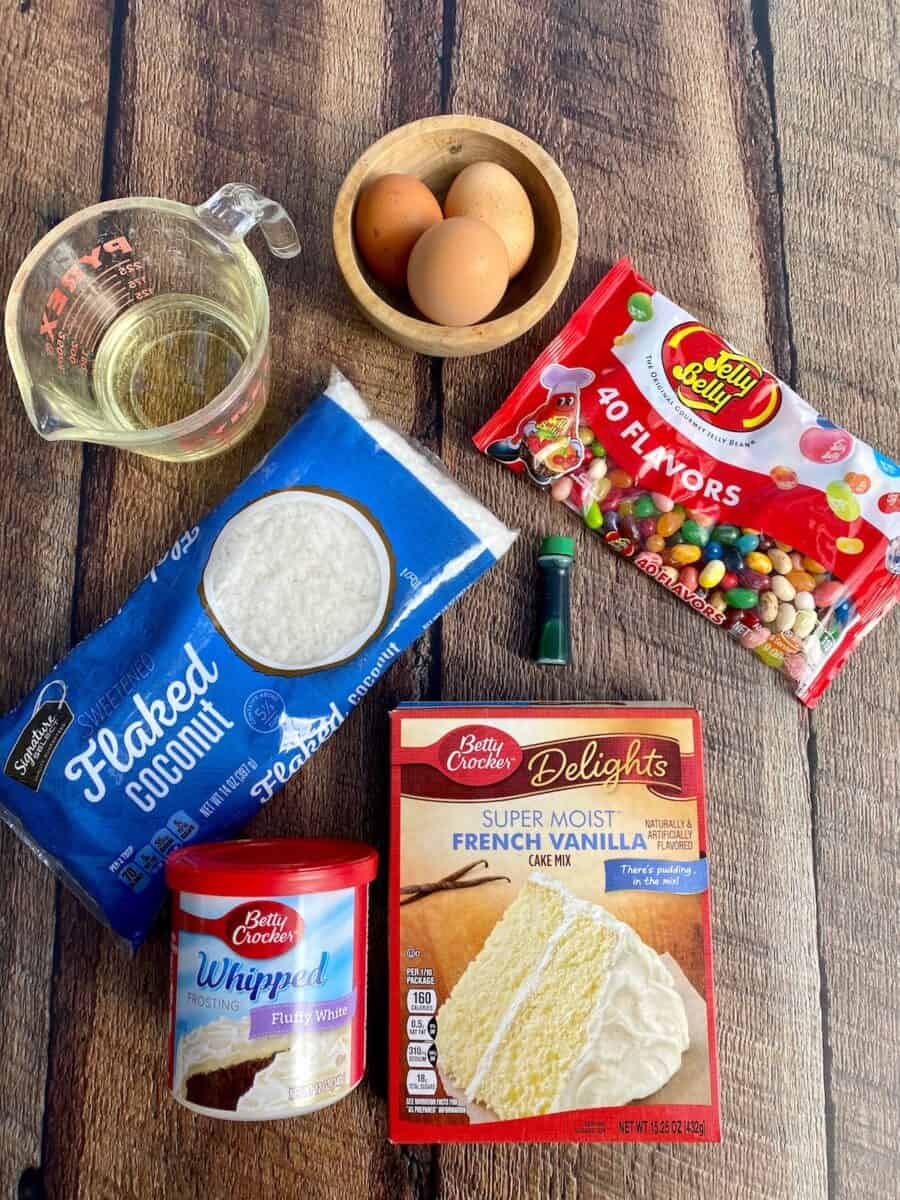 Bake the Cake Mix
Use two, round 8 or 9-inch cake pans and bake the cake according to the directions on the back of the box. It's totally OK if the cakes puff up a little during baking, this will just help the bunny have a "rolly polly" tummy.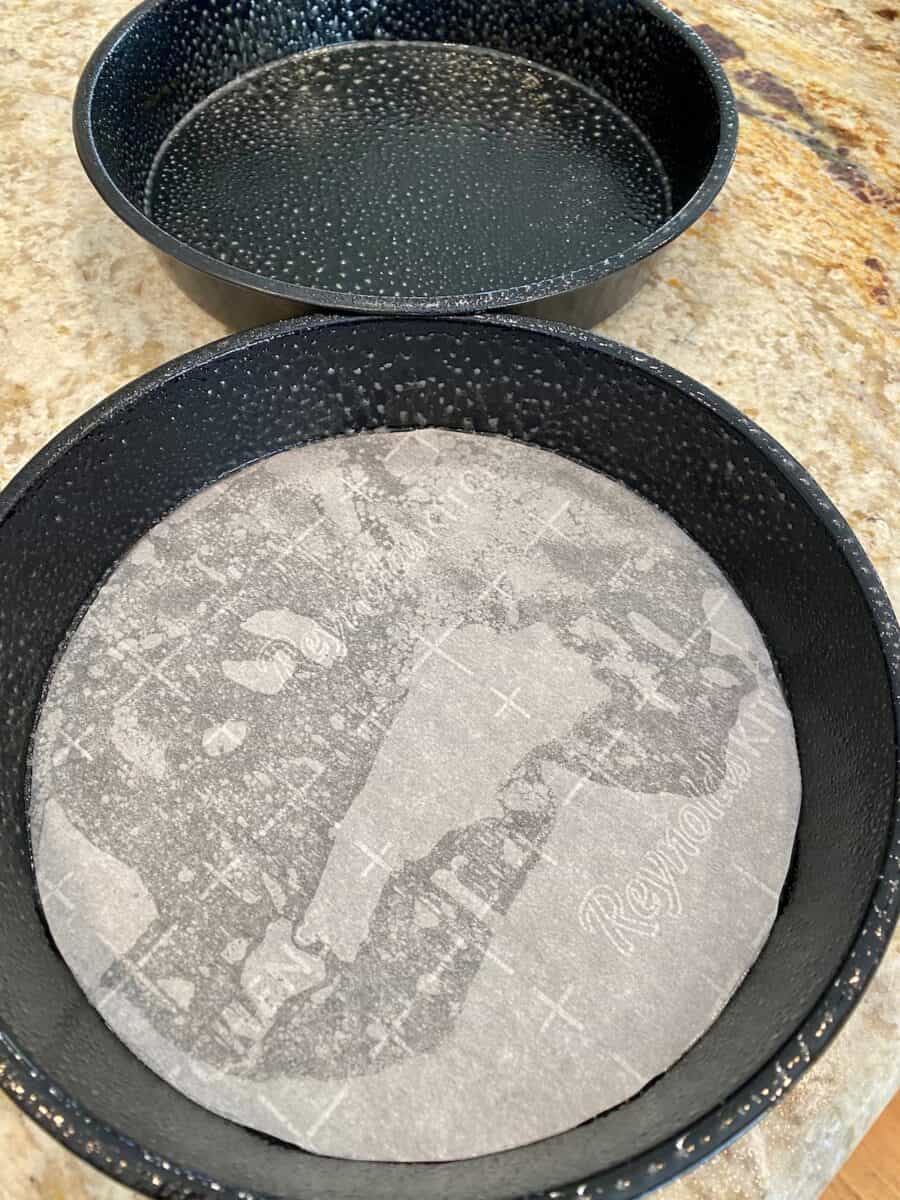 I recommend spraying each cake pan with Pam, or grease with shortening, then lining the bottom of each cake pan with parchment paper. This ensures the cakes will easily turn out of the cake pans after baking.
Choosing the Cake Mix
It's completely up to you and the kids to decide which type of cake mix to use and options abound: carrot cake, white cake, french vanilla, etc.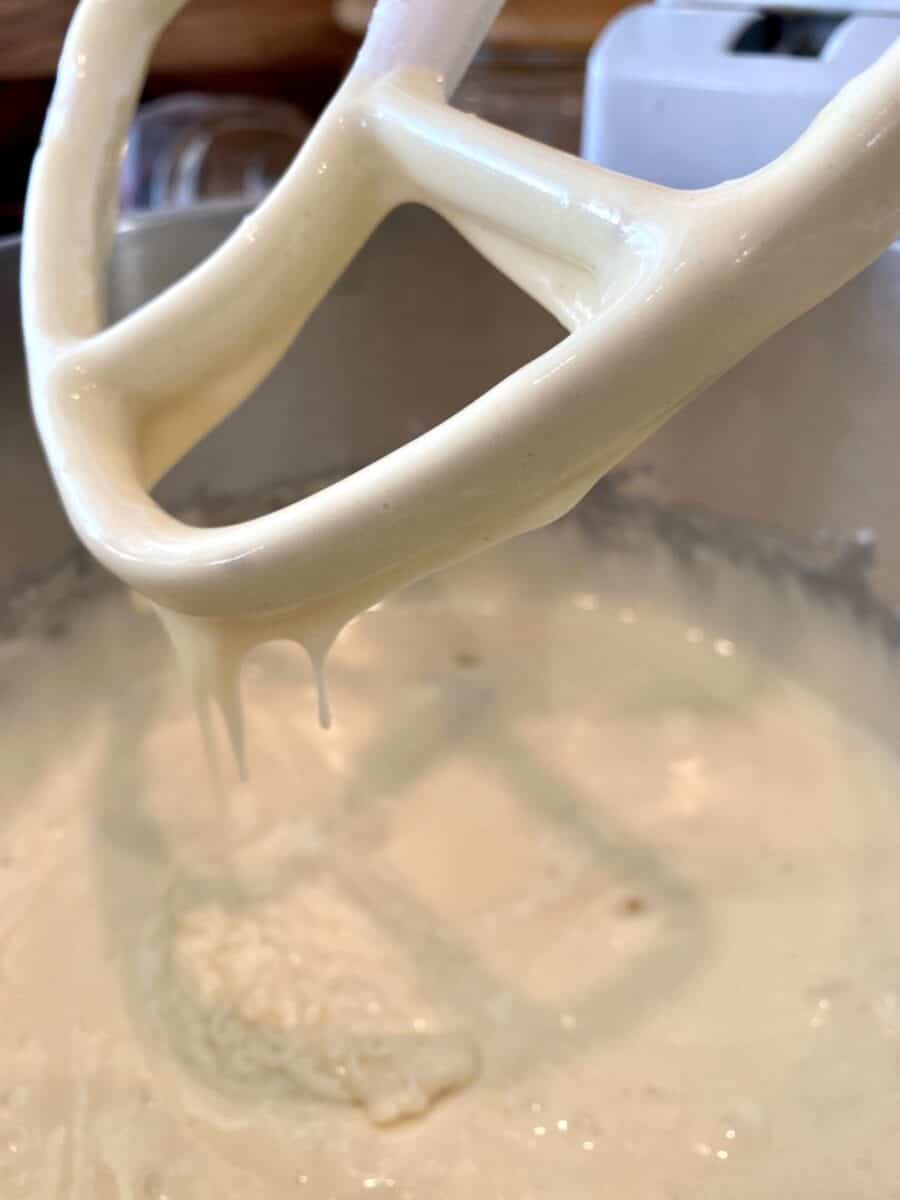 We've always used a white or french vanilla cake, mostly because it's easier to cover the bunny cake with white frosting and ensure there are no dark portions of cake peeking out.
Make Coconut Grass
Perhaps the most whimsical part of serving this bunny cake at Easter is the cute bed of coconut grass the bunny is resting on top of.
It's easy to turn sweetened coconut into green grass.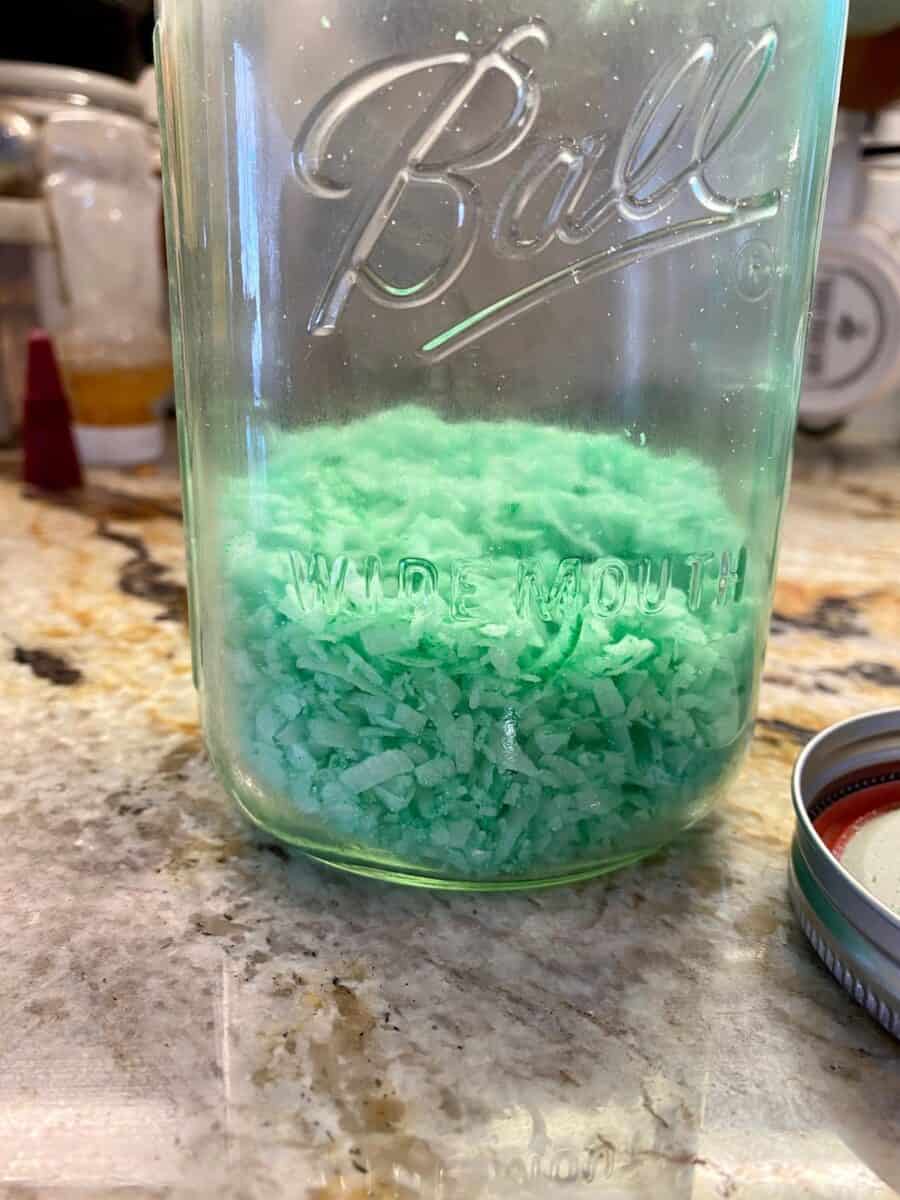 Place one cup of the coconut in a jar or any container with a lid.
Add 3 or 4 drops of green food coloring to the coconut, seal with the lid and shake until the green coloring tints the coconut evenly.
Remove from the container and sprinkle around the bunny cake on a baking sheet covered with foil.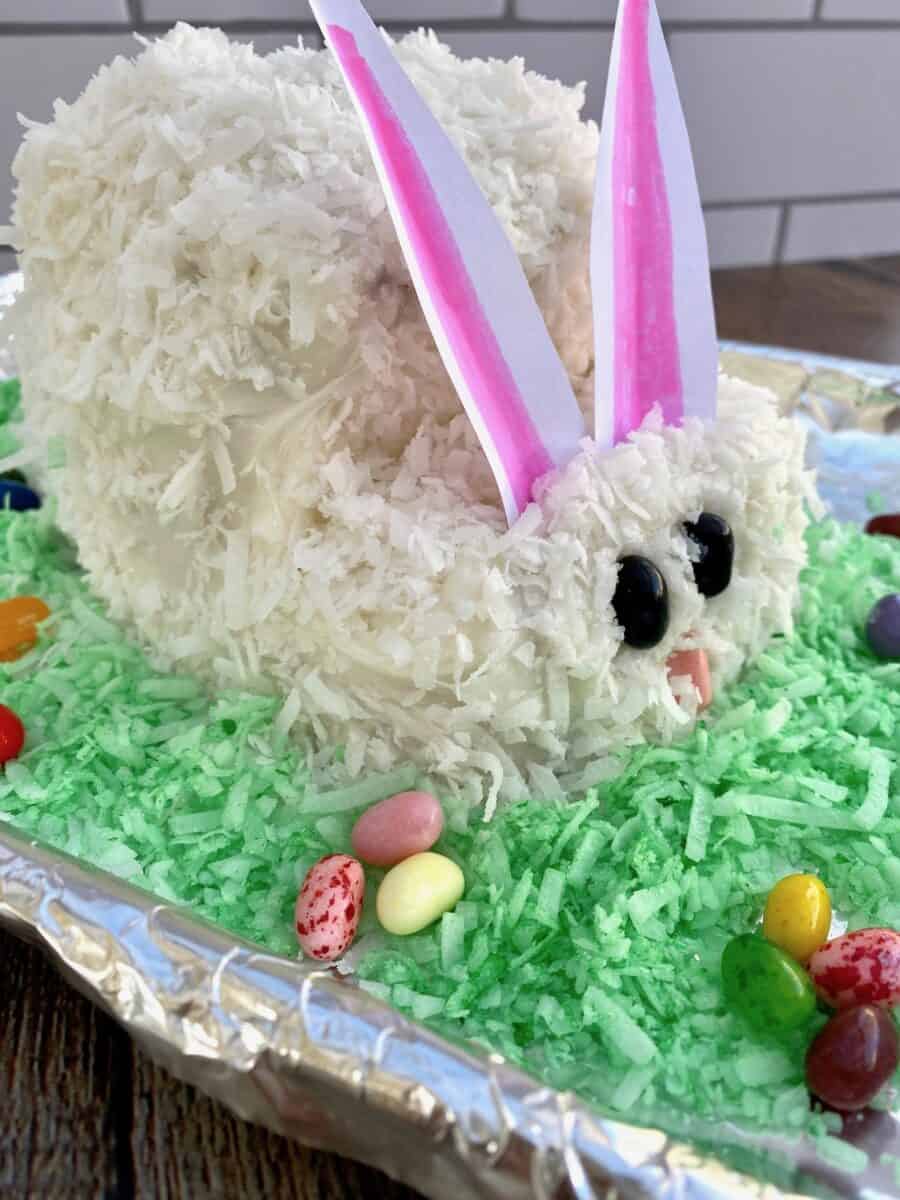 Make Two Bunny Cakes
One of the best things about this bunny cake recipe is you get to make two adorable cakes. Depending on how many folks you are serving for Easter dessert, you could either give one away or simply enjoy a double dose of sweet bunnies.
Assembling the Bunny Cake
Use a sharp knife and cut the 8 or 9-inch cake in half.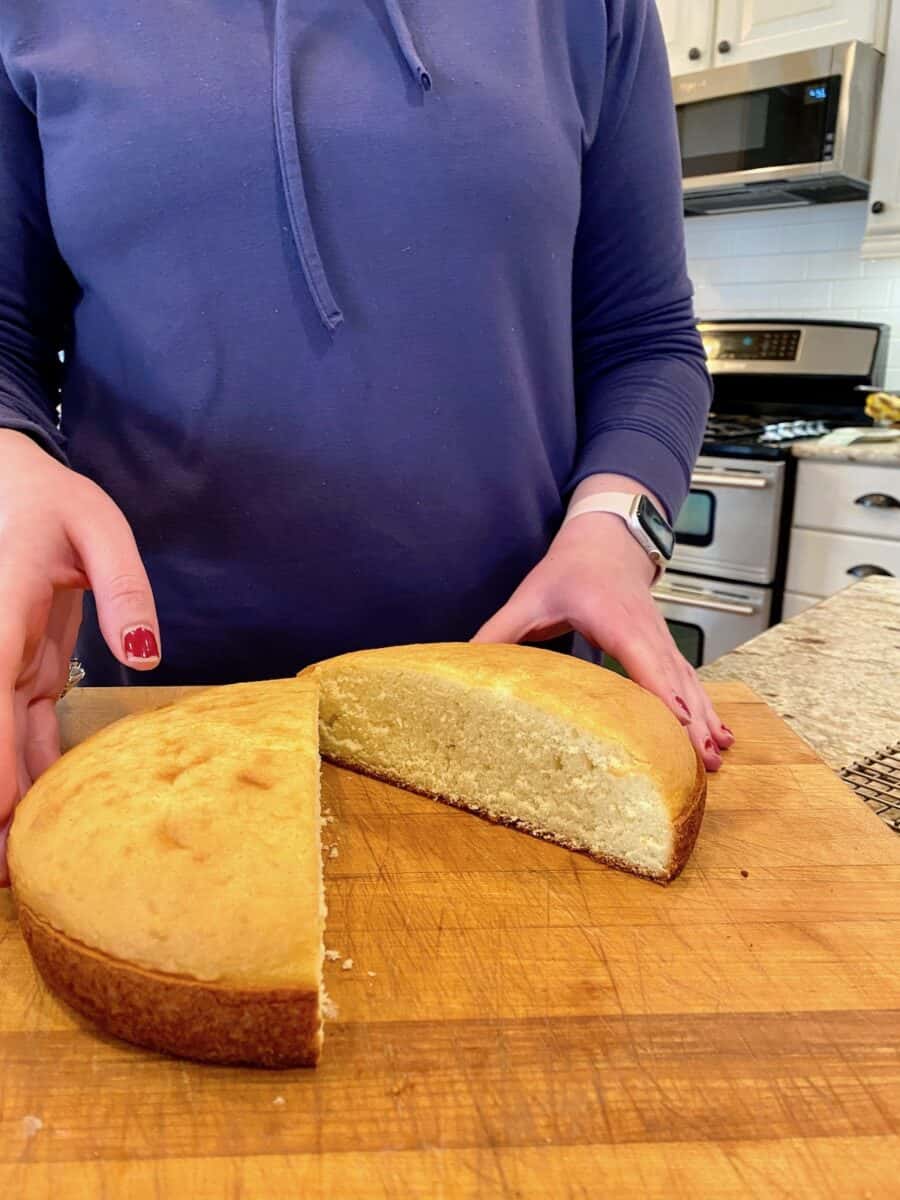 Place a few tablespoons of frosting on the flat side of each round and place the side together, like a sandwich. Leave the rounded side of the cake on the outer side of the bunny.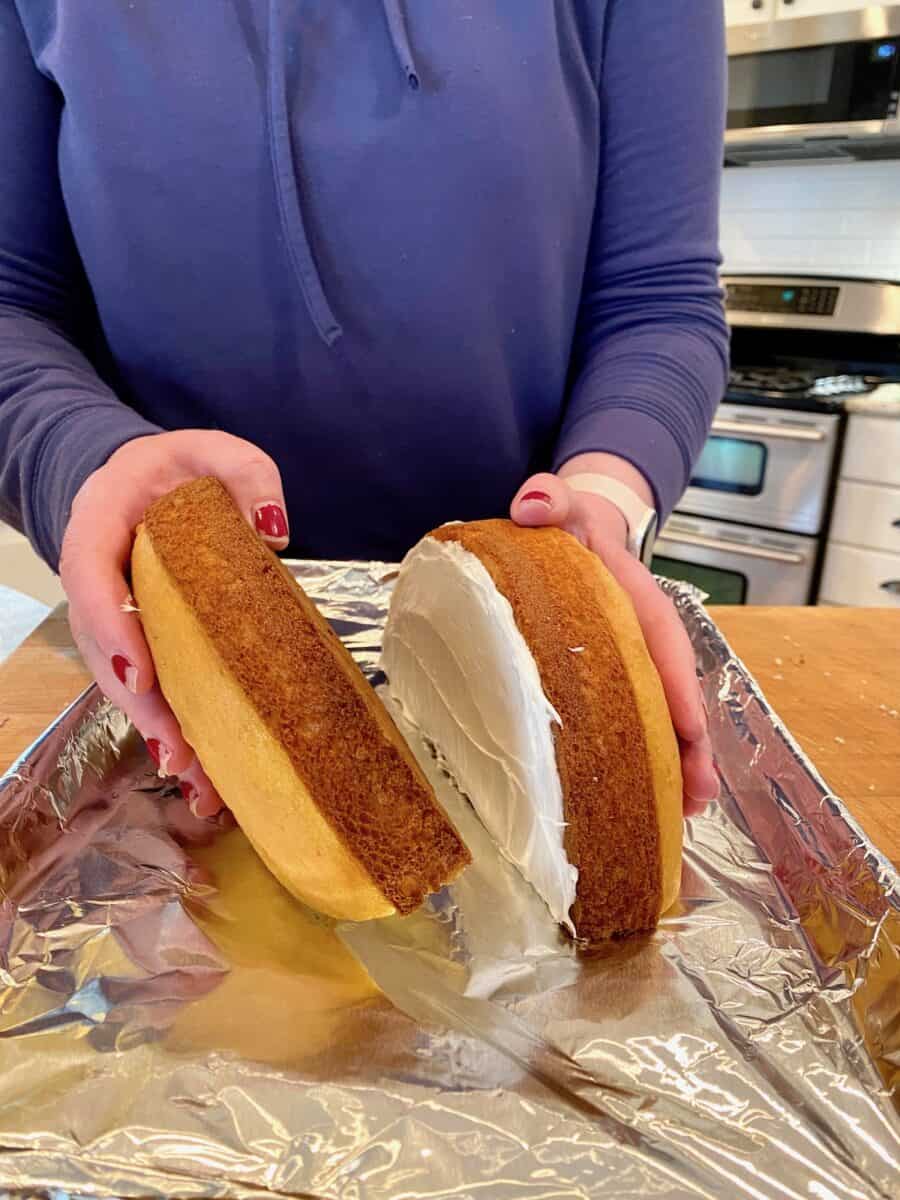 Place the cake rounds on a small cookie sheet covered in foil.
About 4" or so from the bottom of one halved cake round, cut a triangle out of the cake.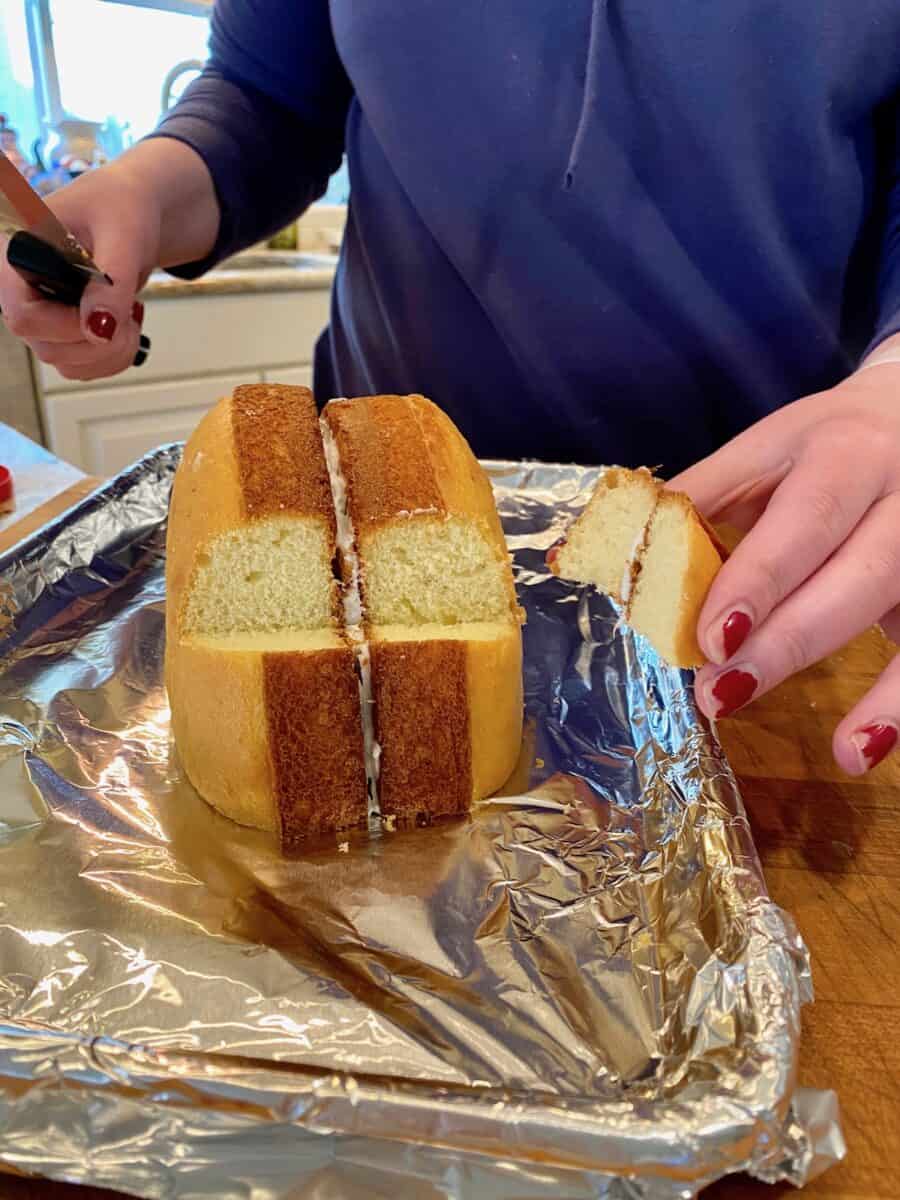 Place half of the triangle at the base of the bunny - this will be it's bunny tail, and let any kitchen helpers enjoy the other small piece of cake.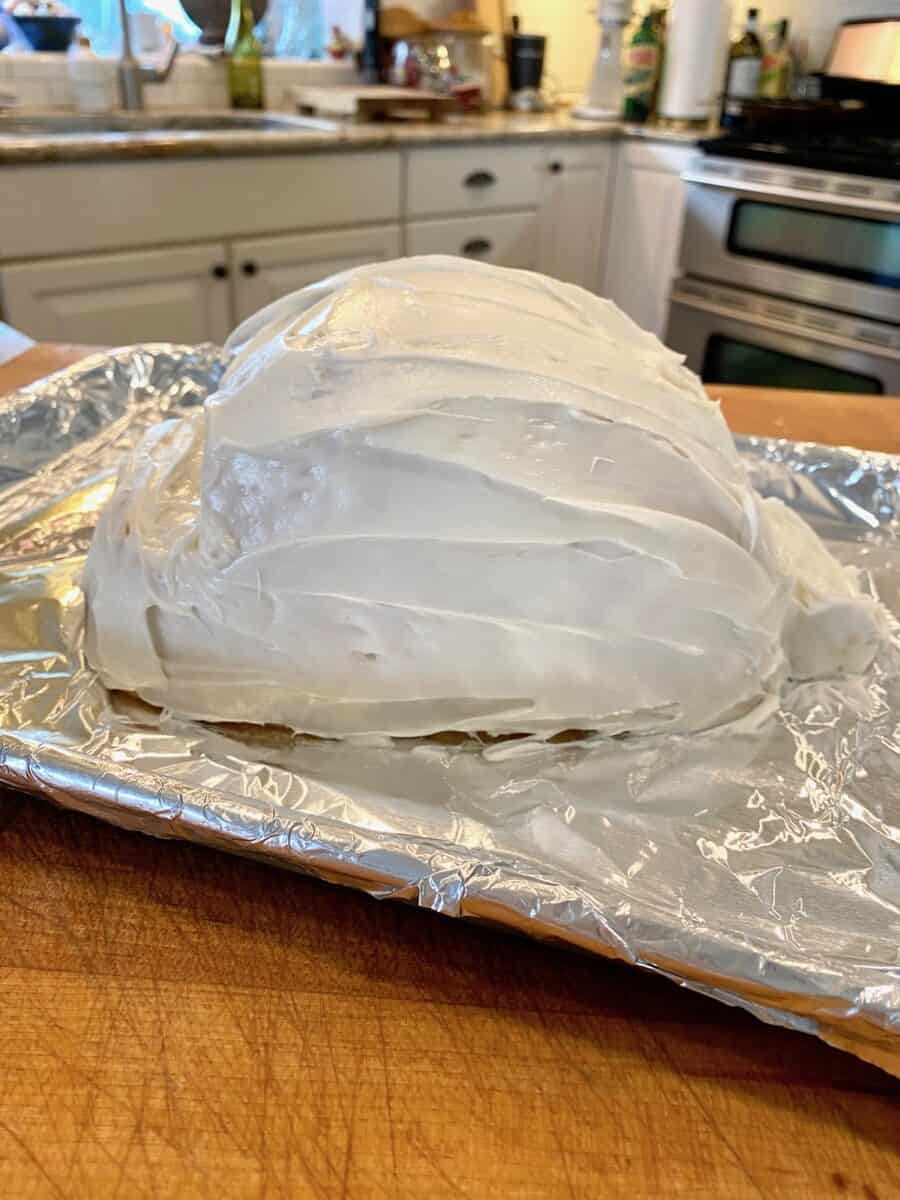 Spoon frosting on the cake and cover completely. Immediately sprinkle the sweetened coconut on top of the frosted cake and gently pat on the sides.
Place the green coconut around the bunny, then place jelly beans for eyes and a nose.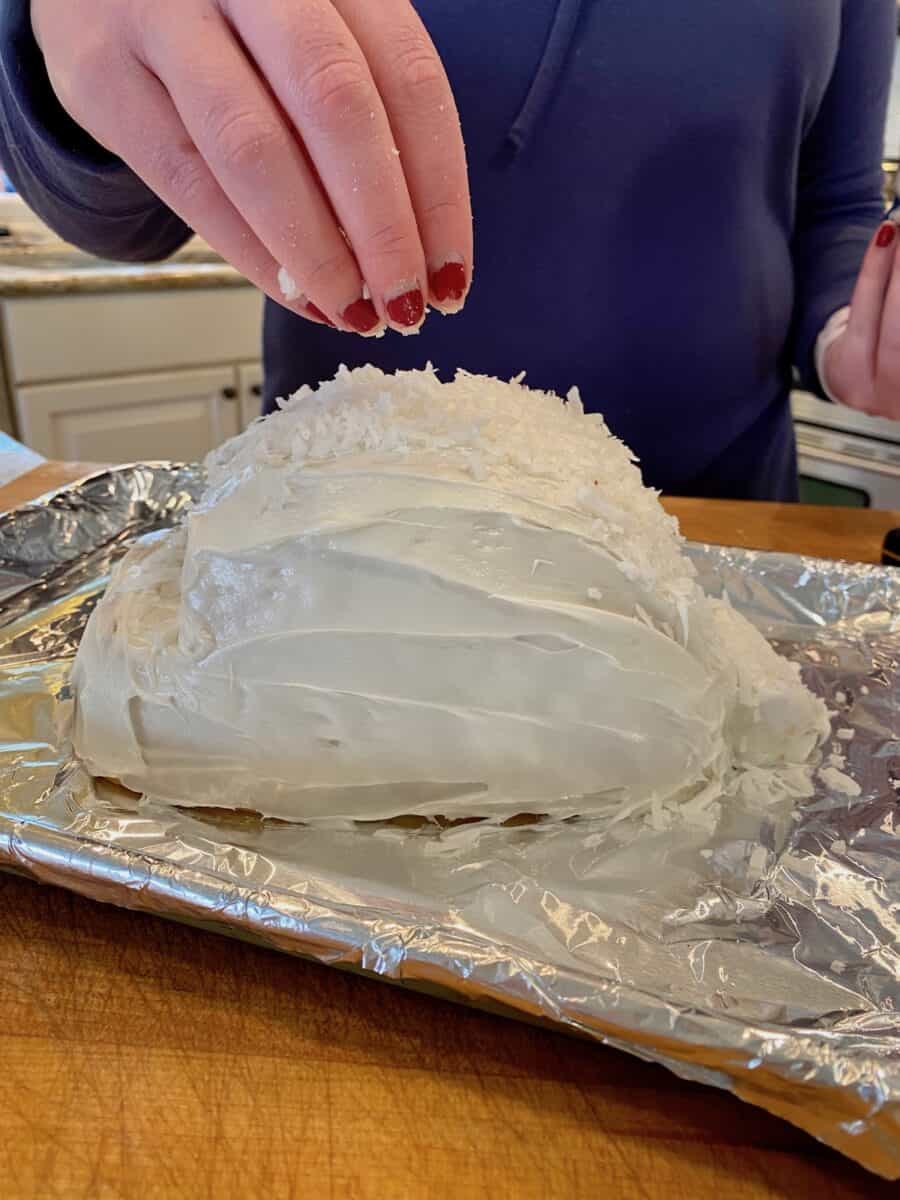 Use study white paper or cardboard and cut out narrow ovals with pointed tops. Using a pink highlighter or pink crayon, draw a thick line of pink in the center of each bunny ear. Place the paper in the wedge area. Enjoy!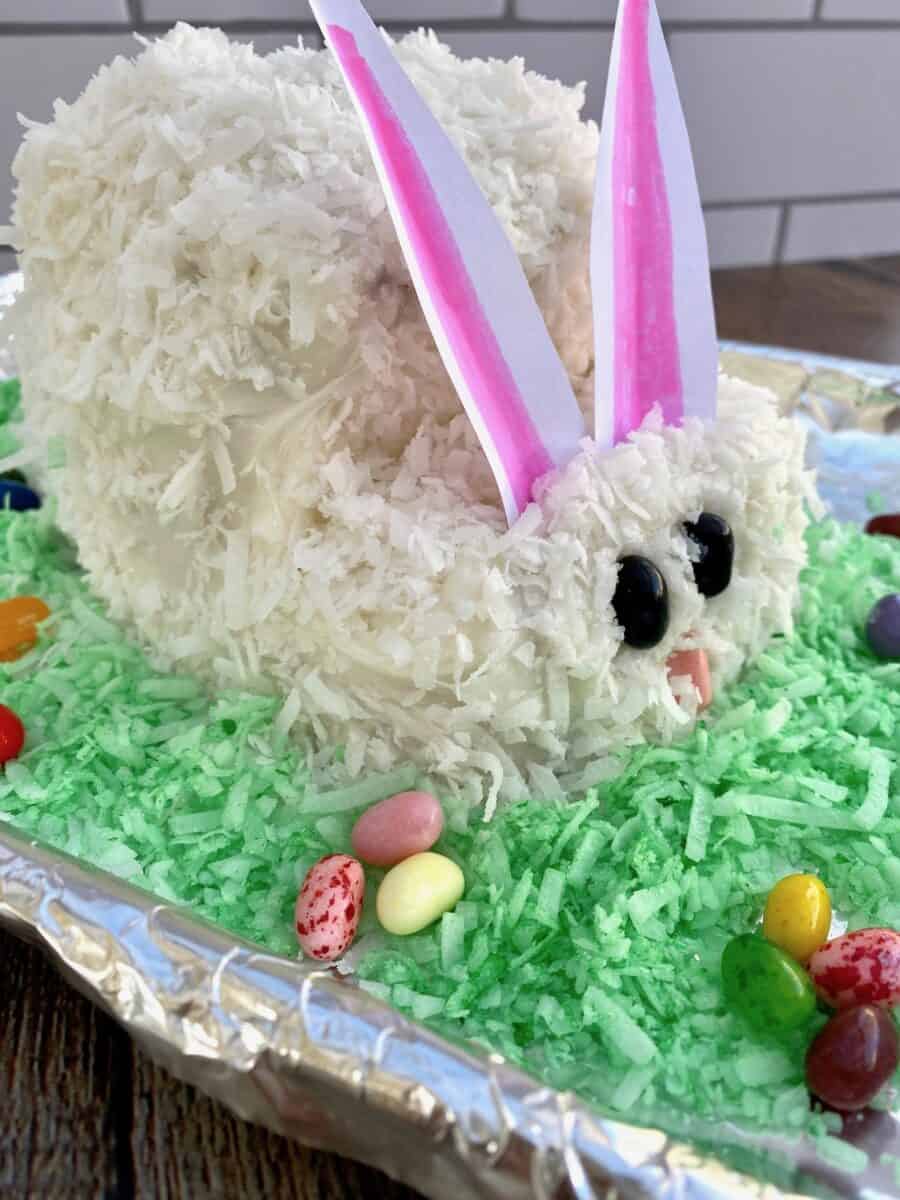 How to Store the Bunny Cake
This Easter Bunny Cake is best served either the day you make it or the day after. You can keep it on the counter, covered lightly with waxed paper - be careful not to flatten or bend those paper bunny ears, or store the cake in your refrigerator before serving.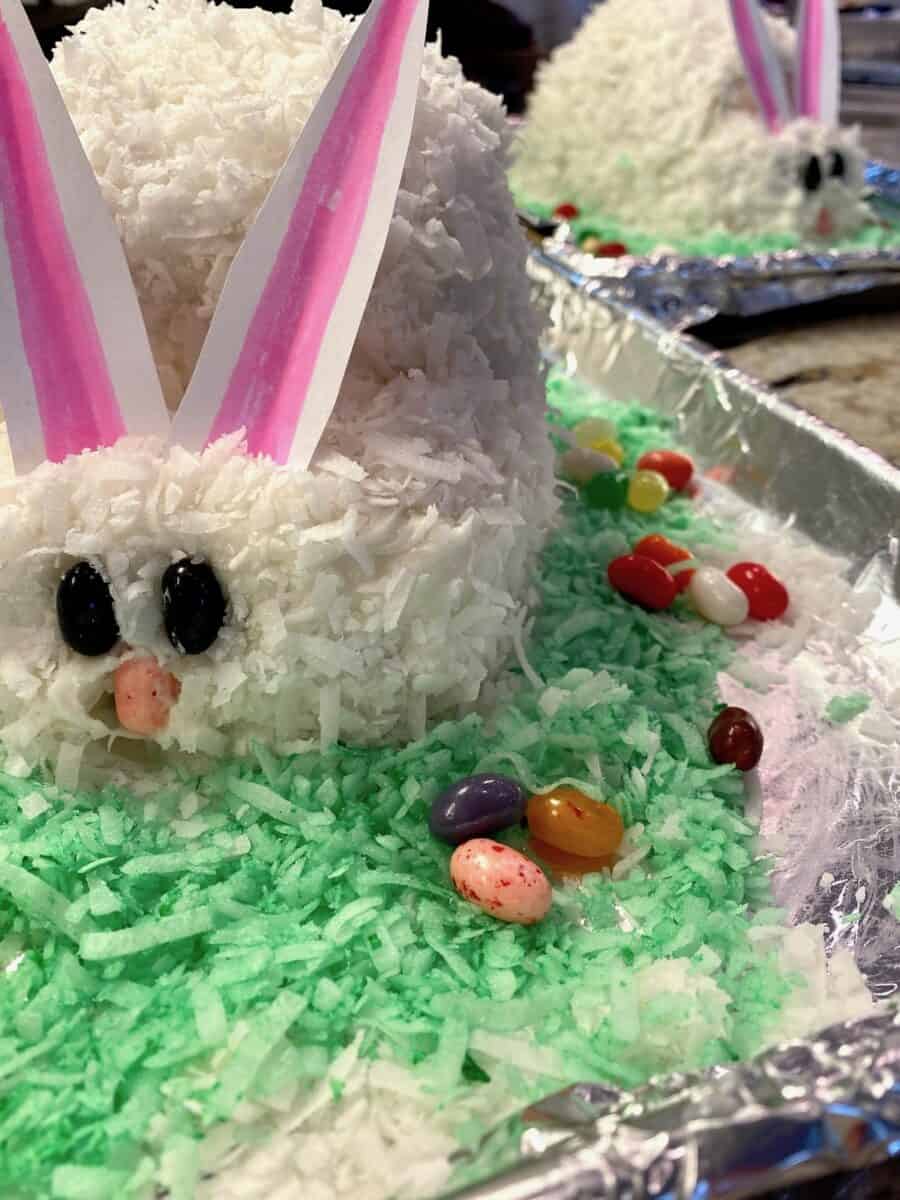 FAQ and Top Tips
What's a good substitute for coconut?
The bunny cake could be placed on a layer of green easter basket grass in place of the green coconut. While not edible, it would still offer that whimsical look of grass.

As for the coconut that is patted onto the bunny, as an option you could double-up on the frosting and create swirled patterns with it in place of the texture from the coconut.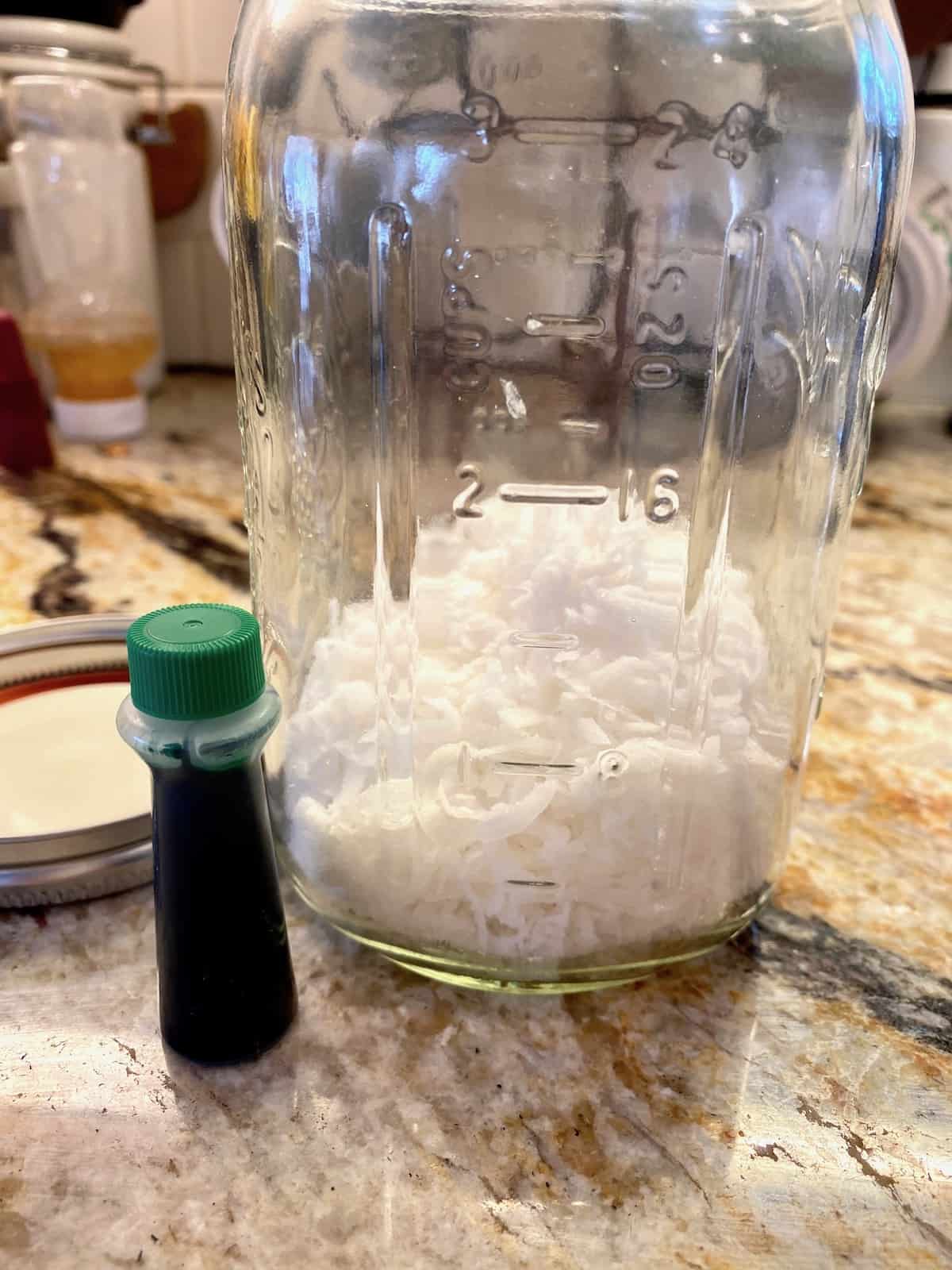 How far in advance could I make these bunny cakes?
You could bake the cake rounds and freeze those in advance, just defrost them before assembling the cakes. But these cakes are best served either the day you make them, or the day after.
What's a substitute for jelly beans?
Any small round candy works great. I like to use Jelly Belly candies, but you could even use Skittles or Starburst Jellybeans or even gum drops.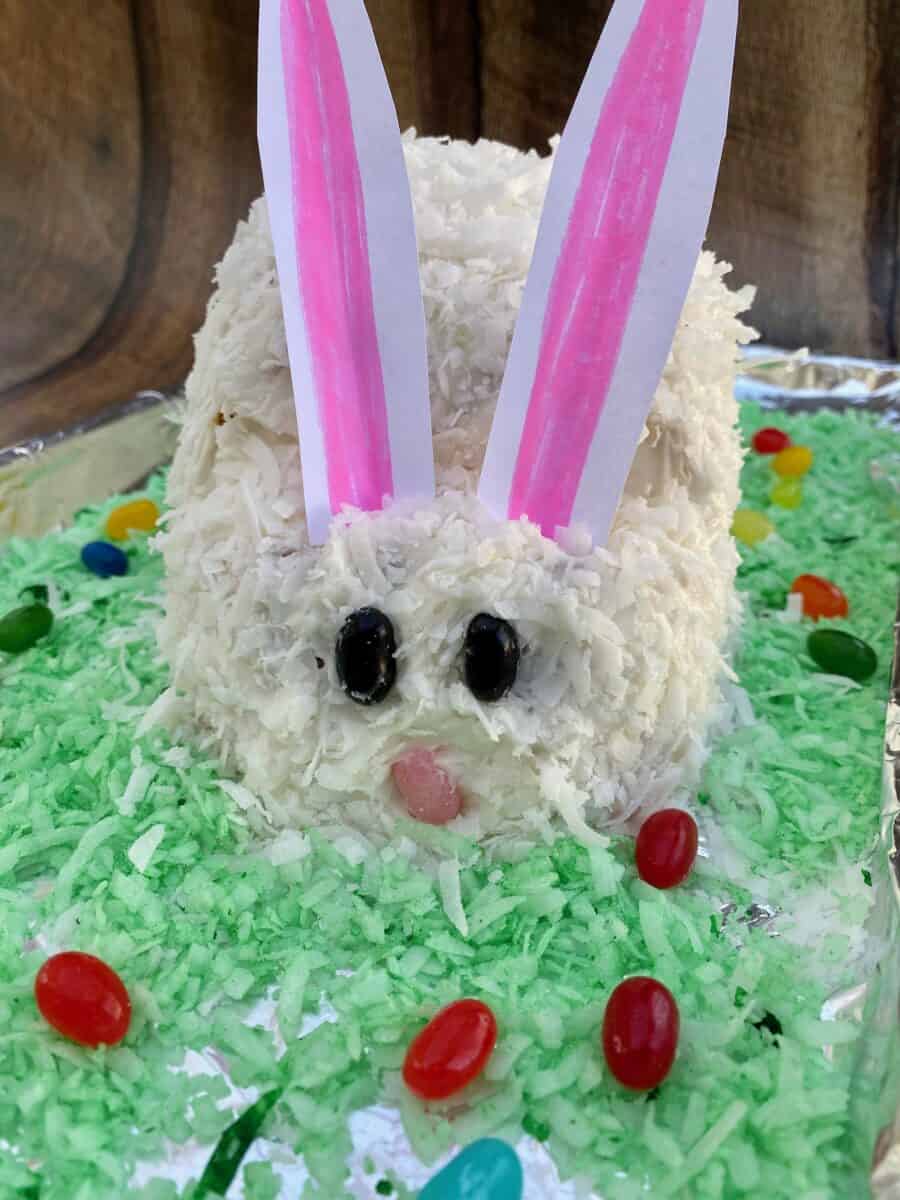 The Inspiration
These Easter bunny cakes are a wonderful tradition that my kids have enjoyed for many years. Their beloved childhood babysitter Margaret started the tradition for our family. Both of my kids have very fond, happy memories of shopping with Margaret for the ingredients and helping her assemble the bunny cakes. She would serve these on small cookie sheets wrapped in aluminum foil, so that's how we prepare them too. Thanks to my daughter for her great help with making the cakes for this recipe and making sure we captured Margaret's inspiration.
There's no telling where Margaret found the original recipe for making these cakes, but we are forever grateful for her generosity!
Of all the recipes for Easter Bunny Cakes that you might find online, this one is by far the most forgiving and easy to make.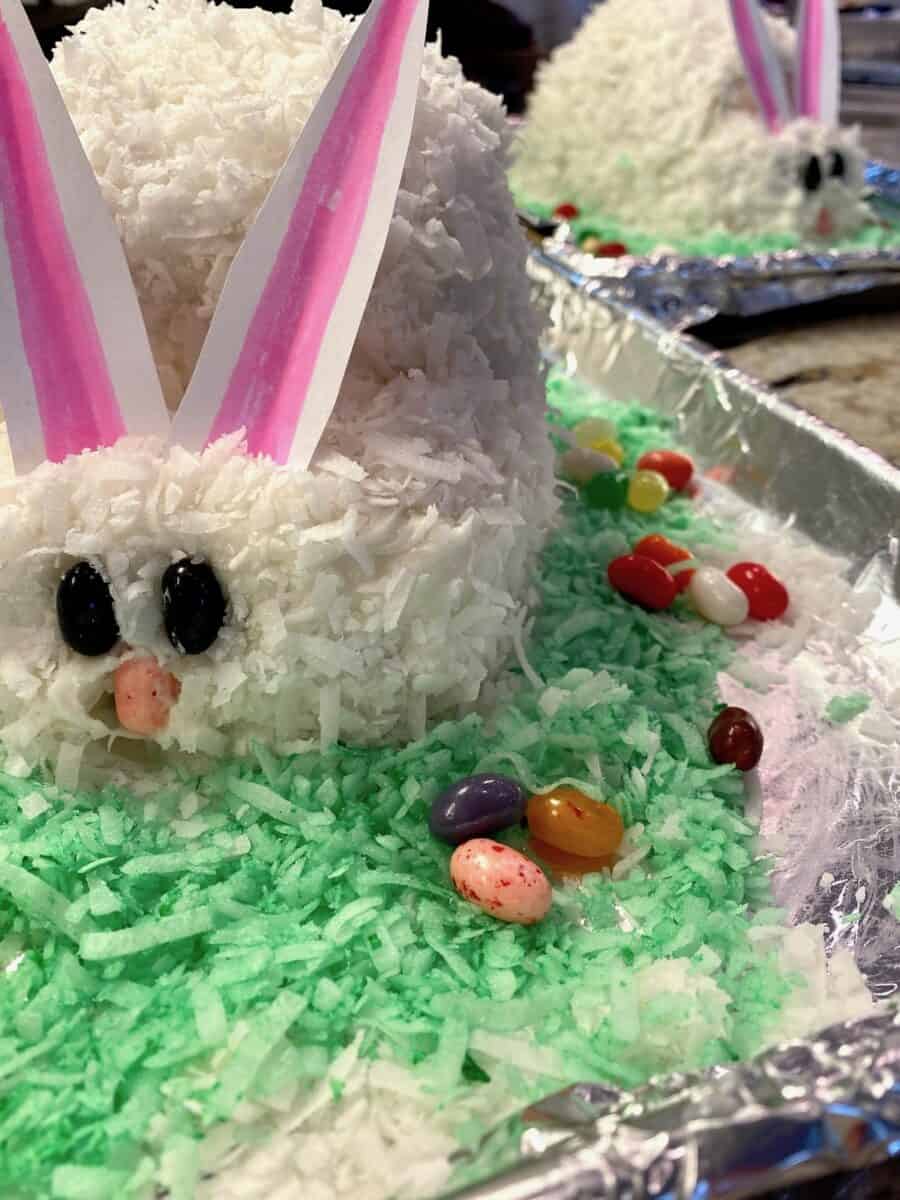 More Easter Recipes
Easter bunny cakes are a wonderful way to wrap up your Easter celebration, but here are few more recipes I think you will enjoy.
Orange-Spiced Sweet Potato Casserole, not just for Thanksgiving, this recipe combines naturally sweet mashed sweet potatoes with orange zest, butter, brown sugar and a touch of nutmeg and cinnamon. It's excellent with your holiday ham.
Croissant Bread Pudding, this recipe is a great way to get your Easter morning celebration started! Use store-bought croissants and enjoy a sumptuous vanilla custard pudding that's both rich and luxurious.
Blue Cheese and Rosemary Scalloped Potatoes, are a terrific change of pace from traditional scalloped or au gratin potatoes made with cheddar cheese. 
More Sweet Recipes
Rate the Recipe
Be sure to give a star rating to the recipes you make from the Crinkled Cookbook. I always love hearing from you. Sharing is great too! Use the buttons after the recipe to text it with just one click or send it to family and friends on Pinterest and Facebook. Enjoy.
Recipe