Turkey Pot Pie is an easy and comforting meal. You can make any time you have leftover chicken or turkey in the fridge. Unlike most pot pies, this only has a top crust, but the filling is so thick and rich. It's just like a hearty stew.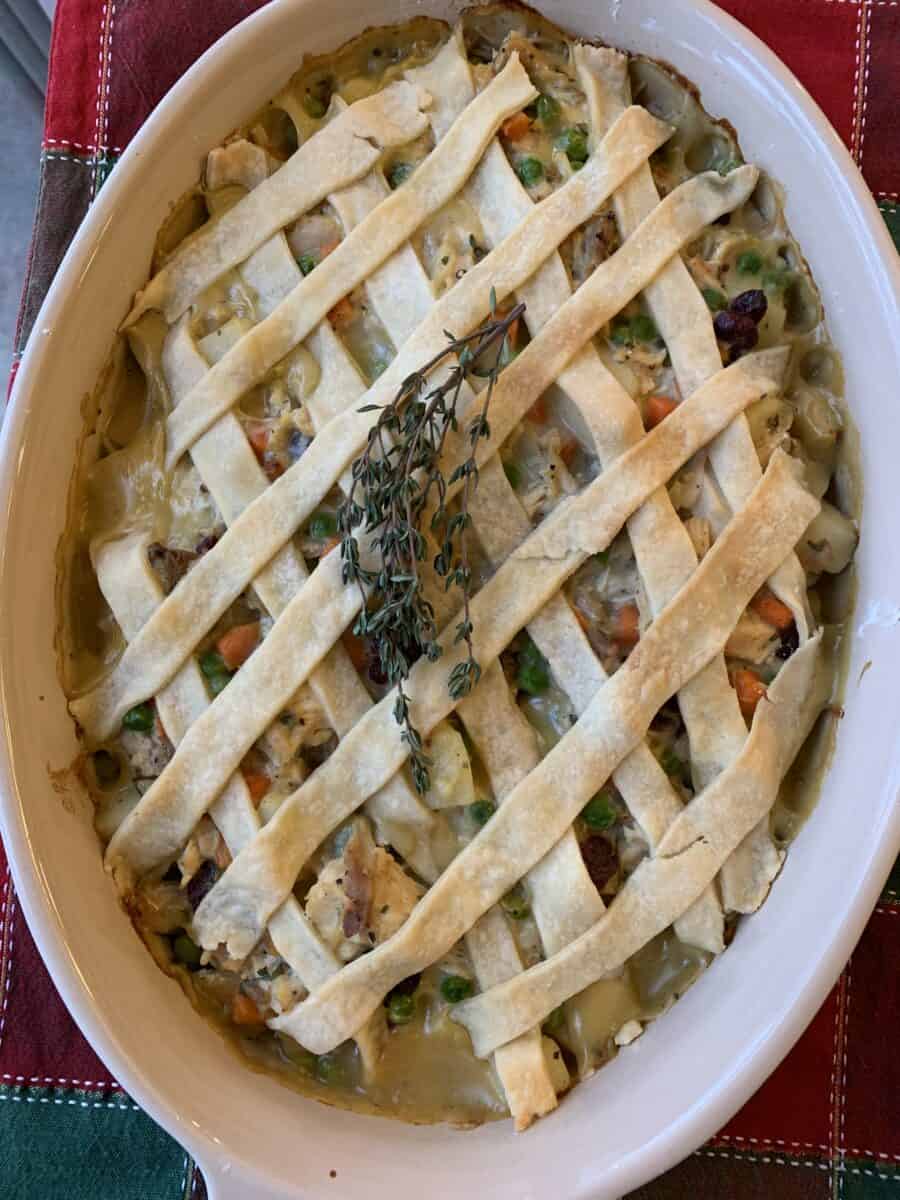 Turkey or Chicken
So this is called Turkey Pot Pie, but believe me turkey is 100% interchangeable with the same amount of chicken. In fact, here's a quick tip anytime you feel like a comforting pot pie mea. Buy a rotisserie chicken from the grocery store, chop up the meat, and use it in place of the leftover turkey. Delicious!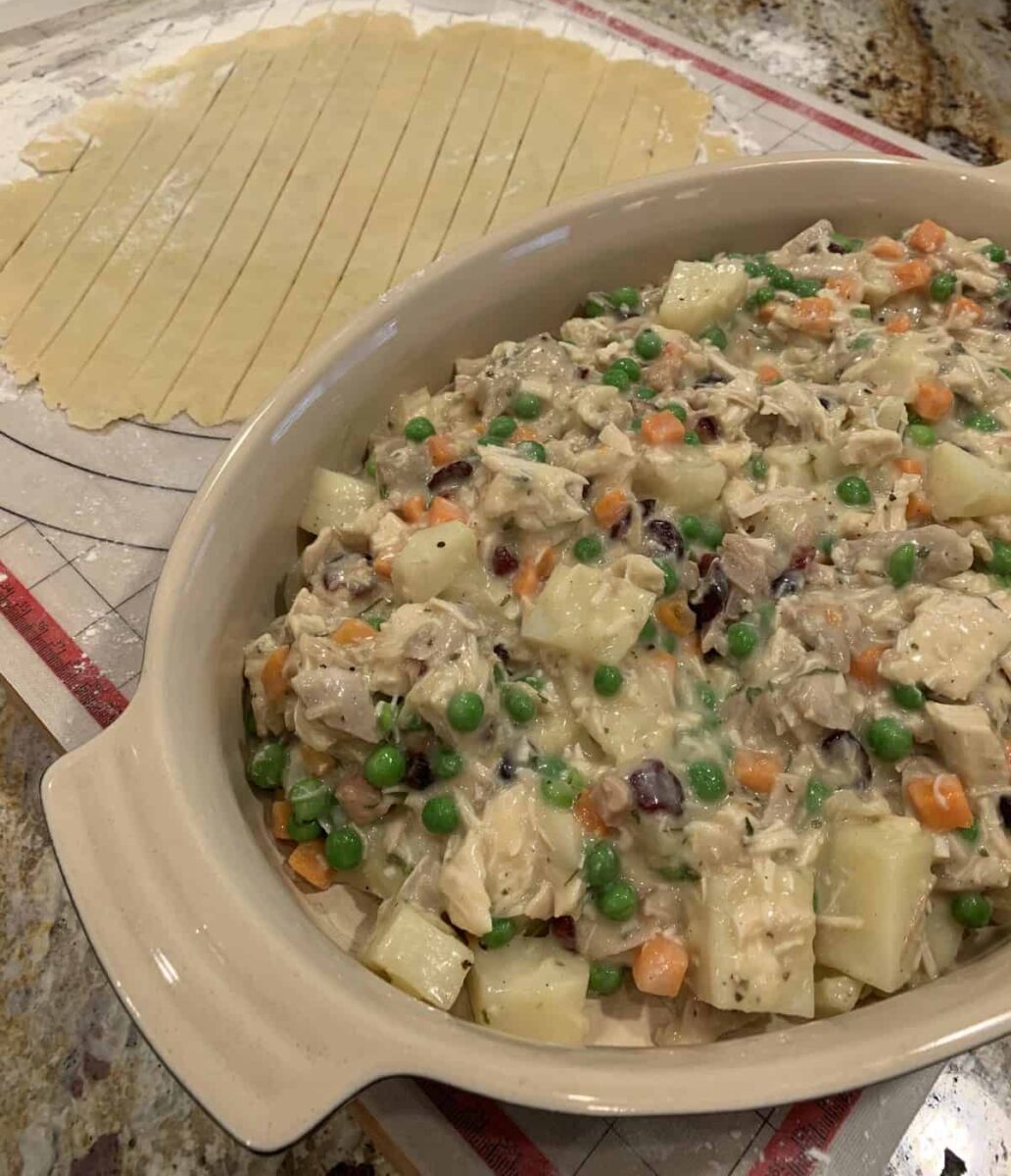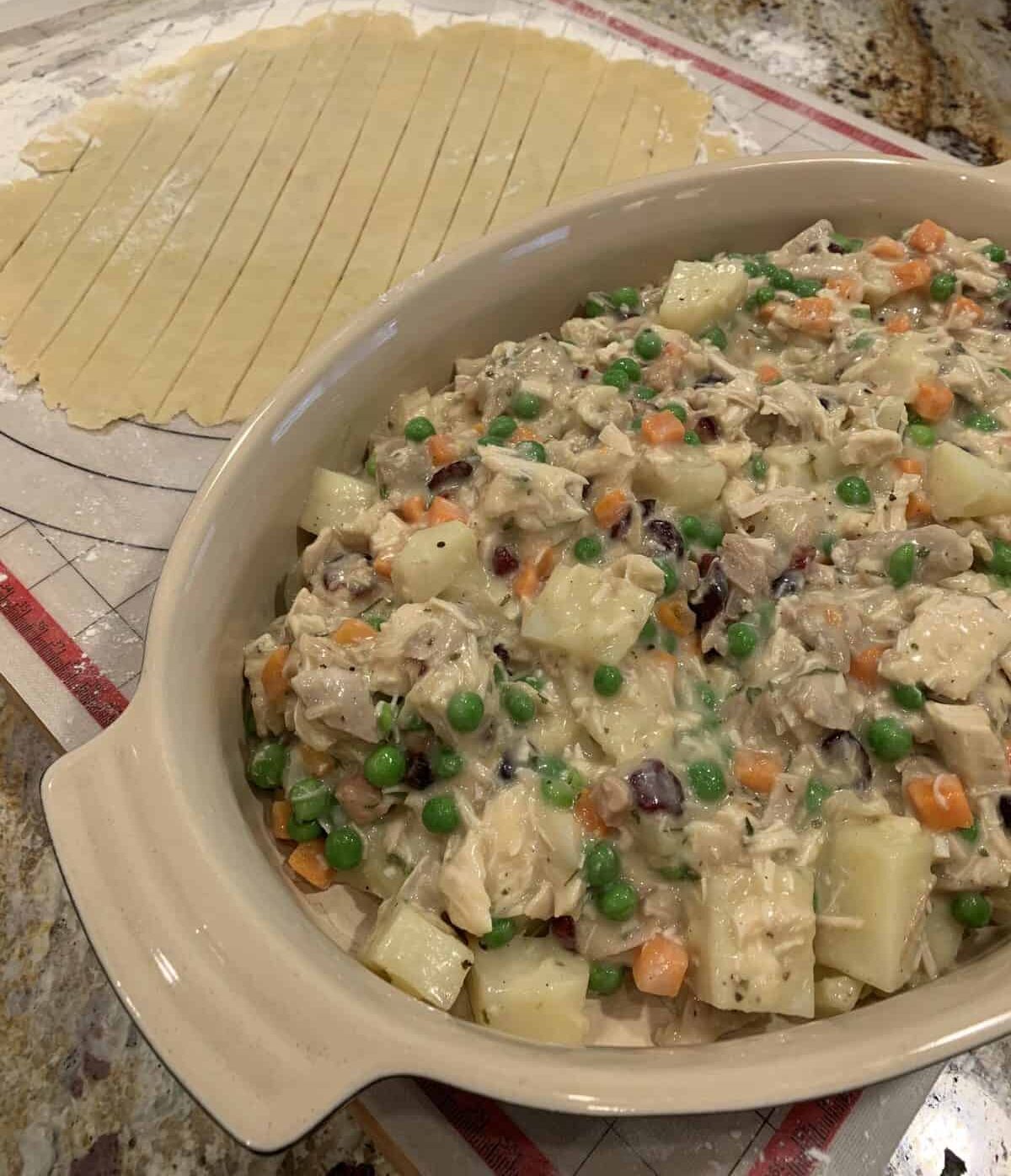 Can I freeze turkey pot pie?
You bet! And thank goodness. Sometimes, by the time we get to the last of the turkey leftovers the family might be a little tired of turkey. All you need to do is assemble the pot pie exactly as you would as if you were baking it for today. After placing the crust on top, just seal it tightly with aluminum foil and pop it in the freezer. On the day you're ready for pot pie, it's easy peasy to get dinner ready. No defrosting is needed. Just remove the baking dish from the freezer, uncover and bake at 375° for about 90 minutes. You may need to drape a sheet of foil across the top if the crust starts browning too fast.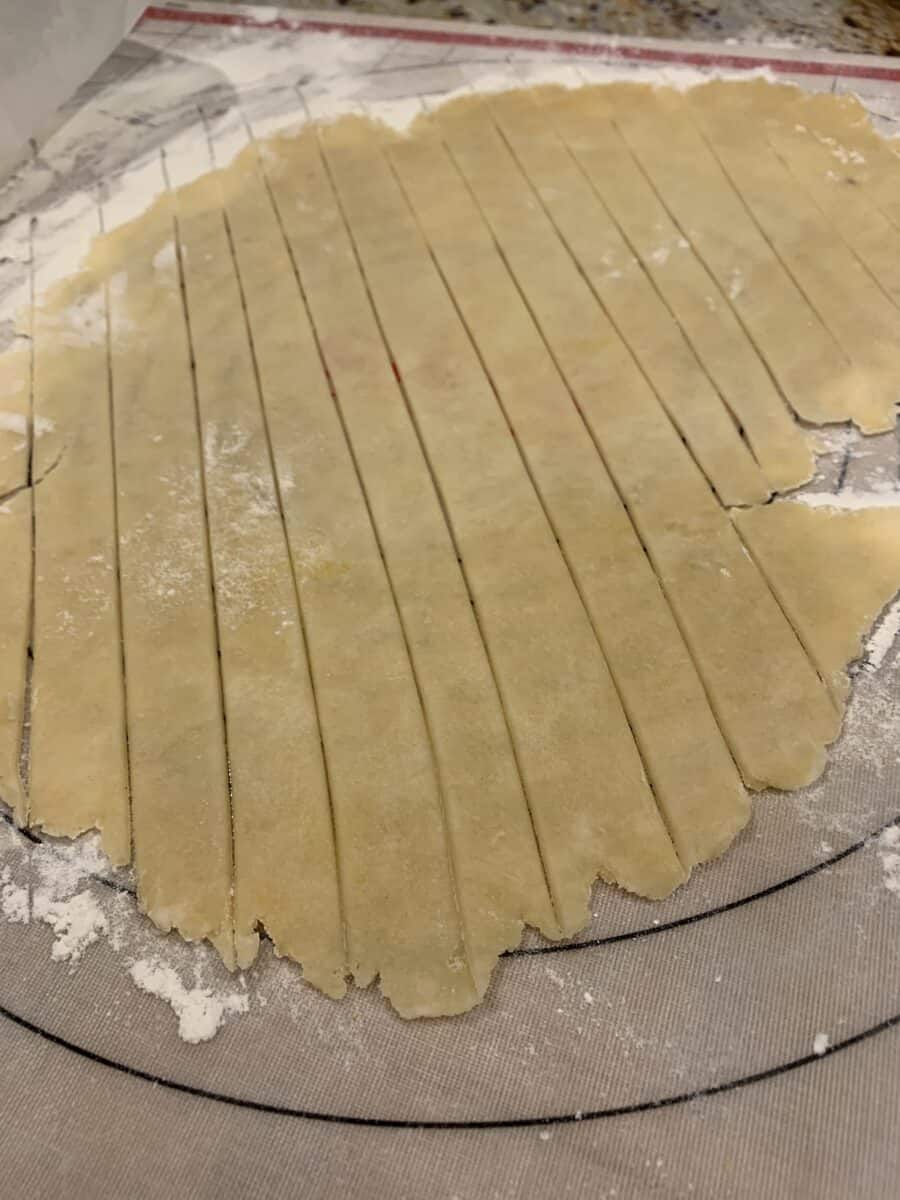 Crust Recipe
Any type of pie crust works beautifully. Simply make a pie crust, enough dough for a single crust 9" pie. See Perfect Pie Crust recipe. If it's during the holiday season and depending how many pies you made, you may have one crust left for this. Perfect!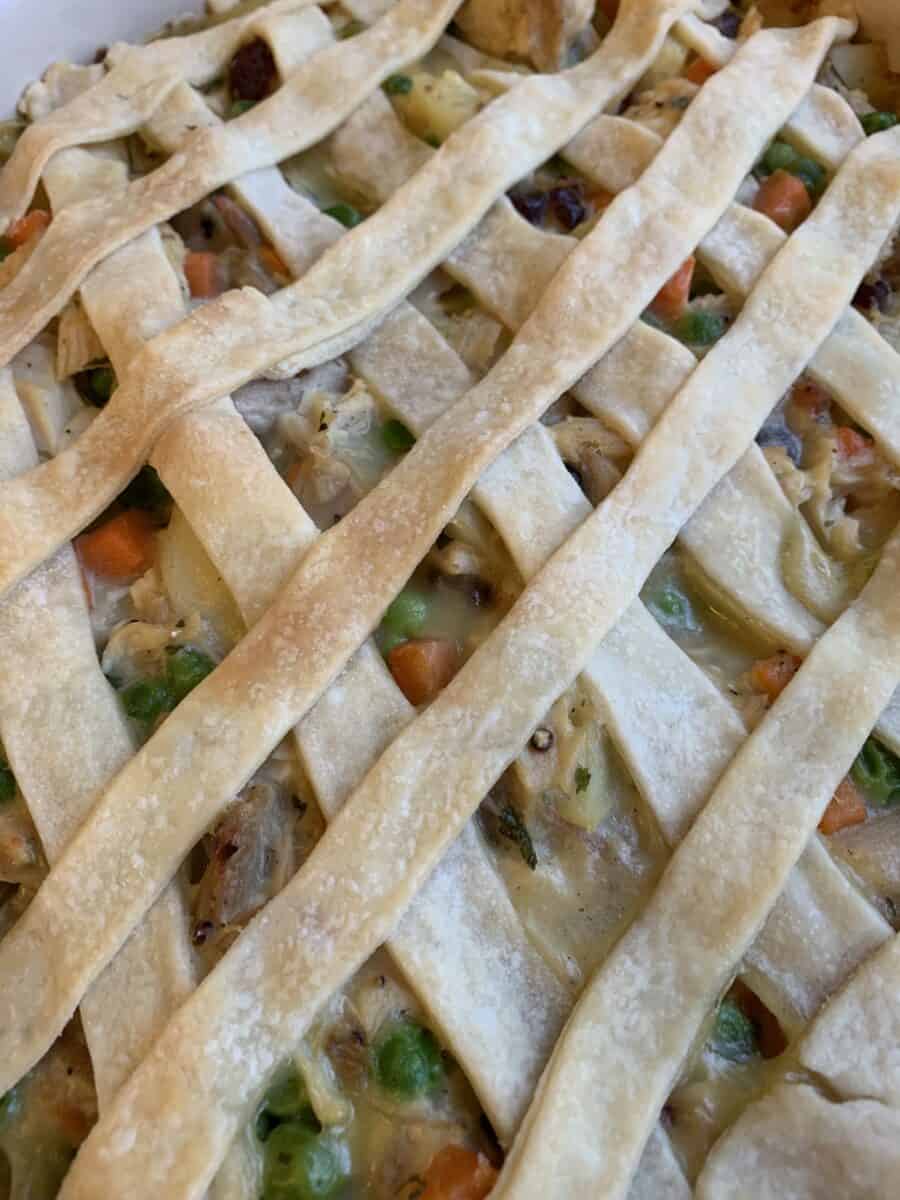 Shortcuts
A can of cream of chicken soup offers a nice shortcut to make the filling super creamy. Another shortcut is to use store-bought, refrigerated pie crusts, though made from scratch crust is always the best.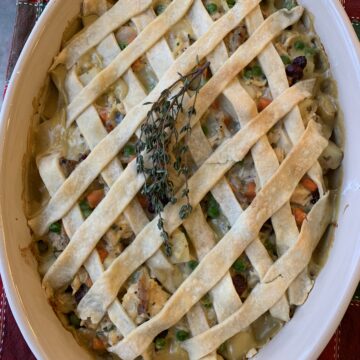 Turkey Pot Pie
This recipe is an easy and comforting meal that you can make any time you have leftover turkey or chicken. Unlike most pot pies, this one only has a top crust, but the filling is so thick and rich, like a hearty stew. You'll never miss that bottom crust.
Print
Rate
Pin Recipe
Ingredients
2

russet potatoes

peeled and diced into small 1" chunks

3

cups

chicken broth or vegetable broth

4

cups

diced

cooked turkey or chicken

1

can cream of chicken soup

1

twelve ounce bag frozen peas and carrots

1/2

cup

dried cranberries

salt and freshly ground pepper

to taste

1

tablespoon

dried parsley

1

sprig of fresh thyme

for garnish
Instructions
Make a pie crust, or use a store bought crust. Enough for a single crust 9" pie.

Cook diced potatoes in chicken or vegetable broth in a large pan on the stove until about half done. You'll want the potatoes tender, but not falling apart. Add peas and carrots and cream of chicken soup and cook until simmering. Next, add diced turkey or chicken, dried cranberries, salt, pepper and parley. Pour everything into a 13 x 9 baking dish.

Roll pie crust and cut dough into strips or using a cookie cutter, cut dough into shapes and place on top of the filling.

Bake for 35-40 minutes, or until the filling is bubbling and the crust topping is lightly browned. Let set for about 10 minutes before serving, garnish with a sprig of fresh thyme.
Notes
Nutritional information does not include the crust ingredients as that will vary depending on the type of crust you use. 
Nutrition
Calories:
188
kcal
Carbohydrates:
22
g
Protein:
16
g
Fat:
4
g
Saturated Fat:
1
g
Cholesterol:
48
mg
Sodium:
511
mg
Potassium:
547
mg
Fiber:
2
g
Sugar:
7
g
Vitamin A:
53
IU
Vitamin C:
13
mg
Calcium:
27
mg
Iron:
2
mg
Please note, the nutrition details are estimated using a food database and are offered here only as a guideline for informational purposes.